As the national actuarial association for public policy and professionalism in the United States, the American Academy of Actuaries recognizes the importance of a diverse, inclusive profession. We support efforts to raise awareness of the profession at an early stage. We also seek to evaluate access to the profession to determine whether any inequities exist for those seeking to become a part of it. The Academy's work on Diversity, Equity & Inclusion includes an examination of various aspects of health and health insurance systems, focusing on disparities in health and their contributing factors, trying to determine whether current practices perpetuate or exacerbate those disparities. We are also supporting the National Association of Insurance Commissioners as it looks at ways to address practices that could create barriers to, or conversely provide incentives to inclusion, as well as examining concerns over the appropriateness of data and assumptions used in actuarial practice.
Health Equity: An Actuarial Perspective
Join the Academy's Health Equity Work Group (HEWG) for an important discussion of issues involving health disparities facing our country and an update on the work group's efforts to address those concerns. (May 24, 2021)
Academy Submits Letter to NAIC Special Committee on Race and Insurance
Academy President Tom Campbell submitted a letter to the National Association of Insurance Commissioners (NAIC) Special Committee on Race and Insurance on proposed charges regarding P/C and life insurance issues related to Workstream Three (property/casualty) and Workstream Four (life insurance and annuities). (May 14, 2021)
Health Practice Council Comment Letter on Colorado Insurance Unfair Discrimination Legislation
The Health Practice Council submitted a comment letter on a revised draft of Colorado Senate Bill 21-169, dated April 21, 2021, aimed to protect consumers from unfair discrimination in insurance practices. This letter follows up on previous Health Practice Council comments on the introduced version of the bill, submitted on March 29, 2021, and again focuses on the potential impact to health insurance. (April 30, 2021)
Academy Provides Input to NAIC on Diversity and Inclusion Issues 
In a letter sent to the National Association of Insurance Commissioners (NAIC), Academy President Tom Campbell reiterated and reinforced the Academy's commitment to work with the NAIC's Special (EX) Committee on Race and Insurance to address diversity and inclusion concerns pertaining to insurance coverages. The comments were made regarding recently proposed 2021 charges of the committee. (April 9, 2021)
Committee on Qualifications Revises an FAQ to the USQS
The Committee on Qualifications (COQ) has revised Frequently Asked Questions (FAQ) #48 as it applies to the currently effective U.S. Qualification Standards to clarify that diversity, equity, and inclusion training "may count toward the professionalism topic or business and consulting skills topic categories, depending upon how the training fits into the definition of these categories in Section 2.2.7" and to provide examples of where DEI training may count toward professionalism or be classified as business and consulting skills. The background to this is explained in the latest issue of This Week. (April 2, 2021)
Health Equity Work Group Releases Discussion Brief
The Academy's Health Equity Work Group (HEWG) released a discussion brief, Health Equity From an Actuarial Perspective: Questions to Explore, that frames their approach to applying actuarial expertise to efforts to reduce health disparities. The brief serves as an introduction to the HEWG's work in the following areas: health insurance benefit design, provider contracting and network development, premium pricing, and managing population health.
"This foundational document on health equity issues begins by offering questions and topics for further exploration to help identify ways in which health benefit programs might affect health equity," said HEWG Chairperson Annette James. Read the Academy news release. (March 31, 2021)
Academy Letters Address Proposed Colorado Legislation
The Academy sent casualty, health, and life practice-area letters regarding Colorado Senate Bill 21-169, related to the legislation's stated purpose of prohibiting unfair discrimination in insurance. The letters—from the Casualty Practice Council, the Health Practice Council, and the Life Underwriting and Risk Classification Work Group—express support for the elimination of unfair discrimination in insurance and focus on the potential impacts the bill would have on individual life insurance, health insurance, and property/casualty insurance from an actuarial perspective. (March 29, 2021)
Women's History Month, March 2021
For Women's History Month, the Academy's podcast, Actuary Voices, interviews Linda Stone, the Academy's senior pension fellow, who mother's struggles after she was a Rosie the Riveter encouraged Linda's commitment to ensuring women have access to retirement plans. And our Member Spotlight this month is Rhonda Ahrens, who tells us how she once "muscled" her "way into a meeting with the CEO of my company when I was probably too green to be allowed in the room."
International Women's Day, March 8, 2021
| | |
| --- | --- |
| On International Women's Day, the Academy celebrated the important achievements and contributions of women to the actuarial profession, highlighting female trailblazers like Annette James, Laura Hanson, Shawna Ackerman and Cathy Murphy-Barron who have contributed to Academy's official podcast, Actuary Voices. You should also watch our movie about women in the profession, "A Great Career for a Man?" | |
'Actuary Voices' Podcast Features Annette James, Chairperson of the Health Equity Work Group
| | |
| --- | --- |
| | In this episode of the Academy's podcast series, "Actuary Voices," Annette James—chairperson of the Academy's Health Equity Work Group—discusses how she became an actuary, the meteorological shocks on her journey from Trinidad and Tobago through Iowa and on to Nevada, and the importance of the work she leads on health equity—especially significant in February as we mark Black History Month. Subscribe to "Actuary Voices" via iTunes, Spotify, or other podcast services. (February 2021) |
Academy Presents at CASTF 'Book Club' Series
The Academy made three presentations to the NAIC's Casualty Actuarial and Statistical (C) Task Force (CASTF) at a Feb. 23 webinar as part of CASTF's "Book Club" series to facilitate regulator training and the sharing of expertise on predictive analytics on the topic of race and insurance. Academy presenters were Dorothy Andrews, chairperson of the Data Science and Analytics Committee (DSAC); Roosevelt Mosley, DSAC member and member of the Casualty Practice Council's (CPC) Racial Equity Task Force; and Lauren Cavanaugh, CPC vice president.  (February 23, 2021)
Academy Sends Recommendation Letter for Annette James to Be a Member of the U.S. COVID-19 Health Equity Task Force
Academy President Tom Campbell sent a letter of recommendation to the U.S. Department of Health and Human Services for Annette James, chairperson of the Academy's Health Equity Work Group, as a candidate for appointment to the COVID-19 Health Equity Task Force as put forward in a presidential executive order, Ensuring an Equitable Pandemic Response and Recovery. (February 01, 2021)
Black History Month 2021
As we look forward to Black History Month in February, Academy President Tom Campbell noted "the Academy explicitly stated last year our unwavering support for those who seek to bring fair and equal opportunities to all" and reaffirmed the commitment made by the 2020 Academy President D. Joeff Williams condemning racism and standing resolutely with those who value equality and inclusion, both within the profession and in society at large. The Academy will work within the profession and with stakeholders to continue to engage in a public discourse on race, diversity, and inclusion, and encourages our members to stand up for equal justice for all and to oppose all forms of racism, discrimination, and bias whenever you encounter them. (This Week, January 29, 2021)
Take an Adventure With the 'Magic School Bus'
The Academy worked with Scholastic to create "The Magic School Bus Takes a Risk: A Book about Probability," a custom storybook that aims to support diversity in the actuarial profession by emphasizing the career possibilities that arise from math education with characters from underrepresented groups.
The Academy and many of our members who have purchased the book have shared copies with schools and other community-based organizations to introduce young children—especially traditionally underrepresented populations, as the Academy did by providing the book to all DC public school children in Grades 3 to 5—to the profession at a young age and encourage them to consider careers in math.
Corporate sponsorships are available for companies or organizations that would like to make bulk donations in their communities. Such sponsorships may include adding your company logo on the back cover, branding added to the letter of introduction, and Scholastic's assistance with distribution in local schools. Contact us here for more information.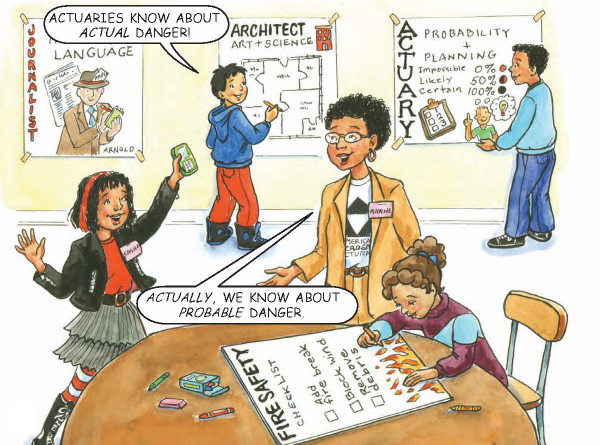 Academy Presents to NAIC on Health Equity, Life Issues, Climate Risk
The Academy made several presentations to the National Association of Insurance Commissioners (NAIC) in Dec. 2020, including at the NAIC's Fall National Meeting. Senior Health Fellow Cori Uccello presented Dec. 2 on behalf of the Academy's Health Equity Work Group to the NAIC's Special (EX) Committee on Race and Insurance. Annette James, the work group's chairperson, submitted comments to the special committee highlighting the work group's efforts to address health disparities. Mary Bahna-Nolan also submitted comments Dec. 10 to NAIC's Special (EX) Committee on Race and Insurance.
Academy Presents at NCOIL on Race and Diversity
Academy volunteers presented at the National Council of Insurance Legislators (NCOIL) Annual Meeting during the Special Committee on Race in Insurance Underwriting's session. Dorothy Andrews, chairperson of the Data Science and Analytics Committee, presented on behalf of the committee and provided an update on its ongoing work relevant to NCOIL's examination of these issues. Casualty Vice President Lauren Cavanaugh presented on behalf of the Casualty Practice Council, and Mary Bahna-Nolan presented on the issue from a life perspective. (December 09, 2020)
Academy Comments to NAIC Special Committee on Race and Insurance
Academy Casualty Vice President Lauren Cavanaugh addressed the NAIC's Special Committee on Race and Insurance on Nov. 12, speaking to her prepared comments previously submitted, covering actuarial guidance, disparate impact, and data quality. Cavanaugh recommended consideration of independent organizations to examine and certify third-party data for hidden biases, accuracy, and relevance. She also described for commissioners and regulators several actuarial standards of practice (ASOPs) relevant to actuarial practice in areas being looked at by the special committee. (November 12, 2020)
Capitol Forum: Exploring Health Equity in a Time of COVID-19 and Beyond
In this webinar, a panel of experts share their insights and activities related to data and quality measurement, innovative provider and payer models designed to meet individual- and community-level medical and nonmedical needs, and opportunities for cross sector collaboration. (September 14, 2020)
Academy Letter to NAIC Addresses Diversity and Inclusion
Academy President D. Joeff Williams sent a letter on behalf of the Academy to the National Association of Insurance Commissioners (NAIC) offering comments to NAIC's Special Committee on Race and Insurance. (September 10, 2020)
HealthCheck Q&A—The Academy's New Health Equity Work Group
The Academy's Health Practice Council recently created the Health Equity Work Group. The formation of this work group was prompted by the COVID-19 pandemic and other recent events which have shined a light on some of the health inequities faced by minorities in the United States. HealthCheck did a Q&A with Work Group Chairperson Annette James on some of the key issues the new work group hopes to address. (October 2020)
Statement About Recent Events from the Academy
D. Joeff Williams, President: "We want to take a moment to mark the protests that have taken place since the murder of George Floyd in Minneapolis. Combined with the disparity in how COVID-19 has affected communities of color, recent events reflect poorly on our country's commitment to equality for all. The Academy stands resolutely with those who value equality and inclusion, both within the profession and in society at large. We condemn racism and encourage our members to stand up for equal justice for all, and to oppose all forms of racism, discrimination, and bias whenever you encounter them." (June 05, 2020)