Code of Professional Conduct
The revised Code of Professional Conduct took effect Jan. 1, 2001. The code identifies the professional and ethical standards required of actuaries who belong to the Academy. It sets forth what it means for an actuary to act as a professional. It identifies the responsibilities that actuaries have to the public, to their clients and employers, and to the actuarial profession. Identical codes have been adopted by the Society of Actuaries, the American Society of Pension Professionals and Actuaries, the Casualty Actuarial Society, and the Conference of Consulting Actuaries.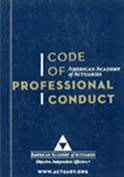 Members of the Academy may order a complimentary pocket-sized copy of the Code of Professional Conduct. To do so, please log in to your member account
here
.

Related links: