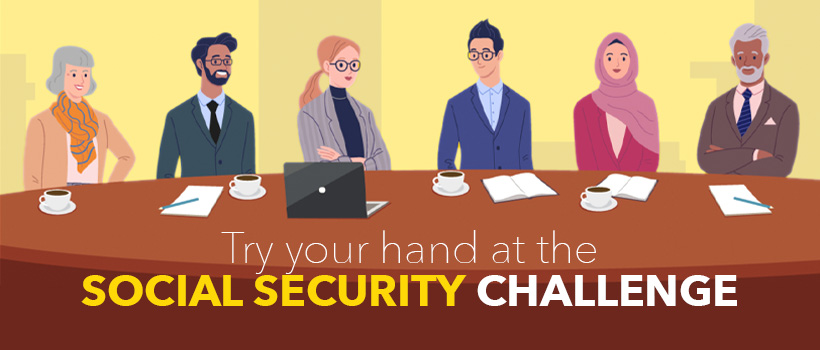 For the best user experience, play the app on a laptop or desktop computer, or a tablet.
According to the 2023 Social Security Trustees Report, Social Security's combined trust fund reserves were projected to become depleted in 2034, potentially leading to a forced 20 percent cut in payable benefits unless legislative changes are adopted to prevent it. This is one year earlier than the 2022 Trustees Report projected. Assuring that Social Security stays strong means that Congress would need to evaluate very different reform options with complex and wide-ranging impacts—options such as making higher levels of income subject to the portion of payroll taxes dedicated to Social Security or raising Social Security's normal retirement age—and then pass the reforms it chooses so that they can become law. How would you address the solvency issue? In the Academy's Social Security Challenge, develop your proposed reform approach by traveling through a virtual town where you'll learn residents' different views on reform ideas and information about their impacts, and puzzle through choices. In the Challenge finale, select and submit your approach from a palette of possible reform options and see how well it works to address the solvency issue.
The financial effects of the reform option provisions in the Challenge come from the Office of the Chief Actuary (OCACT) at the Social Security Administration and are based on the most recent ​Summary of Provisions that Would Change the Social Security Program.  
Learn More With Related Academy Resources
Essential Elements: Raising the Social Security Retirement Age
Contingencies magazine cover story (March-April 2023)
Social Security: System Overview and Financial Condition
Issue Brief: An Actuarial Perspective on the 2022 Social Security Trustees Report + accompanying one-pager with highlights
Reform Options In-Depth
Issue Brief: Reforming Social Security Sooner Rather Than Later
Issue Brief: Raising the Social Security Retirement Age
Issue Brief: Social Security Reform: Benefit Formula Options
Issue Brief: Social Security Reform: Taxation Options
Issue Brief: Individual Equity and Social Adequacy—A Principle-Based Study of Social Security Reform Proposals
All Academy Work on Social Security (incl. all resources above, plus comment letters, other papers, etc.)
Webpage: Academy Public Policy—Social Security
The following should be noted when interpreting results from the Social Security Game:
The 75-year actuarial balance calculation used in the game does not consider significant revenue shortfalls expected to occur after the end of the 75-year projection period, and thus possible solutions illustrated in this game are generally not sufficient to achieve "sustainable solvency," a concept discussed in the Trustees Report.
The possible solutions assume immediate adoption of System changes, rather than gradual implementation. If changes to the System are gradually implemented, the required increases in tax revenue or benefit decreases will need to be larger than noted in the game to achieve actuarial balance.
The success of reforms will depend on how well actual future experience compares with the assumptions made by the trustees and the Social Security actuaries. There is no mechanism in current Social Security law to maintain the program's actuarial balance once it has been achieved. Thus, there can be no guarantee that the System's long-term problem will be "solved" for any specific length of time by enacting various system changes.
 

Reviews and Comments on the Social Security Challenge
"Great animation…. The best yet. … a great way to get today's Gen X and younger crowd engaged, format-wise, while this is simple enough for any non-gamer like me to still have fun and learn something."
--Mary Johnson, Social Security and Medicare analyst at the Senior Citizens League, Alexandria, Va., reported in Financial Planning Magazine, March 21, 2023.
"What I like about it is you can clearly see how many opportunities there are to actually resolve the issue … I also think they should send this out to all the elected officials in Washington."
--Ron Mastrogiovanni, CEO of Healthview Services, Danvers, Massachusetts, reported in Financial Planning Magazine, March 21, 2023.
"If you had any doubt that there are numerous ways in which Social Security's solvency can be restored, you should take the 'Social Security Challenge.'"
--Mark Hulbert, author, Retirement Weekly, Marketwatch, March 18, 2023.
"The generation stuck between baby boomers and millennials, known for its sense of irony in the face of life's challenges, apparently has taken a liking to a new game built around Social Security's upcoming funding problems."
--Vance Cariaga, author, "With Social Security Funds Running Out, Experts Seek Solutions from Everyday Americans," GoBankingRates.com, March 22, 2023.
"The American Academy of Actuaries has a great interactive game on how to fix Social Security. Give it a whirl for some fiduciary fun."
--John Waggoner, senior writer/editor/producer, AARP, on Twitter, March 27, 2023.
"I am optimistic that The Social Security Challenge can help Americans think more clearly about the problem at hand and the compromises we must make."
-- Emerson Sprick, Senior Economic Analyst, Bipartisan Policy Center, reported in The Street, April 3, 2023.