This Week, May 18–22, 2020
Read the latest news from the Academy.

Recent Academy Activity, May 18–22, 2020
Social Security Committee Releases Issue Brief on 2020 Trustees Report
The Social Security Committee released an issue brief, An Actuarial Perspective on the 2020 Social Security Trustees Report, following the release of the annual trustees report in April. The report—which does not reflect any impacts from the COVID-19 pandemic—shows that the combined Old-Age, Survivors, and Disability Insurance program of Social Security will only have sufficient resources to fully cover benefits until 2035, consistent with last year's trustees report.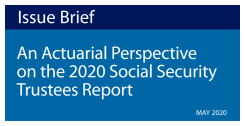 "The 2020 trustees report shows that, even before accounting for any effects of the COVID-19 pandemic—which is expected to result in lower tax income to Social Security—Social Security faces serious financial challenges based on an objective actuarial analysis of how demographic and economic trends are projected to play out under the current program design," said Linda K. Stone, the Academy's senior pension fellow. "Congress will have a wider range of options, with the potential for a more gradual approach to benefits or revenue changes, the sooner that it addresses Social Security's long-term solvency issues."
Next Week—Final Webinar in Academy's Three-Part Retirement Plan Series
Register now for the last installment of the Pension Practice Council's three-part webinar series on retirement in America, to be held next week. "Part Three: Focus on Private-Sector Plans, State Initiatives, and Opportunities to Expand Coverage" will focus on retirement plans sponsored by private-sector employers, the new state-mandated initiatives that are being implemented to increase access and enhance employees' ability to save for retirement, and public policy opportunities that could further increase Americans' retirement security.
The Academy believes in good faith that attendees will have the opportunity to earn up to 1.8 continuing education (CE) credits and 1.8 non-core, non-ethics continuing professional education (CPE) credits under Joint Board for the Enrollment of Actuaries rules. The webinar will be held next Wednesday, May 27, from noon to 1:30 p.m. EDT. Register today.
Reminder: Nominations Open for Academy's Distinguished Service and Volunteerism Awards
Now is an excellent time to support the recognition of an Academy member who has made a difference through public service, or a member who has demonstrated an enduring contribution to the U.S. actuarial profession, by nominating him or her for one of the Academy's prestigious service and volunteerism awards:
In addition to these two singular awards, the Academy also recognizes members annually who have made a difference through their volunteer work:
The deadline for nominations is June 26, and the award recipients will be recognized during the Academy's 2020 Annual Meeting and Public Policy Forum on Nov. 5–6.
Public Policy Activity
Alert
Upcoming Events
In the News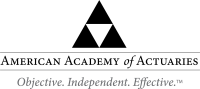 If you would like more information or to contact the Academy, please visit us at www.actuary.org/content/about-us
Follow the Academy on Facebook, LinkedIn, and Twitter. Listen to our podcast.
---
1850 M Street NW • Suite 300 • Washington, DC 20036 • 202.223.8196 • www.actuary.org
Copyright 2020 American Academy of Actuaries. All rights reserved.