This Week, June 24-28, 2019
Read the latest news from the Academy.

Recent Academy Activity, June 24–28, 2019
Issue Brief Released on 2020 Health Insurance Premium Drivers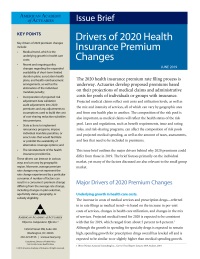 The Individual and Small Group Markets Committee published an issue brief looking at the major drivers behind why 2020 premiums could differ from those in 2019. The issue brief, Drivers of 2020 Health Insurance Premium Changes, focuses primarily on the individual market, yet many of the factors discussed are also relevant to the small group market.
"Steadily increasing health care costs; the possibility of ongoing adverse selection caused by the draw of potentially cheaper, non-Affordable Care Act compliant plans; and the effects of other federal and state public policy changes are among the biggest drivers of 2020 premium changes," said Academy Senior Health Fellow Cori Uccello.
Read the Academy news release.
Extra-Early Annual Meeting Registration Discounts End Today
Extra-early registration discounts end today, June 28, for the Academy's 2019 Annual Meeting and Public Policy Forum, to be held Nov. 5–6 in Washington, D.C. Don't miss the lowest rates. We hope to see you in November—register today.
Service Award Nominations Due: Today is also the deadline to nominate a recipient for the Academy's annual service awards—the Robert J. Myers Public Service Award, the Jarvis Farley Service Award, and Outstanding Volunteerism Awards. The awards will be presented at the Annual Meeting and Public Policy Forum.
Big Data Professionalism Webinar Set for July 25
The Academy will host its second professionalism webinar of the year in late July, "Professionalism and Big Data." Academy Past President Bob Beuerlein will moderate, and panelists will include Data Science and Analytics Committee Chairperson Dorothy Andrews. Continuing education credit will be available. The webinar will be held Thursday, July 25, from noon to 1:30 p.m. EDT. Register today.
Pension Webinar to Look at Expected Return Assumptions
The Pension Practice Council (PPC) will host a webinar in late July, "Developing Return Expectations in Today's Capital Markets—What Methods Work Now?" The webinar is intended to support actuaries directly responsible for assumption recommendations, or in assessing recommendations or resources provided by other parties—a pension plan's outside investment adviser, their own firm's investment practice, or publicly available data and surveys. Panelists will be Evan Inglis, who worked on the PPC practice note released earlier this year, Forecasting Investment Returns and Expected Return Assumptions for Pension Actuaries, and Jerry Mingione. Academy Senior Pension Fellow Linda K. Stone will moderate, and continuing education credit will be available. The webinar will be held Tuesday, July 30, from noon to 1:30 p.m. EDT. Registration will open soon.
Public Employment Opportunities
The New York State Department of Financial Services is seeking to fill two positions: chief actuary and supervising actuary, casualty. Information about qualifications and how to apply is available at the links; applications must be received by July 12.
The Academy has long supported government employers that are seeking to hire qualified actuaries. See our Public Employment Opportunity Posting Policy for more information.
Recently Released
The June Actuarial Update outlines the practice-area breakout sessions planned for the Academy's Annual Meeting and Public Policy Forum in November. Also in this issue, the Academy announced the Nominating Committee's 2019 slate of officers and regular directors; and the "Professionalism Counts" column covers the proper documentation of continuing education compliance.
The Summer StateScan Quarterly highlights recent state legislation and regulation so far this year, as many legislatures are ending or beginning to wrap up their 2019 sessions. For a more comprehensive look at state legislative and regulatory activity, log in to the StateScan portal, free for Academy members.
The Summer Casualty Quarterly includes a Q&A with Automobile Insurance Committee Chairperson Roosevelt Mosley on the timely topic of distracted driving. Also in the issue: the Academy urged the NAIC to reconsider its proposed exposed definition of "qualified actuary"; and recent state and federal legislative and regulatory activity.
PBR Webinar Offers Insight, Information
The Academy's Life Practice Council (LPC) hosted a "PBR Resources Update—Summer 2019" webinar on Wednesday, providing comprehensive updates to assist life actuaries with their principle-based reserving (PBR) work. Speakers covered Academy publications designed to support life actuaries with their assumptions for PBR and other valuation frameworks, and more. Slides and audio are available to Academy members via their member login.
Life Variable Annuity Group Seeks Volunteers for New Task Force
The Variable Annuity (VA) Reserves and Capital Work Group (formerly the AG43/C-3 Phase II Work Group) is seeking volunteer members for a new Variable Annuity and Capital Practice Note Task Force. The task force will be responsible for reviewing and updating the existing C-3 Phase 2 / AG43 practice note for the revised VA framework. For more information or to volunteer for this project, contact Life Policy Analyst Ian Trepanier at trepanier@actuary.org.
Professionalism Outreach
Academy President Shawna Ackerman, President-Elect D. Joeff Williams, and Past President Tom Terry each gave professionalism presentations on Thursday. Ackerman delivered a "Professionalism Update from the Academy" to attendees of the Casualty Actuaries of the Desert States meeting in Scottsdale, Ariz.; Williams presented on "Professionalism and Ethical Challenges" to the Cincinnati Actuarial Club; and Terry spoke on "Professionalism and the Public Interest" at Zurich North America's Actuarial Network Meeting in Schaumburg, Ill.
Deadline Monday for Survey on International Actuarial Issues
The Academy would like your insight on international issues in the actuarial community. Please take a short, four-question survey about your views on international issues and the impact they may, or may not, have on your work. The survey runs through Monday, July 1. To take it, click here.
Registration Open for Casualty Loss Reserve Seminar & Workshops
Registration is open for the 2019 Casualty Loss Reserve Seminar (CLRS) & Workshops, to be held Sept. 16–18 in Austin, Texas. This three-day event, jointly sponsored by the Academy and the Casualty Actuarial Society, provides educational opportunities to help attendees stay current with today's loss reserve developments and learn from experts in reserving. Learn more.
Public Policy Activity
Upcoming Events
In the News
Having trouble viewing this email? View it in your browser.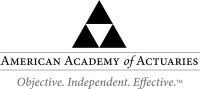 Follow the Academy on Facebook, LinkedIn, and Twitter.

---
1850 M Street NW • Suite 300 • Washington, DC 20036 • 202.223.8196 • www.actuary.org
Copyright 2019 American Academy of Actuaries. All rights reserved.