Casualty Quarterly, Summer 2019

Q&A: Driven to Distraction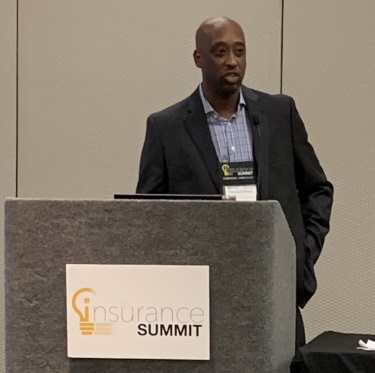 Mosley at the June 6
NAIC Insurance Summit
Distracted driving is an issue of growing concern, with in-vehicle "infotainment" systems on the rise, and many states have deemed it necessary to pass laws restricting such things as using handheld phones while driving because of rise in their usage. Casualty Quarterly asked Roosevelt Mosley, chairperson of the Academy's Automobile Insurance Committee, about some of the key issues being faced by legislators and regulators.
During the Academy's April webinar on P/C public policy issues, you highlighted the issue of distracted driving. Why is this now an issue?
Distracted driving has always been an issue, but it is now getting more attention due to the increasing number of potential distractions that can occur while driving. The percentage of people with smartphones is at an all-time high. According to Pew Research, 81 percent of U.S. adults now own a smartphone, up from just 35 percent in 2011. In addition, people are also spending more time on their phones. According to eMarketer, in 2012 the average person spent 2 hours and 18 minutes per day on their phone; by 2018, that number had almost doubled, to 4 hours and 15 minutes. In addition to smartphone distractions, vehicle "infotainment" systems also are becoming more sophisticated, which can add to the level of distraction. Given all of this, the increased level of distraction is contributing to increased accident frequency.
What kind of behaviors are we talking about?
Smartphone distraction generally receives the most attention, but any behavior that takes your attention off the task of driving can be dangerous. This can include eating, changing radio stations, talking with passengers, dealing with children, etc.
An analysis of research literature was completed by Brace, Young, and Regal regarding the impact of distractions on the likelihood of crash involvement. The findings show that the likelihood of being involved in an accident can increase by up to more than eight times when a driver is distracted in a number of ways, including reaching for objects, talking on the phone, or simply looking at external objects.
Does this concern only private passenger auto or does it also concern operators of commercial vehicles?
Distracted driving is a concern for all vehicle operators, either personal or commercial. It may actually be a larger concern for commercial vehicles for two reasons. First, they tend to be driven more often than personal vehicles, which leads to an increased likelihood of distracted driving causing an accident. Second, commercial vehicles are usually larger, and can cause more significant damage when involved in an accident. So commercial operators have to be concerned with the additional potential liability.
When it comes to talking on a cellphone, is there a difference in level of distraction between using a hand-held device versus hands-free?
The common assumption has been that talking on a hands-free device is safer than talking on a hand-held device. Studies have shown, however, that this is not the case. The issue with distraction related to talking on the phone is not as much about holding the phone as it is about the cognitive distraction of the conversation itself. When talking on the phone, the focus that would normally be dedicated to driving is now split between the conversation and driving. This decreased focus is the same whether you are holding the phone or are talking hands-free. The American Automobile Association (AAA) Foundation for Traffic Safety completed a study in 2013 on the effect of hands-free versus hand-held phone calls and concluded that the increased risk associated with both activities was similar.
It seems like new laws have been focused mainly on hand-held devices.
This is true, and I believe is based in part on the belief that hands-free cellphone use is safer. Currently, 16 states ban the hand-held use of cellphones for all drivers, but none ban the hands-free use of mobile devices. Thirty-eight states ban all cellphone use for novice drivers.
What about sending or receiving text messages?
Forty-seven states, the District of Columbia, Guam, Puerto Rico, and the U.S. Virgin Islands all ban text messaging. However, this ban is generally on the hand-held text messaging, but not hands-free text messaging. All but four of these states allow for primary enforcement of the text message ban—i.e., there does not have to be another driving violation observed before law enforcement can stop a motorist for texting and driving.
In the webinar, you mentioned that the public is sending mixed signals, saying one thing and doing another. Can you elaborate on that?
If you ask most people, they agree that texting and driving is a bad thing, but this does not translate into modified behavior in all cases. The AAA completed a survey of drivers in 2019, and there were several conflicting conclusions. Two of these conflicting conclusions are that while 58 percent of consumers feel talking on cellphones is significant threat and 78 percent believe texting is a significant danger, almost half admitted to making calls themselves, and 35 percent said they text or email while driving.
So while many believe it is dangerous, a significant number still do it. When asked why, there were justifications—the call or send the text was urgent, they are better than others at multitasking, etc. Even though the public recognizes the danger, it does not always lead to behavior modification.
Are you seeing any problems with drivers' interactions with onboard systems in the car?
AAA also recently released research on the level of distraction associated with vehicle infotainment systems. The study found that the systems produced by vehicle manufacturers were resulting in distraction levels similar to levels seen with mobile phones. Apple's CarPlay and Google's Android Auto systems, however, are actually proving to be effective at reducing distraction. It does not eliminate the distraction risk, but decreases the amount of time drivers are distracted when interacting with the system for normal tasks such as making calls, programming navigation, etc.
Are you aware of any technological innovations in the works that would help drivers and tech companies make this a non-issue?
There are current technological advances available that could make the distraction associated with smartphones a non-issue. There are currently settings such as "Do Not Disturb" on the Apple iPhone that limit the notifications that a phone displays or the calls received while this setting is activated. There is an automatic enabling of this setting when the iPhone senses that the user is driving. There are applications available for all smartphones that perform similar functions. The issue is that these safety settings can be disabled by the user. Ultimately, the impact of these technological innovations will be determined by how much control the user has in being able to override the settings.
Pedestrian fatalities have risen in recent years. Do we know whether that is related to distracted driving?
It certainly could be partially related to distracted driving, as a distracted driver may not be as aware of pedestrians. However, it can also be impacted by distracted pedestrians. If pedestrians are focused on their phones and/or have earbuds or headphones on, they may not see or hear vehicles and be able to avoid them. Therefore, awareness of the issues with distractions needs to be heightened for both drivers and pedestrians.
Academy Extreme Events Committee
Issue Paper Looks at Wildfire Risk Modeling
The P/C Extreme Events and Property Lines Committee released Wildfire: An Issue Paper—Lessons Learned from the 2017–2018 California Events, looking at the issue following the California wildfires of the past two years that were among the largest and most costly on record.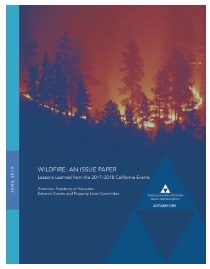 California in particular in recent years has experienced repeated cycles of rain, drought, and wildfire, causing unexpectedly high levels of insured losses due to fire and related mudslides. Homeowner and commercial insurance policies have been interpreted broadly to cover more losses than insurers anticipated, and projections of future insured losses will have to include these broader definitions of what is covered.
"California's devastating 2017 and 2018 wildfires were a wake-up call to all potentially affected by or tasked with addressing wildfire risk," said Kay Cleary, chairperson of the committee. "Wildfire risk has been heightened by a substantial increase in recent decades of areas where human development is adjacent to or mixed in with undeveloped wildland. More wildland-urban interface means more wildfire risk, and more people who need to be aware of it."
Modeling of wildfire risk is very complex, the paper notes, and compared with hurricane and earthquake simulations, acceptance and use of wildfire models is still in an early stage. Limited use of wildfire models is due in part to the absence of insurer and regulator accepted modeling standards, contrasting with hurricane modeling, which developed rapidly after regulators in Florida set consistent and understandable requirements for hurricane model review.
The Florida Commission on Hurricane Loss Projection Methodology provides a case study in how regulators can help speed the development and acceptance of catastrophe modeling that is helpful to insurers and the public. Without regulatory standards for wildfire models, insurers use a multiyear long-term average of historical events to estimate future losses. This may not be as useful as modeling when it comes to understanding an evolving risk, the paper notes.
Changes in the wildland-urban interface (WUI) have had a significant impact on insured losses, and development in what was previously undeveloped wildland has resulted in increased exposure to potential loss. About one-third of houses and people in the United States are now within the WUI, and about 43 percent of all new homes between 1990 and 2010 were built in the WUI.
Academy Urges NAIC to Reconsider Definition for 'Qualified Actuary'
The Academy, in a May 30 letter signed by President Shawna Ackerman, expressed concerns with the National Association of Insurance Commissioners' (NAIC's) May 1 exposure draft of the P/C Statement of Actuarial Opinion Instructions that would, among other changes, alter the definition for "Qualified Actuary."
In its letter, the Academy pointed to its long history of assuring accountability and credibility for the actuarial profession, the public, and regulators—"The Academy was created and continues to serve as the accrediting organization for actuaries practicing in the U.S." Further, the letter states, the proposed changes to the instructions may serve to raise questions among stakeholders and "create confusion and dilute the existing understanding and recognition of the actuarial qualification requirements."
After identifying a number of specific issues with language in the proposed instructions, the letter urged the NAIC to continue to draw upon the Academy's experience and knowledge to "ensure actuaries are held to the time-tested standards that are in place today."
COPLFR plans webinar
The Academy's Committee on Property Liability Financial Reporting (COPLFR) is planning on providing a webinar late summer or early fall to update the profession on the revised definition of Qualified Actuary, as currently drafted and expected to be voted on by the NAIC this summer. This webinar will be in addition to COPLFR's annual presentation of the Actuarial Opinion Instructions in the Practice Note and during the Seminar on Effective P/C Loss Reserve Opinions, Dec. 4–5 in Baltimore. Please stay tuned for additional details as the topic continues to evolve.
Academy Hosts Predictive Modeling Session at NAIC Insurance Summit
The Academy presented a daylong session on predictive modeling for regulators attending the NAIC's Insurance Summit in Kansas City, Mo., on June 6. The seminar was organized by Roosevelt Mosley, chairperson of the Academy's Automobile Insurance Committee, which served as the host.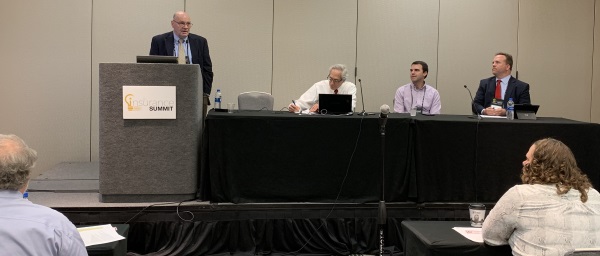 Gibson (at podium) leads a session at the summit
Academy Senior Property/Casualty Fellow Rich Gibson moderated a lively discussion of public policy issues related to predictive modeling, which focused on data quality as a key issue. Dorothy Andrews, chairperson of the Academy's Data Science and Analytics Committee, spoke about regulators' understanding of predictive modeling and of relevant actuarial standards.
The panels focused on data quality as a key issue. Kevin Dyke, chief actuary for Michigan's Department of Insurance and Financial Services, said, "The quality of the data is in many ways more important than the model itself." He added, "It is important to communicate to regulators about what a company has done to assure data quality."
The discussion turned to the possibility that some external data used in predictive models could serve as proxies for otherwise prohibited data about certain classes of information. Panelist Mike Woods noted that insurers are barred from collecting data on protected categories such as race, religion and nationality, so it would be hard for them to test whether external data sets mimic prohibited information.
Panelist Birny Birnbaum, director of the Center for Economic Justice, said that regulation of external data used in models depends upon the data vendor. Some data sources are subject to oversight under the Fair Credit Reporting Act, while statistical agents are the subject of model NAIC regulations. But other data sources are not subject to any regulation or licensing. "That's an issue that needs to be addressed," Birnbaum added.
The session and the program ended with Dyke observing that consumers' lack of understanding of predictive models is a difficult issue for regulators. Companies could do a better job of explaining their rates to customers, he concluded.
ACI Fall 2018 Data Released Using Improved Methodology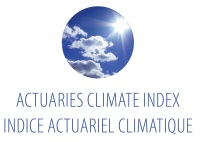 The latest Actuaries Climate Index (ACI) data, updated for fall 2018 using an improved methodology, show that the previously reported upward trend in the key five-year moving average ACI metric continues.
Based on the new methodology and the data through fall 2018, the ACI's five-year moving average increased between winter and fall 2018 from 0.91 to 1.03, the highest level over the period studied, January 1961 through November 2018. The increasing value reflects continued deviation of climate extremes and sea level from historical levels for the two countries.
"We applied a new methodology with this release of the ACI to ensure a high standard of scientific rigor going forward in measuring how climate extremes and sea level are changing," says Doug Collins, chair of the Climate Index Working Group. "The working group introduced this change after identifying an increased frequency of missing data in northern Canada, which led us to restricting the ACI to locations with consistently reported data."
Academy presents on ACI, ACRI
Academy Senior P/C Fellow Rich Gibson and Steve Jackson, assistant director for research (public policy), presented May 23 in New York City to the Casualty Actuaries of Greater New York on the ACI and the Actuaries Climate Risk Index (ACRI). Their presentation provided an overview of, and update on, developments with the ACI, as well as work being done in advance of the ACRI's future release.
Capitol Forum Webinar Looks at Cyber Risk Insurance
The Academy hosted a May 23 Capitol Forum webinar, "Cyber Risk Insurance: Evolving Legal and Regulatory Environment," during which presenters gave an overview of the current state of cyber risk insurance, focusing on the evolving legal and regulatory environment for this fast-growing coverage.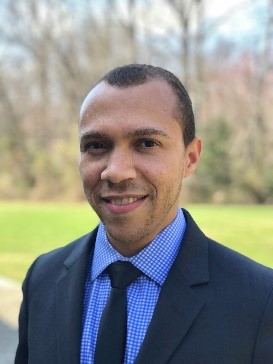 Douglas They discussed terrorist or foreign government-backed attacks, compared policies and regulations across national borders, considered information-sharing, and more. The webinar was hosted by Edmund Douglas, chairperson of the Academy's Cyber Risk Task Force. Presenters were Wyatt Hoffman, senior research analyst with the Carnegie Endowment for International Peace's Cyber Policy Initiative; Leigh Wolfrom, a policy analyst at the Organisation for Economic Co-operation and Development's (OECD) Directorate for Financial and Enterprise Affairs; and Scott Kannry, CEO of the cyber security consulting firm Axio.
There continues to be exposure to "silent cyber risk," Douglas said, citing a $100 million claim by the Mondelez International food company under a commercial property policy. Zurich America is resisting the claim, noting that the U.S. government publicly identified the Russian government as the source of the so-called "notPetya" cyber attack. The case is now in the courts.
Hoffman said businesses face growing cyber security challenges. "The risk landscape is constantly evolving," he said, especially as the "internet of things" and cloud computing services create new areas of vulnerability. The accumulation risk is a "huge challenge for re-insurers," he said, noting the "the line is blurry" between criminal and governmental actors in cyberspace.
Among others, the governments of North Korea, Russia, and Iran have been identified as the sources of major cyber attacks that have affected international businesses. There also is some ambiguity about coverage and policy exclusions in the event of a largescale attack by a terrorist group, he said.
Wolfrom observed that premiums for cyber-risk coverage are estimated to be about $3 billion worldwide, with 90 percent of that coming from the United States. While this is "minuscule compared to other lines," it is growing rapidly, he said, noting that Europe is beginning to catch up to the U.S. on market penetration. One impediment to growth is that cyber-risk policies are complex and lack uniformity, he said.
Kannry added that there is a point of diminishing returns from security measures and that businesses at some point must turn to insurance coverage to help manage the possible consequences of a cyber attack, and said that "the insurance product is the only thing that can eliminate the financial risk."
Slides and audio are available free for Academy members through your member login.
Cyber Risk Insurance Guide Released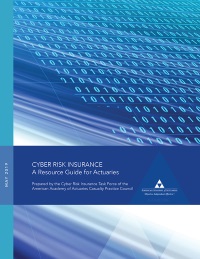 The Cyber Risk Task Force also published a related new document, Cyber Risk Insurance: A Resource Guide for Actuaries. It notes that, according to a 2018 report, cyber risk is the No. 1 concern for risk managers in the United States, and is a risk that impacts everyone—from individuals to small businesses to large Fortune 100 corporations. "As a result of the global digitization and the increasing capabilities of malicious cyber actors, the costs of cybercrime have continued to rise, and are estimated to have topped $600 billion in 2017," the guide states.
P/C Policy Webinar Following NAIC Spring Meeting Covers Distracted Driving,
Recent State and Federal Developments
The Academy's Casualty Practice Council (CPC) hosted a "P/C Public Policy Update—Spring 2019" webinar in late April, covering recent state and federal policy updates. Presenters were Lisa Slotznick, vice president, casualty; Senior P/C Fellow Rich Gibson; and Roosevelt Mosley, chairperson of the Automobile Insurance Committee.
The webinar featured an extensive presentation on distracted driving. Other topics covered included predictive modeling and professionalism matters, including NAIC initiatives on casualty actuaries' qualifications and credentials and the Actuarial Standards Board's (ASB) proposed actuarial standards of practice (ASOPs) on modeling and setting assumptions.
The CPC submitted comments to the ASB on the draft Modeling ASOP and plans to this summer on proposed revisions to the Assumptions ASOP, and Slotznick also encouraged individuals to read the proposals and consider submitting their own comments.
The proposed NAIC white paper on best practices for regulatory review of predictive models was discussed. The Academy has filed comments and a revised draft of the paper is expected to be released later this year. In response to a question, Gibson said that while the current project is limited to the use of generalized linear models in automobile insurance ratemaking, it is expected that the scope may eventually be expanded to other lines of insurance and other forms of predictive models. An overview was also provided of recent state-level legislative activity ranging from travel insurance to pet health insurance to automobile insurance.
On distracted-driving issues, summaries of research done by the Insurance Institute for Highway Safety and by the American Automobile Association (AAA) Foundation for Traffic Safety were discussed. These studies show the degree to which various driver behaviors distract from focusing on road conditions. Mosley noted which states have enacted laws addressing the different types of distracted driving.
The webinar followed the NAIC Spring 2019 National Meeting in Orlando, Fla., in early April, which addressed a variety of casualty, and professionalism topics, and at which CPC volunteers gave a series of presentations.
Professionalism presentations included candid discussions with regulators at the Academy-hosted regulator-only professionalism breakfast on April 6, and from Academy Past President and Actuarial Board for Counseling and Discipline (ABCD) member Mary D. Miller, Actuarial Standards Board (ASB) Chairperson Kathy Riley, and ABCD member Godfrey Perrott to the NAIC's Casualty Actuarial and Statistical Task Force (CASTF).
Slotznick presented to CASTF, giving an overview of the CPC's activities, including predictive modeling modules the Academy later presented at NAIC's Insurance Summit in June. Gibson also gave updates to NAIC's P/C RBC Working Group. Committee on Property and Liability Financial Reporting (COPLFR) Chairperson Kathy Odomirok updated the task force on the COPLFR's activities regarding P/C Statements of Actuarial Opinion.
Webinar slides and audio are available free for Academy members with your Academy membership login.
COPLFR Comments on Retroactive Insurance Reporting
The Committee on Property and Liability Financial Reporting sent a comment letter to the NAIC regarding ambiguity in instructions for reporting retroactive reinsurance. The letter includes discussion of workers' compensation and auto passenger liability tables.
CRS Cites Academy's Work in Flood Insurance Report
The nonpartisan Congressional Research Service cited the Academy in four footnotes (12, 74, 88, 119) in its updated report released May 7 on issues surrounding the market for private flood insurance.
Committee Submits Scope Letter on PC RBC Underwriting Risks
The P/C RBC Committee submitted a scope letter to the NAIC P&C Risk-Based Capital (E) Working Group outlining proposed research into various underwriting risk factors in the RBC formula for P/C insurers.
Copyright © 2019 American Academy of Actuaries. All Rights Reserved.
1850 M Street NW, Suite 300, Washington, DC 20036
www.actuary.org

Phone: 202-223-8196