This Week, June 17-21, 2019
Read the latest news from the Academy.

Recent Academy Activity, June 17–21, 2019
Issue Paper Looks at Wildfire Risk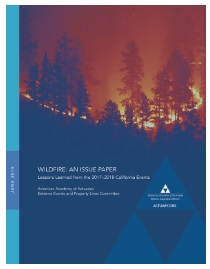 The P/C Extreme Events and Property Lines Committee released Wildfire: An Issue Paper—Lessons Learned from the 2017–2018 California Events, looking at the issue following the California wildfires of the past two years that were among the largest and most costly on record. "California's devastating 2017 and 2018 wildfires were a wake-up call to all potentially affected by or tasked with addressing wildfire risk," said Kay Cleary, chairperson of the committee. "Wildfire risk has been heightened by a substantial increase in recent decades of areas where human development is adjacent to or mixed in with undeveloped wildland. More wildland-urban interface means more wildfire risk, and more people who need to be aware of it."
ASB Adopts New ASOP on Capital Adequacy Assessment
The Actuarial Standards Board adopted Actuarial Standard of Practice (ASOP) No. 55, Capital Adequacy Assessment, which will provide guidance to actuaries when performing professional services with respect to an evaluation of the resiliency of an insurer through a capital adequacy assessment. The ASOP, which underwent three exposure periods and received a total of 22 comment letters, is effective for work commenced on or after Nov. 1, 2019.
Annual Meeting Practice-Area Topics Announced; Extra-Early Discount Ends Next Week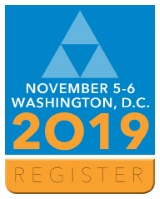 Practice-area topics for casualty, health, life, and pension breakout sessions have been announced for the 2019 Annual Meeting and Public Policy Forum, Nov. 5–6 in Washington, D.C. The agenda for the Academy's premier annual event will deliver up-to-the-minute information about top public policy and professionalism issues, and offers attendees unique opportunities to discuss critical issues directly with policymakers, your fellow actuaries from all practice areas, and Academy leaders. Extra-early registration discounts are available through next Friday, June 28—register today.
Your Insight Sought on International Actuarial Issues
The Academy would like your insight on international issues in the actuarial community. Please take a short, four-question survey about your views on international issues and the impact they may, or may not, have on your work. The survey will be available through July 1. To take the survey, click here.
Professionalism Outreach
Academy President-Elect D. Joeff Williams and Actuarial Board for Counseling and Discipline (ABCD) member David Driscoll helped kick off the Spring Meeting of the Southeastern Actuaries Conference with their pre-meeting seminar, "Meeting the Professionalism Challenge," Wednesday in Fort Lauderdale, Fla. The seminar reviewed the precepts of the Code of Professional Conduct and key ABCD processes including how requests for guidance and complaints against actuaries are handled. It also challenged the attendees to provide their insights on the professional responsibilities involved in different hypothetical case studies posing ethical problems.
Academy Service Awards Nominations Due Next Week
Next Friday, June 28, is the deadline to nominate a recipient for the Academy's annual service awards—the Robert J. Myers Public Service Award, the Jarvis Farley Service Award, and Outstanding Volunteerism Awards—which will be presented at the Academy's Annual Meeting and Public Policy Forum Nov. 5–6 in Washington, D.C.
Recently Released
The Academy published a new Essential Elements paper, "High-Performance Networks: Optimizing Health Insurance Networks to Improve Care," highlighting the potential of high-performance networks between health insurers and providers to reduce costs for patients. The Essential Elements series is designed to make actuarial analyses of public policy issues clearer to general audiences.
Life Webinar Next Week: PBR Resources Update—Summer 2019
Next week's "PBR Resources Update—Summer 2019" webinar will update, assist, and help prepare life actuaries with their principle-based reserving (PBR) work. Speakers will provide updates on recent Academy publications designed to support life actuaries with their assumptions for PBR and other valuation frameworks, and more. Linda Lankowski, vice chairperson of the Life Practice Council, will moderate the webinar, which will be held Wednesday, June 26, from noon to 1:30 p.m. EDT. Register today.
Upcoming Events
In the News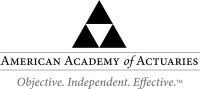 Follow the Academy on Facebook, LinkedIn, and Twitter.

---
1850 M Street NW • Suite 300 • Washington, DC 20036 • 202.223.8196 • www.actuary.org
Copyright 2019 American Academy of Actuaries. All rights reserved.