This Week, Nov. 18 - 22, 2019
Read the latest news from the Academy.

Recent Academy Activity, Nov. 18–22, 2019
Editor's note: Due to the upcoming Thanksgiving holiday, the Academy will not publish This Week next week. The next issue will be published in two weeks, on Dec. 6.

Happy Thanksgiving From the Academy
Academy President D. Joeff Williams' letter to members this month announced the membership renewal period and includes a link to "The Meaning of Your Membership," which highlights the many mission-critical aspects of the Academy's work in 2019. To pay your annual dues, you may log in to the Academy's website. Williams also sent a Thanksgiving message this week to Academy members, wishing them well and thanking them for their membership.
Webinar Looks at Qualified Actuary Requirements
The Academy hosted a webinar Wednesday, "P/C Qualified Actuaries: 2019 Changes to Instructions." The National Association of Insurance Commissioners (NAIC) Instructions to the P/C Statement of Actuarial Opinion have changed in 2019, including the definition of a qualified actuary and associated documentation that the Appointed Actuary will now be required to provide to company boards.
Presenters were Committee on Property and Liability Financial Reporting (COPLFR) Chairperson Kathy Odomirok, COPLFR members Michelle Iarkowski and Stephen Koca, and Anna Krylova, vice chair of the NAIC's Actuarial Opinion Working Group. The webinar looked at changes and required documentation to try to assist Appointed Actuaries with meeting the new requirements. See a more extensive report in the November Actuarial Update. Slides and audio are available without charge on the Academy's webinar page for logged-in Academy members.
Earn CE at Next Month's Professionalism Webinar
Register today for "Friday the 13th: More Tales From the Dark Side," the Academy's final professionalism webinar of the year, and explore interesting examples of ethical problems based on cases that have been brought before the Actuarial Board for Counseling and Discipline (ABCD). Presenters—ABCD members David Driscoll and Godfrey Perrott—will describe the reference points actuaries should look to in each case to stay on the right side of the Code of Professional Conduct. We believe in good faith that attendees will have the opportunity to earn up to 1.8 professionalism continuing education (CE) credits and 1.8 core ethics continuing professional education credits under Joint Board for the Enrollment of Actuaries (JBEA) rules. Register today.
Pension Webinar Set for December
The Academy will host a pension webinar, "Working With Auditors: Stories From Inside the Audit Engagement," that will feature a panel of actuaries that includes individuals who routinely support audit engagements. Ellen Kleinstuber, a member of the Pension Risk Transfer Work Group, will moderate, and panelists will include John Stokesbury, vice chairperson of the Actuarial Board for Counseling and Discipline. The Academy believes in good faith that attendees will have the opportunity to earn up to 1.8 professionalism continuing education (CE) credits and 1.8 non-core continuing professional education credits under JBEA rules. Also, please check your email for promotional member discount codes. The webinar will be held on Monday, Dec. 16, from noon to 1:30 p.m. EST. Register today.
Professionalism Outreach
Several Academy representatives from the Academy's Speakers Bureau spoke to actuarial clubs this week.
Academy President-Elect Tom Campbell gave an update on the Academy's public policy and professionalism activities at the Actuaries' Club of Hartford and Springfield on Tuesday.

Former Actuarial Standards Board (ASB) Chairperson Beth Fitzgerald presented Tuesday on "Professionalism and the Anatomy of the ASOPs" at the Casualty Actuaries of the Mid-Atlantic Region's meeting in West Windsor, N.J. The presentation reviewed the basic structures and key elements of U.S. actuarial professionalism.

Academy President D. Joeff Williams spoke Tuesday on professionalism and ethics at the Middle Atlantic Actuarial Club's meeting in Columbia, Md. His presentation included an interactive discussion with attendees of ethics case studies.

ASB member Cande Olsen spoke Thursday on "The ASOP Advantage: The Latest in ASB Standards-Setting" at the Southeastern Actuaries Conference meeting in Atlanta. Olsen reviewed the ASB standards-setting process and how actuaries can be involved in the process.
Public Policy Outreach
Academy Assistant Director of Research (Public Policy) Steve Jackson co-presented "An Introduction to the Actuaries Climate Index and the Actuaries Climate Risk Index," also at the Middle Atlantic Actuarial Club's meeting on Wednesday.
Actuaries Climate Index Updated With Spring 2019 Data
The Actuaries Climate Index (ACI) has been updated with data through spring 2019. For the fifth consecutive quarter, the index's five-year moving average has set a new high; five-year averages for three ACI components hit new highs as well. Read the news release.
Recently Released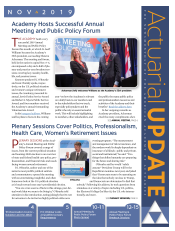 The November Actuarial Update covers all aspects of the Academy's Annual Meeting and Public Policy Forum held earlier this month in Washington, including keynote and plenary sessions, practice-area breakout sessions, presidential and officer transitions, and presentation of the Academy's annual service awards. Also covered, the Life and Health Qualifications Seminar, and the "Professionalism Counts" column on seeking help from the ABCD.
The fall issue of The Retirement Report includes a Q&A on the Pension Committee's recent public policy practice note on defined benefit pension plans that include variable annuity benefits, the Pension Practice Council's October Capitol Hill forum on multiemployer plans, and recent legislative and regulatory activity.
Available for Order: P/C Loss Reserve Law Manual
Updated for 2019, the Academy's P/C Loss Reserve Law Manual is designed to help appointed actuaries know the NAIC annual statement requirements for statements of actuarial opinion. The manual contains a compilation of insurance laws relating to P/C loss and loss expense reserves for all 50 states; Washington, D.C.; and Puerto Rico. It is designed to allow users to directly access each jurisdiction's laws, making it a useful reference tool for actuaries. The manual will be available for delivery this winter.
Public Policy Activity
Academy Senior Casualty Fellow Rich Gibson submitted comments on the latest draft of a proposed NAIC white paper on regulatory review of predictive models.

The Longevity Risk Task Force sent a cover letter to NAIC's Longevity Risk (A/E) Subgroup outlining sample changes to the risk-based capital (RBC) blanks for implementing longevity C-2 factors.
Alerts
Academy alerts are a free benefit for Academy members. Members can read all Academy alerts—and subscribe to future alerts—by logging into the Academy website.
Upcoming Events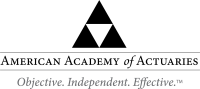 PLEASE DO NOT REPLY TO THIS EMAIL. THIS EMAIL ADDRESS IS NOT MONITORED.
If you would like more information or to contact the Academy, please visit us at www.actuary.org/content/about-us
Follow the Academy on Facebook, LinkedIn, and Twitter.
Rather not receive Academy emails? Unsubscribe by emailing membership@actuary.org.
---
1850 M Street NW • Suite 300 • Washington, DC 20036 • 202.223.8196 • www.actuary.org
Copyright 2019 American Academy of Actuaries. All rights reserved.