This Week, May 16– 20, 2022
Read the latest news from the Academy.

Keeping You in the Know—Recent Academy Activity, May 16–20, 2022
It's time to catch up with the Academy's "This Week … In a Minute" video. Watch a recap of the top stories from the week and subscribe to us on YouTube to receive alerts as new videos are released.
Nominations Open for Academy Service Awards
New Rising Actuary Award Will Recognize Emerging Leaders
It's time to submit nominations for the Academy's annual awards, which feature a new award this year recognizing young leaders in the actuarial profession. The hard work, dedication, and support of the Academy's many volunteers help sustain the professionalism infrastructure the Academy provides for our self-regulating profession in the United States and contribute to our work on important public policy issues. Recipients will be recognized at the Academy's "Envision Tomorrow: 2022 Annual Meeting," Nov. 2–3 in Washington, D.C.
Members are encouraged to submit nominations for the following awards:
Academy Shares Support for All Impacted by Buffalo Shooting
The Academy released the following statement on last weekend's mass shooting: "The American Academy of Actuaries condemns the tragic shooting in Buffalo, N.Y., and extends our heartfelt condolences to the victims, their families and loved ones, as well as the broader community impacted by this senseless tragedy. The Academy remains committed to fostering an environment of inclusion that embraces our unique differences in all aspects of life and society."
Register for Next Week's Health and Professionalism Webinars
Register now to attend and gain valuable continuing education (CE) credit at two Academy webinars next week:
Health webinar—"Health Spending Projections in the Wake of COVID-19" will feature presentations by COVID-19 subject-matter experts, including John Poisal, deputy director, National Health Statistics Group, Office of the Actuary, Centers for Medicare & Medicaid Services (CMS); and Regina Rosace, vice president medical director with SCOR Global Life Sciences. They will provide information on how the pandemic has affected national health spending and is projected to affect near-term spending, including an overview of newly released CMS national health expenditure projections. The webinar is next Tuesday, May 24, from noon to 1 p.m. EDT. Register today.

Professionalism webinar—This webinar—"What Is Unfair Discrimination in Insurance?"—will examine the standard rating law, which holds that insurance rates shall not be "excessive, inadequate, or unfairly discriminatory." Presenters Daniel Schwarcz, an award-winning professor and scholar; former Illinois Director of Insurance Nat Shapo; and Brian Mullen, chairperson of the task force currently revising Actuarial Standard of Practice (ASOP) No. 12, Risk Classification (for All Practice Areas), will discuss the current regulatory infrastructure relating to unfair and unlawful discrimination in insurance and the challenges presented by anti-discrimination legislation and the increased use of big data and AI-enabled systems. Join us for what promises to be an important and robust discussion. The webinar is next Thursday, May 26, from noon to 1:30 p.m. EDT. Register now.
Register Now for Early Discounts to 2022 LHQ Seminar
Register for the Academy's annual Life and Health Qualifications Seminar, which delivers the highest-quality and most efficient way to obtain any basic education or relevant CE credit necessary—up to 27 hours are available—to qualify to issue actuarial opinions for either the National Association of Insurance Commissioners (NAIC) Life and Accident & Health (A&H) Annual Statement or the NAIC Health Annual Statement. Early registration rates are available through June 30—register now and save $200.
Reminder—Deadline Is May 31 to Nominate Member-Selected Directors
There's a little over a week left for Academy members to submit nominations for member-selected directors. The Nominating Committee will meet thereafter to identify candidates in accordance with its guidelines. Members will vote this summer to elect member-selected directors to the Academy Board of Directors in an online election from a slate of candidates presented by the committee. Nominations are due by May 31—for criteria and how to submit nominations, visit the Board Election Center.
Public Policy in Focus
The Climate Change Joint Task Force submitted comments to the U.S. Department of Labor's Employee Benefits Security Administration on possible agency actions to protect life savings and pensions from threats of climate-related financial risk.

Group Life Waiver Premium Valuation Table Work Group Chairperson Sue Sames presented an update on proposed recommendations to the NAIC's Health Actuarial (B) Task Force on the Group Life Waiver of Premium Valuation Table and Actuarial Guideline 44 (AG 44).

The Cyber Risk Task Force sent comments to the U.S. Treasury Department's Federal Insurance Office on the effectiveness of cyber considerations of the Terrorism Risk Insurance Program.
Visit the Public Policy page to stay on top of the latest news and activities.
Upcoming Events
In the News
Coming Soon
Registration will open next week for two new webinars:
Mark your calendar for "Value of Reduced Benefit Options in Long-Term Care Insurance Rate Increases," to be held June 10 from noon to 1 p.m. EDT.

Learn all you need to know about ASOP No. 28 in this professionalism webinar, which will feature speakers involved with the recent revision to ASOP No. 28, Statements of Actuarial Opinion Regarding Health Insurance Assets and Liabilities. It will be held June 30 from noon to 1:30 p.m. EDT.
Trustees' reports webinar—Following the expected release soon of the annual Medicare and Social Security trustees' reports, this webinar will feature chairpersons of the Academy's Medicare and Social Security Committees, who will summarize the trustees' findings. Actuaries from the two programs will provide a deeper dive into the assumptions used and how recent events—such as the COVID-19 pandemic and related economic downturn—are reflected in the projections.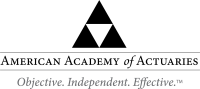 PLEASE DO NOT REPLY TO THIS EMAIL. THIS EMAIL ADDRESS IS NOT MONITORED.
Follow the Academy on Facebook, LinkedIn, and Twitter. Listen to our podcast.
To update your Academy email communication preferences, please login and update your Academy member profile.
---
1850 M Street NW • Suite 300 • Washington, DC 20036 • 202.223.8196 • www.actuary.org
Copyright 2022 American Academy of Actuaries. All rights reserved.