This Week, June 3-7, 2019
Read the latest news from the Academy.

Recent Academy Activity, June 3–7, 2019
Academy Hosts Predictive Modeling Seminar at NAIC Insurance Summit
The Academy presented a daylong seminar on predictive modeling for regulators attending the NAIC's Insurance Summit in Kansas City, Mo., on Thursday. The seminar was organized by Roosevelt Mosley, chairperson of the Academy's Automobile Insurance Committee, who served as host. Academy Senior Casualty Fellow Rich Gibson moderated a lively discussion of public policy issues related to predictive modeling, which focused on data quality as a key issue.
Last Chance—Share Your Feedback on the P/C Loss Reserve Law Manual
Don't forget to take our short survey and provide your insight on the Academy's P/C Loss Reserve Law Manual—whether you previously purchased it or not. The survey will close tonight, June 7.
Professionalism Outreach
Council on Professionalism member Mike Ward provided Actuaries' Club of the Southwest members from Texas and surrounding states "A Look at Ethics and Professionalism" at the club's meeting in Galveston, Texas, on Friday. Ward's presentation reviewed the professionalism infrastructure housed within the Academy and concluded with an engaging discussion of ethics case studies with attendees.
Public Policy Outreach
Steve Jackson, Academy assistant director for research (public policy), gave a poster presentation of an Academy Health Practice Council study on estimating the potential health care savings of reference pricing at the 2019 Annual Research Meeting of AcademyHealth, a private health services research organization, last Sunday in Washington, D.C.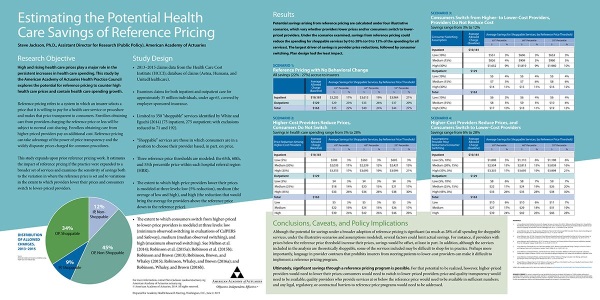 Reminder—Academy Service Awards Nominations Due This Month
A reminder to members that the deadline for nominations for the Academy's annual service awards is three weeks away—Friday, June 28. The awards—the Robert J. Myers Public Service Award, the Jarvis Farley Service Award, and Outstanding Volunteerism Awards—will be presented at the Academy's Annual Meeting and Public Policy Forum Nov. 5–6 in Washington.
Also three weeks away is the extra-early registration deadline for the Academy's Annual Meeting and Public Policy Forum. Join us in November to celebrate your peers and to benefit from up-to-the-minute information on key public policy and professionalism issues relevant to all actuarial practice areas—register today.
Public Policy Activity
The Health Practice Council submitted comments to the U.S. House Committee on Ways and Means regarding its June 12 hearing, "Pathways to Universal Health Coverage."
Alert
The U.S. House of Representatives passed a bill Monday providing $19.1 billion in appropriations aimed at helping communities to recover from recent natural disasters. Included in the legislation are provisions to extend the National Flood Insurance Program through Sept. 30 and to ensure crop insurance coverage for hemp beginning in 2020. The legislation, which was passed by the U.S. Senate on May 23, was signed by President Trump on Thursday. Read the Academy alert.
Upcoming Events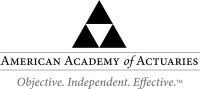 Follow the Academy on Facebook, LinkedIn, and Twitter.

---
1850 M Street NW • Suite 300 • Washington, DC 20036 • 202.223.8196 • www.actuary.org
Copyright 2019 American Academy of Actuaries. All rights reserved.