This Week, June 22–26, 2020
Read the latest news from the Academy.

Recent Academy Activity, June 22–26, 2020
Health Online Briefing for Capitol Hill
The Academy on Friday held an online briefing for an audience of health policy stakeholders in which presenters Barb Klever, chairperson of the Individual and Small Group Markets Committee, and Academy Senior Health Fellow Cori Uccello discussed the factors actuaries consider in setting premium rates for 2021 and how COVID-19 has affected these factors. Audrey Halvorson, Academy vice president, health, moderated.
Klever and Uccello drew from two new Academy issue briefs—Drivers of 2021 Health Insurance Premium Changes: The Effects of COVID-19 and Health Insurance Risk Mitigation Mechanisms and COVID-19—that explore uncertainties brought on by the COVID-19 pandemic.
GASB Outreach

Tim Geddes, Academy vice president, pension, and Linda K. Stone, Academy senior pension fellow, joined by Craig Hanna, director of public policy, and Mary Downs, executive director, met virtually with senior leadership of the Governmental Accounting Standards Board (GASB) today. Dave Vaudt, outgoing GASB chair, introduced Joel Black, the incoming chair of the independent, private-sector organization that establishes accounting and financial reporting standards for U.S. state and local governments that follow generally accepted accounting principles (GAAP).
Vaudt expressed appreciation for the participation and assistance that has been provided to GASB by Academy volunteers over many years. The Academy looks forward to continuing to provide our independent and objective work to help inform the standards-setting process that GASB provides to all its stakeholders.
Workers' Comp Committee Releases Issue Brief
The Workers' Compensation Committee released an issue brief, Presumptive Benefits in Workers' Compensation: Emerging Issues Before and After COVID-19. The issue brief describes what workers' compensation presumption of benefits means, how laws vary by state, what occupations are covered by presumptions, what injuries or diseases are classified as presumptive, who is eligible, how claims can be rebuttable by the employers, what are the cost elements of workers' compensation presumptions, and other cost considerations.
It also covers recent developments, including the ongoing COVID-19 pandemic, and responses to post-traumatic stress disorder, and looks ahead at future issues confronting state legislatures, the workers' compensation insurance system, public entities, and society at large.
Webinar Set for July 22: In conjunction with the issue brief, a webinar, "Workers' Compensation: Impact of COVID-19," will be held from noon to 1:30 p.m. EDT on July 22. Dave Heppen, chairperson of the Workers' Compensation Committee, will moderate, and the speakers will be committee members Derek Jones and Frederick Ryan. Speakers will cover the effects of dramatic changes in the workforce, expansion of presumptive benefits for first responders and health care workers, consideration of the 2020 experience in the rate-filing process, financial reporting questions, and more. The Academy believes in good faith that attendees may earn up to 1.8 credit hours of "organized" continuing education for attending this live webinar. Register today.
Deadline Today—Academy's Service and Volunteerism Award Nominations
The deadline is today, June 26, for nominations for the Academy's annual service and volunteerism awards. Nominate a deserving colleague who has made a difference through public service, or whose volunteer efforts on the behalf of the Academy has demonstrated significant and enduring contributions to the U.S. actuarial profession, or has made a meaningful volunteer contribution in the past year, by nominating her or him for one of the Academy's annual prestigious service and volunteerism awards—the Jarvis Farley Service Award, the Robert J. Myers Public Service Award, and the Outstanding Volunteerism Awards.
ASB Approves Second Exposure Draft of Revision of ASOP No. 22
The Actuarial Standards Board (ASB) recently approved a second exposure draft of a revision of Actuarial Standard of Practice (ASOP) No. 22, now titled Statements of Actuarial Opinion Based on Asset Adequacy Analysis for Life Insurance, Annuity, or Health Insurance Reserves and Other Liabilities. The ASOP applies to actuaries when performing actuarial services with respect to providing a statement of actuarial opinion based on asset adequacy analysis of life insurance, annuity, or health insurance reserves and other liabilities when a) the statement of actuarial opinion is prepared to comply with applicable law based on the model Standard Valuation Law and VM-30 of the NAIC Valuation Manual, or b) the statement of actuarial opinion is prepared for an insurance company to comply with other applicable law. Notable changes from the first exposure draft include clarifying the scope, revising guidance on the discount rate, and removing several defined terms including "investment yield risk" and "moderately adverse deviation."
The comment deadline for the exposure draft is Nov. 30. Information on how to submit comments using the new template can be found in the draft.
June 30 Comment Deadline for ASOP No. 11: A reminder that the June 30 deadline is fast approaching for comments on the exposure draft of ASOP No. 11, Reinsurance Involving Life Insurance, Annuities, or Health Benefit Plans in Financial Reports. The ASB extended a previous deadline because of the coronavirus pandemic. The exposure draft can be viewed here.
Recently Released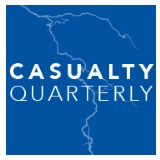 The Summer issue of Casualty Quarterly includes a Q&A with Academy Casualty Vice President Lisa Slotznick on the Casualty Practice Council's comments to the U.S. House Financial Services Committee on a discussion draft of the Pandemic Risk Insurance Act, including the impact on business interruption insurance. Also, Academy leadership and Committee on Property and Liability Financial Reporting (COPLFR) comments to the NAIC on statements of actuarial opinion, COPLFR releases FAQs on COVID-19 for appointed actuaries; a new workers' compensation issue brief on presumptive benefits; and the P/C breakout sessions are set for November's Annual Meeting and Public Policy Forum.
Professionalism Outreach
Academy President D. Joeff Williams delivered a virtual presentation on Tuesday to the Actuaries Club of Philadelphia providing a "Professionalism Update from the Academy." Williams described the latest professionalism resources and activities, including Council on Professionalism activities, the latest developments with actuarial standards of practice and news from the Actuarial Standards Board, and an overview of the Actuarial Board for Counseling and Discipline's activities. The interactive session of more than 100 attendees closed with a "professionalism challenge" series of polling questions to the audience on selected professionalism topics.
On Wednesday, Academy President-Elect Tom Campbell and President-Elect nominee Maryellen Coggins presented the pre-meeting professionalism session for the Southeastern Actuaries Conference spring meeting, which was produced in a virtual meeting platform this year. Their presentation focused on "Professionalism and Ethical Challenges," with a look at the common ethical challenges actuaries face and how the professionalism infrastructure housed within the Academy provides actuaries with standards and resources to respond to those challenges. More than 160 actuaries attended this session, which included interactive polling with the audience on the Code of Professional Conduct, ASOPs, the ABCD, and qualifications.
Public Policy Activity
Alerts
Upcoming Events
In the News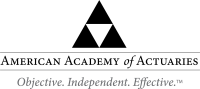 If you would like more information or to contact the Academy, please visit us at www.actuary.org/content/about-us
Follow the Academy on Facebook, LinkedIn, and Twitter. Listen to our podcast.
---
1850 M Street NW • Suite 300 • Washington, DC 20036 • 202.223.8196 • www.actuary.org
Copyright 2020 American Academy of Actuaries. All rights reserved.