This Week, April 19-23, 2021
Read the latest news from the Academy.

Recent Academy Activity, April 19–23, 2021
Professionalism Webinar Looks at ASOP No. 1

The Academy's first professionalism webinar of 2021, held Wednesday, looked at Actuarial Standard of Practice (ASOP) No. 1, Introductory Actuarial Standard of Practice. Members of the Actuarial Standards Board (ASB)—Chairperson Darrell Knapp, along with ASB members Kevin Dyke and Cande Olsen—presented during the webinar, "How to Read an ASOP—and Other Nuggets From ASOP No. 1." They covered the areas important to your work as an actuary, from professional judgment to the intricacies of "should," "should consider," and "may," contained in ASOP No. 1.
Olsen looked at the terms defined and discussed in ASOP No. 1, which include "material" and "professional judgment," and said that "definitions included in ASOP No. 1 are intended to apply to all other ASOPs, unless the ASOP includes a specific definition of the term." General Counsel and Director of Professionalism Brian Jackson moderated. Slides and audio are available free for logged-in Academy members.
National Volunteer Week—Academy Thanks Its Volunteers
Join us during this National Volunteer Week in thanking Academy volunteers for their service and dedication to the Academy's mission—remaining committed and dedicated to the work to carry out the mission even during the challenges posed by the pandemic. In a message to volunteers, Academy President Tom Campbell thanked volunteers for the time and expertise they give to support the Academy's mission to provide objective analysis to policymakers and helping to establish, maintain, and enforce high professional standards of actuarial qualification, practice, and conduct.
One Week Left for Early Registration Savings for the Academy's Virtual PBR Boot Camp
Early registration ends next Friday for the Academy's Virtual PBR Boot Camp—make sure to register soon to take advantage of the lowest rates to attend this highly regarded seminar. The agenda for this Boot Camp, to be held June 7–9, is geared for those who are new or relatively new to principle-based reserving (PBR)—if you recently went through PBR for the first time or are just getting started with PBR work, this virtual seminar is for you. Early registration rates are available through April 30; register today.
Next Week—Pension Webinar to Look at Risk-Sharing Plan Designs
Next week's pension webinar, "Risk-Sharing Plan Designs—Going Deeper (Part 1)," is the first of a two-part series to explore this topic in depth. Members from several Academy Pension Practice Council committees will present, providing an in-depth discussion of new pension plan designs to minimize cost volatility and/or provide gain sharing. Continuing education (CE) and Joint Board for the Enrollment of Actuaries continuing professional education credit will be available. The webinar will be held on Tuesday, April 27, from noon to 1:30 p.m. EDT. Register today.
May 24 Webinar to Explore Health Equity From an Actuarial Perspective
Save the date for "Health Equity: An Actuarial Perspective," a webinar that will feature members of the Health Practice Council's Health Equity Work Group (HEWG). Presenters will discuss the impetus and goals for the work group and its work thus far to apply actuarial expertise to identify health disparities and examine ways proposed to address them, including the HEWG's recent discussion brief, Health Equity From an Actuarial Perspective: Questions to Explore. Time will be available for presenters to answer questions from webinar attendees. Presenters will be HEWG Chairperson Annette James, and Vice Chairpersons Bela Gorman and Stacey Lampkin. Senior Health Fellow Cori Uccello will moderate. The webinar will be held on May 24, from noon to 1:15 p.m. EDT. Registration will open soon.
Save the Date for Next Month's Upcoming Life Practice Webinars
The Life Practice Council (LPC) will host "Academy Life Practice Webinar: Spring 2021 Policy Update," on May 5, from noon to 1 p.m. EDT. Presenters will discuss National Association of Insurance Commissioners (NAIC) and LPC activity, including recent publications and resources. A focused presentation will look at the latest on a new NAIC Economic Scenario Generator for use in regulatory reserve and capital calculations. Academy Life Vice President Laura Hanson will moderate.
COVID-19 Webinar May 25: Also look for registration to open soon for the webinar, "The Impacts of COVID-19 on the Life Insurance Industry," which will be held on May 25 from noon to 1:30 p.m. EDT.
August Pension Webinar to Focus on Multiemployer Plan Regulatory Implementation
The Multiemployer Plans Committee of the Pension Practice Council is planning an August pension webinar, "Multiemployer Plan Provisions in the American Rescue Plan Act of 2021 (ARPA)—Discussion of Recently Issued Regulations." Following up on its April 6 webinar reviewing the just-enacted ARPA provisions, it will discuss anticipated Pension Benefit Guaranty Corporation regulations and their implications for plan sponsors. The webinar is being planned for Aug. 3, with registration slated to open in early July.
Public Policy Activity
The Health Practice Council's Financial Reporting and Solvency Committee sent a comment letter to the NAIC's Health Actuarial (B) Task Force (HATF) regarding the proposal to modify the definition of "actuarial assets" as used in the instructions for the Health Statement of Actuarial Opinion. Committee Chairperson Marc Lambright followed up with verbal remarks relevant to the letter during HATF's meeting on Friday.
Upcoming Events
In the News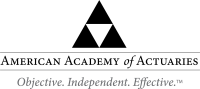 If you would like more information or to contact the Academy, please visit us at www.actuary.org/content/about-us
Follow the Academy on Facebook, LinkedIn, and Twitter. Listen to our podcast.
---
1850 M Street NW • Suite 300 • Washington, DC 20036 • 202.223.8196 • www.actuary.org
Copyright 2021 American Academy of Actuaries. All rights reserved.