This Week, Oct. 25 - 29, 2021
Read the latest news from the Academy.

Recent Academy Activity, Oct. 25–29, 2021
Next Week—Annual Meeting and Public Policy Forum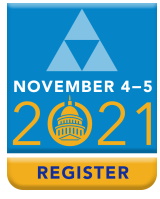 The Academy's Annual Meeting and Public Policy Forum is next week in the nation's capital. The Nov. 4–5 hybrid event will feature several well-known and high-profile speakers, address current public policy and professionalism topics, and offer the opportunity to earn valuable continuing education. The Academy will also bestow its annual service awards, and Maryellen Coggins will succeed outgoing Academy President Tom Campbell during the Academy's presidential transition. New this year—attendees may register for single sessions. Register today.
HEWG Issues Request for Information
The Health Equity Work Group (HEWG) issued a request for information (RFI) to solicit input to its work assessing whether and how health actuarial practices and methods affect health disparities. The HEWG has identified four areas in which health actuaries are involved that may affect health disparities, either by contributing to disparities or by mitigating disparities: health insurance benefit design, provider contracting and network development, premium pricing, and managing population risk. More information about the HEWG's work and its publications thus far is available here. Learn more about the RFI here. Comments should be submitted by Jan. 14, 2022, to healthequityRFI@actuary.org.
In-Person P/C Loss Reserve Opinion Seminar Early Registration Rates Available Through Nov. 15
There is still time to register for an early discounted rate for in-person attendance at the 2021 Seminar on Effective P/C Loss Reserve Opinions, to be held Dec. 6–7. The in-person early registration deadline has been extended to Nov. 15. This annual event, offered in a hybrid format this year, is designed for property/casualty actuaries who prepare or assist with preparing NAIC annual statements of actuarial opinion on P/C loss reserves. The in-person event, conveniently located at the Hilton Chicago O'Hare Airport hotel, will offer onsite attendees exclusive access to a closing Q&A session with faculty. Join us in December—register today.
CE Opportunity: Register for November's Professionalism Webinar
Register now for the professionalism webinar, "Self-Regulation and the Actuarial Profession," in which you will learn why self-regulation is important to the actuarial profession and what you can do to help ensure it continues. Members of the Committee on Professional Responsibility will discuss the importance of upholding the profession's standards of conduct, qualification, and practice, as well as how to explain the requirements—and benefits—of actuarial professionalism to principals. Organized and professionalism continuing education (CE) credit, and core ethics continuing professional education credit under Joint Board for the Enrollment of Actuaries rules, will be available. The webinar will be held on Thursday, Nov. 11, from noon to 1:30 p.m. EST. Register today.
New Actuary Voices Features Cande Olsen
The latest episode of the Actuary Voices podcast features Cande Olsen, who will receive the Jarvis Farley Service Award at the Academy's Annual Meeting and Public Policy Forum. Olsen, a past vice president, life, is finishing up six years of service on the Actuarial Standards Board (ASB). She talks about the start of her actuarial career going back to her upbringing in New Jersey as the daughter of an actuary, the importance of math brainteasers at the dinner table, and her education at Williams College under famed actuarial professor C. Wallace Jordan. Listen to the podcast or download it to your favorite device.
Public Employment Opportunity
The state of Indiana is looking for an actuary to join the Department of Insurance. The actuary in this role reviews and analyzes property and casualty insurance rates to determine that they are not excessive, unfairly discriminatory, or inadequate. In addition to being a member of the Academy, the candidate must be a fellow or associate of the Casualty Actuarial Society or the Society of Actuaries. For more information and to apply, please visit the Work for Indiana website.
The Academy has long supported government employers that are seeking to hire qualified actuaries. For more information, see our Public Employment Opportunity Posting Policy.
Recently Released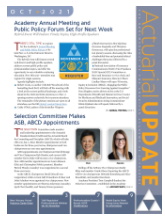 The October Actuarial Update previews the Annual Meeting and Public Policy Forum, and covers new appointments to the ASB and the Actuarial Board for Counseling and Discipline (ABCD). Also in the issue, a Health Equity Work Group discussion brief on population health, the Academy hosted a successful PBR Boot Camp mini-seminar, ASB and ABCD members gave professionalism outreach presentations, and the Professionalism Counts column, "ASOP Language—What's Behind Some Recent Modifications?"
The Fall Casualty Quarterly covers recent property/casualty work on cyber risk issues, including an August webinar and a Cyber Risk Toolkit. Also in the issue, a preview of Annual Meeting & Public Policy Forum P/C breakout sessions; Senior Casualty Fellow Rich Gibson is featured in a recent episode of the "Actuary Voices" podcast; the Academy presented at the Virtual Casualty Loss Reserve Seminar and Workshops on the scalars research paper released earlier this year; and recent state and federal legislative and regulatory activity.
Save the Date: Pension Webinar Set for December
Mark your calendar and make plans to join us on Dec. 7 for "What's the Deal with Low Interest Rates? Are They Harming the U.S. Retirement System?" This pension webinar, to be held from noon to 1:30 p.m. EST, will discuss the impact of historically low interest rates and aggressive monetary policy on capital markets and retirement plans. Registration will open soon.
Public Policy Activity
The Property and Casualty Risk Based Capital (P/C RBC) Committee presented an update on premium risk and investment income adjustment to the NAIC's P/C RBC (E) Work Group.
Upcoming Events
In the News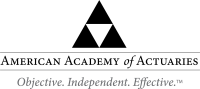 PLEASE DO NOT REPLY TO THIS EMAIL. THIS EMAIL ADDRESS IS NOT MONITORED.
If you would like more information or to contact the Academy, please visit us at www.actuary.org/content/about-us
Follow the Academy on Facebook, LinkedIn, and Twitter. Listen to our podcast.
To update your Academy email communication preferences, please login and update your Academy member profile.
---
1850 M Street NW • Suite 300 • Washington, DC 20036 • 202.223.8196 • www.actuary.org
Copyright 2021 American Academy of Actuaries. All rights reserved.