This Week, May 9 – 13, 2022
Read the latest news from the Academy.

Keeping You in the Know—Recent Academy Activity, May 9–13, 2022
Watch a recap of this week's top stories with our "This Week … In a Minute" video. Watch this week's rundown—and don't forget to subscribe to us on YouTube to be alerted when new videos are released.
Save the Date: Academy Annual Meeting Is Nov. 2–3

Are you ready to envision tomorrow with us? Save the date for the Academy's 2022 Annual Meeting, to be held Nov. 2–3 at the Metro Center Marriott in Washington, D.C. Attendees will be able to engage directly with national policymakers and thought leaders on today's top issues, while enjoying the many wonderful destinations and attractions in the nation's capital; plenary sessions and a selection of breakouts will also be available to virtual registrants. Look for registration and agenda details to be unveiled in the coming weeks. Learn more.
Academy Joins IABA Corporate Advisory Council
The Academy has joined the Corporate Advisory Council of the International Association of Black Actuaries (IABA). Annette James, chairperson of the Academy's Health Equity Work Group, attended a virtual meeting of the council on behalf of the Academy. The Academy thus joins other leaders in the profession in assisting the IABA in addressing the under-representation of Black actuaries in the profession. This move augments the Academy's existing work to grow the current and future pipeline of the actuarial profession, including working with affinity groups to further diversity, equity & inclusion (DE&I) in the profession. In addition, the Academy continues to explore new opportunities to continue serving the diverse needs of its many stakeholders and making improvements to the Academy—providing increased value to the profession, our members, the future pipeline, and our various public stakeholders.
Professionalism Webinar Examines ASOP No. 11 (Life/Health)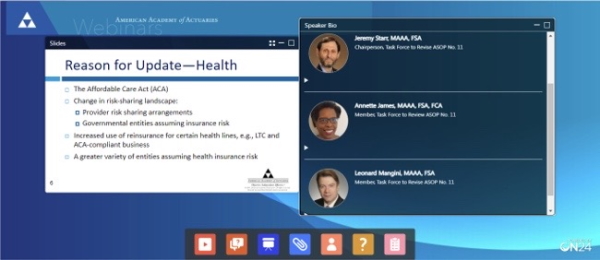 The Academy held a professionalism webinar Thursday, "The Revised ASOP No. 11: Understanding Important Changes"— the third installment of a webinar series on recently revised actuarial standards of practice (ASOPs) that examined ASOP No. 11, Financial Statement Treatment of Reinsurance Transactions Involving Life or Health Insurance, which takes effect Dec. 1. Presenters Jeremy Starr, chairperson of the task force that revised the ASOP, along with task force members Annette James and Leonard Mangini, discussed why the standard was revised, highlighted changes practitioners need to be aware of, and walked through case studies from life insurance and health insurance. Erica Kennedy, the Academy's assistant director of professionalism, actuarial standards, moderated. A webinar recording will be available soon, free to logged-in Academy members.
Register Now for May 26 Professionalism Webinar on Unfair Insurance Discrimination & Fulfill USQS Bias Requirement—Register for the Academy's next professionalism webinar, "What Is Unfair Discrimination in Insurance?" which will explore the current regulatory infrastructure relating to unfair and unlawful discrimination in insurance and the challenges presented by the increased use of big data and AI-enabled systems. Presenters will be Daniel Schwarcz, an award-winning professor and scholar; former Illinois Director of Insurance Nat Shapo; and Brian Mullen, chairperson of the task force currently revising ASOP No. 12, Risk Classification (for All Practice Areas).
Join us and fulfill the new U.S. Qualification Standards (USQS) bias continuing education requirement. The webinar will be held on Thursday, May 26, from noon to 1:30 p.m. EDT. Register now.
CCIIO Officials Present at Academy Health Webinar on 2023 NBPP
The Academy hosted "CCIIO Overview of the HHS Notice of Benefit and Payment Parameters for 2023 Final Rule & Associated Materials" on Friday—a health webinar that featured officials from the Centers for Medicare & Medicaid Services' (CMS) Center for Consumer Information and Insurance Oversight (CCIIO). They covered the recently released final 2023 Notice of Benefit and Payment Parameters (NBPP) and other materials including the actuarial value (AV) calculator, letter to issuers, and Quality Rating Informational Bulletin, and took questions from attendees. The NBPP rule and other releases pertain to various aspects of health insurance in the individual and small group markets governed by the Affordable Care Act and state insurance rules. Joyce Bohl, chairperson of the Academy's Individual and Small Group Markets Committee, moderated. A webinar recording will be available soon, free to logged-in Academy members.
Register Now for May 24 Health Webinar—Register now for the Academy's next health webinar, "Health Spending Projections in the Wake of COVID-19," which will feature presentations by COVID-19 subject-matter experts, including a CMS official, who will provide information on how the pandemic has affected national health spending and is projected to affect near-term spending, including an overview of newly released CMS national health expenditure projections. The webinar will be held on Tuesday, May 24, from noon to 1 p.m. EDT. Register today.
Spring Blitz: Academy Speakers Deliver Public Policy & Professionalism Presentations to U.S., Canadian Audiences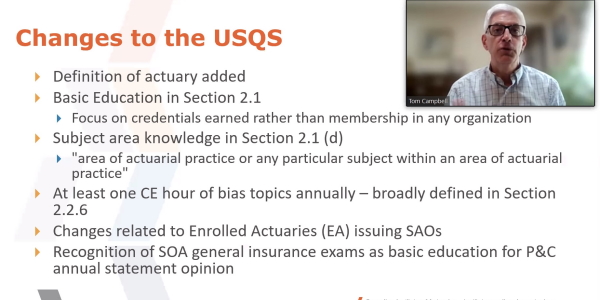 Campbell presents to Canadian actuaries on Wednesday
The buzzing activity of spring included Academy speakers at actuarial meetings across the country—and one to a Canadian audience—fanning out to provide actuaries with the latest on public policy and professionalism issues:
Donna Megregian, a member of the Actuarial Standards Board's (ASB) Life Committee, spoke at Monday's meeting of the Actuaries Club of Cincinnati on "Professionalism and Selected ASOP Topics." She discussed the ASOP development process; the status of recently released, soon-to-be effective, and ASOPs under review and development; and key concepts in ASOPs such as reliance and documentation.

Committee on Qualifications Vice Chairperson Lisa Slotznick provided a primer for property/casualty actuaries on the amended USQS to the Casualty Actuaries of the Mid-Atlantic Region's virtual meeting on Tuesday. Slotznick conducted an engaging "professionalism challenge" with polling of the audience on professionalism questions.

Also on Tuesday, Academy Assistant Director for Research (Public Policy) Steve Jackson and co-presenter Steve Kolk, chairperson of the Casualty Actuarial Society's Climate Change Committee, presented at the Actuaries' Club of Hartford and Springfield (Conn.) on the Actuaries Climate Index and the Actuaries Climate Risk Index, giving a deep dive into the research and data behind the indexes.

Academy Immediate Past President Tom Campbell joined co-presenters from the Canadian Institute of Actuaries (CIA) for a CIA webinar exploring the amended USQS and its implications for Canadian actuaries on Wednesday. Campbell provided a thorough review of the major requirements of the USQS, the changes that took effect on Jan. 1, and important points of interest for Canadian actuaries performing work intended for the U.S.

Academy President-Elect Ken Kent spoke Thursday at the Actuaries Club of Philadelphia in a session on "Ethical Practice—Ethics in Our Work and Profession." Kent's presentation took a novel approach to exploring the relationship between ethics and the U.S. professionalism structure housed in the Academy.
Reminder—Nominate Academy Member-Selected Directors
May is nominating month for Academy members to submit nominations for member-selected directors, elected to the Academy Board of Directors by membership in an online election from a slate of candidates presented by the Nominating Committee. The committee will meet thereafter to identify candidates in accordance with its guidelines. Nominations are due by May 31—for criteria and how to submit nominations, visit the Board Election Center.
Upcoming Events
In the News
Senior Pension Fellow Linda K. Stone provided an actuarial perspective to a CNBC personal finance column on rising interest rates and pensions. The column refers readers to the Academy's Pension Assistance List for free assistance with questions about their pension plans.
Coming Soon
Trustees' reports webinar—Following the forthcoming release of the annual Medicare and Social Security trustees' reports, the Academy will host a webinar featuring chairpersons of the Academy's Medicare and Social Security Committees, who will summarize trustees' findings. Actuaries from the two programs will provide a deeper dive into the assumptions used and how recent events—such as the COVID-19 pandemic and related economic downturn—are reflected in the projections.

ASOP No. 22 Webinar—Look out for more details on a webinar on the newly revised ASOP No. 22, Statements of Actuarial Opinion Based on Asset Adequacy Analysis for Life Insurance, Annuity, or Health Insurance Reserves and Other Liabilities, which takes effect June 1, 2022.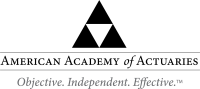 PLEASE DO NOT REPLY TO THIS EMAIL. THIS EMAIL ADDRESS IS NOT MONITORED.
Follow the Academy on Facebook, LinkedIn, and Twitter. Listen to our podcast.
To update your Academy email communication preferences, please login and update your Academy member profile.
---
1850 M Street NW • Suite 300 • Washington, DC 20036 • 202.223.8196 • www.actuary.org
Copyright 2022 American Academy of Actuaries. All rights reserved.