This Week, May 2 – 6, 2022
Read the latest news from the Academy.

Keeping You in the Know—Recent Academy Activity, May 2–6, 2022
Watch a recap of this week's top stories with our "This Week … In a Minute" video. Watch this week's rundown—and don't forget to subscribe to us on YouTube to be alerted when new videos are released.
Academy Holds 'Hill Visits' With Federal Lawmakers, Policymakers on Casualty and Risk Management & Financial Reporting Issues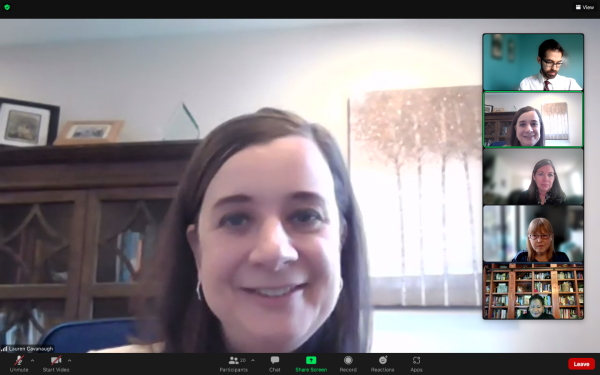 Casualty VP Lauren Cavanaugh in a Thursday Hill Visit session
The Academy's Casualty Practice Council (CPC) and Risk Management and Financial Reporting Council (RMFRC) convened "Hill Visits" this week—virtual meetings with policymakers on Capitol Hill and federal agencies in the nation's capital. Topics discussed included cyber risk and cybersecurity, data science, climate change, insurance affordability, flood insurance, financial solvency, and pandemic risk.
CPC and RMFRC volunteers and Academy staff participated in about a dozen meetings with representatives from congressional committees, and federal and congressional agencies including the Congressional Research Service, the Cybersecurity and Infrastructure Security Agency (CISA), the White House Domestic Climate Office, and the U.S. Government Accountability Office. The CPC's Cyber Risk Task Force held several meetings, with chairperson Norman Niami and members briefing CISA and a House Homeland Security Committee subcommittee on the Academy's efforts in cyber risk and cyber security, including the Cyber Risk Toolkit, most recently updated in February.
Academy Webinar Explores Key Policy Issues & Activities Impacting Life Insurance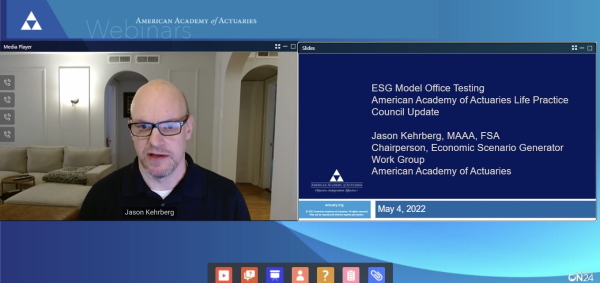 Kehrberg presents at Wednesday's life webinar
The Academy hosted a webinar, "Academy Life Practice Webinar—Spring 2022 Policy Update" on Wednesday, which looked at a current public policy activity in life insurance issues, such as the work of the National Association of Insurance Commissioners' (NAIC) new Innovation, Cybersecurity, and Technology (H) Committee; high-yield asset adequacy testing actuarial guideline; the economic scenario generator (ESG) field test; and the Academy model office for ESG testing. Presenters included Dorothy Andrews, chairperson of the Data Science and Analytics Committee and Senior Behavioral Data Scientist & Actuary for the NAIC; Academy member and Chief Life Actuary for the Minnesota Department of Commerce Fred Andersen; Scott O'Neal, a member of the Variable Annuity Reserves and Capital Work Group and life examination actuary at the NAIC; and Jason Kehrberg, chairperson of the ESG Work Group. Academy Life Vice President Ben Slutsker moderated. Slides and audio are available free to logged-in members.
Join the Academy Next Week for a Health Webinar Featuring CCIIO Officials on the 2023 NBPP Rule
Join the Academy for next week's health webinar, "CCIIO Overview of the HHS Notice of Benefit and Payment Parameters for 2023 Final Rule & Associated Materials." The U.S. Department of Health and Human Services' Centers for Medicare & Medicaid Services (CMS) recently released the final 2023 Notice of Benefit and Payment Parameters (NBPP) rule, as well as other materials including the actuarial value (AV) calculator, letter to issuers, and Quality Rating Informational Bulletin. The NBPP rule and other releases pertain to various aspects of health insurance in the individual and small group markets under the Affordable Care Act (ACA). Officials from CMS' Center for Consumer Information and Insurance Oversight (CCIIO) will present an overview of the finalized rule, guidance, and AV calculator tool during this webinar, which will be moderated by Joyce Bohl, chairperson of the Health Practice Council's Individual and Small Group Markets Committee. Continuing education (CE) credit is available. The webinar will be held next Friday, May 13, from noon to 1 p.m. EDT; register now.
Register Now for Other Upcoming Webinars: Two other webinars this month will offer valuable CE opportunities.
May 12: ASOP No. 11 Webinar (Life/Health)—"The Revised ASOP No. 11: Understanding Important Changes," the third installment of the series on recently revised actuarial standards of practice (ASOPs) will examine ASOP No. 11, Financial Statement Treatment of Reinsurance Transactions Involving Life or Health Insurance. This webinar is next Thursday, May 12, from noon to 1:30 p.m. EDT. Register now.

May 24: Health Webinar to Offer COVID-19, Health Spending Expertise—"Health Spending Projections in the Wake of COVID-19" will feature presentations by COVID-19 subject-matter experts, including a CMS official, who will provide information on how the pandemic has affected national health spending and is projected to affect near-term spending, including an overview of newly released CMS national health expenditure projections. It will be held on Tuesday, May 24, from noon to 1 p.m. EDT. Register today.
Reminder—Nominate Academy Member-Selected Directors
May is nominating month for Academy members to submit nominations for member-selected directors, elected to the Academy Board of Directors by membership in an online election from a slate of candidates presented by the Nominating Committee. The committee will meet thereafter to identify candidates in accordance with its guidelines. Nominations are due by May 31—for criteria and how to submit nominations, visit the Board Election Center.
Recently Released
In the May/June Contingencies, the cover story "The COVID Connection" looks at how the pandemic has affected (and will continue to affect) the life insurance industry. Also, "The Great Unwinding" covers what happens to the millions of people who became eligible for Medicaid amid the pandemic when the public health emergency ends; "Explaining Professionalism to Principals," on why actuarial professionalism is so important—not just for actuaries but for all stakeholders involved in actuarial services; and "Thoughts on Social Security" offers an intriguing reform option. Plus, a President's Message on continued renewal, a Tradecraft selection on a fund north of the border, and an Up to Code article on mythology and actuarial professionalism.

The Spring Life Perspectives leads with a Q&A on a new practice note, Long-Term Care Life Insurance Combination Product Valuation, with Robert Eaton, chairperson of the work group that developed the practice note. Also in the issue, Life Practice Council committee comments to the NAIC, a new VM-21 practice note supplement, and recent legislative and regulatory activity.
RFP for Life and Health Valuation Law Manual
The Academy issued a request for proposals (RFP) for qualified vendors to produce its annual Life and Health Valuation Law Manual. Proposals are due by June 15. Click here for information.
Public Policy in Focus
The Life Underwriting and Risk Classification Work Group submitted a comment letter to the Colorado Division of Insurance on the stakeholder engagement process to develop rules to implement SB21-169, a new law to limit unfair discrimination in the life underwriting process.
The Annuity Reserves and Capital Work Group submitted a presentation to NAIC's Life Actuarial (A) Task Force's (LATF) VM-22 Subgroup regarding longevity reinsurance and longevity swaps.

The Index-Linked Variable Annuity Work Group submitted comments to LATF on its exposure of a draft Actuarial Guideline on Nonforfeiture Requirements for Index Linked Variable Annuity Products Supported by Non-Unitized Accounts.

The Asset Modeling and Reporting Task Force submitted comments on LATF's exposure of a draft Actuarial Guideline on asset adequacy testing.
Upcoming Events
May 12, noon to 1:30 p.m. EDT: "The Revised ASOP No. 11: Understanding Important Changes," professionalism webinar (1.8 CE credits)

May 13, noon to 1 p.m. EDT: "CCIIO Overview of the HHS Notice of Benefit and Payment Parameters for 2023 Final Rule & Associated Materials," health webinar (1.2 CE credits)

May 24, noon to 1 p.m. EDT: "Health Spending Projections in the Wake of COVID-19," health webinar (1.2 CE credits)

May 26, noon to 1:30 p.m. EDT: "What Is Unfair Discrimination in Insurance?" Professionalism webinar (1.8 CE credits; registration opening soon)

Nov. 2–3: Academy Annual Meeting, Washington, D.C. (details coming soon)

Nov. 14–17: "2022 Life and Health Qualifications Seminar," Arlington, Va. (Up to 27 CE credits)
Coming Soon
Academy Awards—Nominations for the Academy's awards will open soon, including our new Rising Actuary Award that will recognize a young leader who's on the way up in the profession, and the public and volunteer service awards.

Spring Professionalism Webinar, "What Is Unfair Discrimination in Insurance?"—The standard rating law holds that insurance rates shall not be "excessive, inadequate, or unfairly discriminatory." But what exactly does "unfairly discriminatory" mean? Join us May 26 for what promises to be an important and robust discussion. Registration will open next week.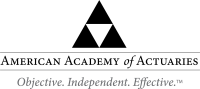 PLEASE DO NOT REPLY TO THIS EMAIL. THIS EMAIL ADDRESS IS NOT MONITORED.
Follow the Academy on Facebook, LinkedIn, and Twitter. Listen to our podcast.
To update your Academy email communication preferences, please login and update your Academy member profile.
---
1850 M Street NW • Suite 300 • Washington, DC 20036 • 202.223.8196 • www.actuary.org
Copyright 2022 American Academy of Actuaries. All rights reserved.