This Week, March 9–13, 2020
Read the latest news from the Academy.

Recent Academy Activity, March 9–13, 2020
In Memoriam: Academy Past President Barbara Lautzenheiser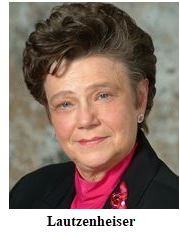 Barbara Jean Ida Lautzenheiser, a past Academy president (2003–2004), passed away peacefully on Tuesday. She was 81. Lautzenheiser grew up in Lincoln, Neb., and began her career in 1960 as an actuarial trainee with Bankers Life Nebraska, where she rose to the position of vice president and actuary. Throughout her actuarial career, she broke many glass ceilings, including becoming in 1984 the first woman to head a major U.S. insurance company when she became president and chief operating officer of Signature Group's three insurance companies in Schaumburg, Ill. From 1986 to 2018, Barbara was owner and principal of her own highly successful actuarial consulting business, Lautzenheiser & Associates in Hartford, Conn.
Lautzenheiser was the Academy's second female president and a longtime volunteer. Throughout many years and well into her retirement she volunteered for the Academy; she served on over 50 Academy committees, task forces, and work groups. She was featured in the Academy's 2016 short video, "A Great Career for a Man?" which spotlighted the accomplishments of female actuaries. "It's that movement over time of the various leadership within the Academy ... that enables the Academy to sometimes reach other people that it might not have done had it just been one gender," she said in the video. In addition to the Academy, Lautzenheiser was the first female president of the Society of Actuaries; a past member of the Conference of Consulting Actuaries; was on the Interim Actuarial Standards Board when it was established in 1985, and also on the Actuarial Standards Board when it became permanent in 1988. She was also an emeritus trustee of The Actuarial Foundation.
As word of her passing reached past Academy presidents, volunteers, and longtime staff, we have received many remembrances of Barbara as a trailblazer and giant in the actuarial profession and insurance industry, a great mentor, and a great friend.
Tune In: New 'Actuary Voices' Features Secretary-Treasurer Cathy Murphy-Barron
The Academy's latest "Actuary Voices" podcast features a conversation with Academy Secretary-Treasurer and former Academy Health Practice Council Vice President Cathy Murphy-Barron, who enthusiastically and joyfully shares her personal experience as an actuary, in conjunction with Women's History Month. "My advice to girls in school is don't let anyone tell you that girls aren't good at math," Murphy-Barron said. Subscribe to "Actuary Voices" via iTunes, Spotify, or other podcast services. Click here to listen now.
Registration Open for Life and Health Qualifications Seminar
Registration is now open for the Academy's 2020 Life and Health Qualifications Seminar. The annual LHQ seminar is sold out every year because it delivers the highest-quality and most efficient way to obtain any needed basic education or relevant continuing education (CE) credit necessary to qualify to issue actuarial opinions for either the NAIC Life and Accident & Health (A&H) Annual Statement or the NAIC Health Annual Statement. The seminar will be held Nov. 9–12 at the Crystal Gateway Marriott in Arlington, Va. (new location this year). Register now and save—discounted registration rates are now available.
ASB Releases 2019 Annual Report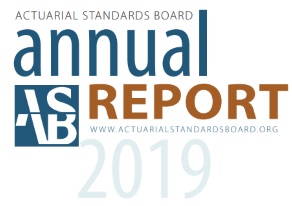 The Actuarial Standards Board (ASB) has released its 2019 Annual Report. The ASB had another banner year in standards-setting, adopting two new actuarial standards of practice (ASOPs), approving eight exposure drafts for comment, approving a proposal to revise one existing ASOP, and issuing one Request for Input on an ASOP on rate filings. In addition, the ASB presented a professionalism webinar on reliance in ASOPs and provided content for several Actuarial Update "Professionalism Counts" articles.
Professionalism Outreach
ASB member Dave Neve presented an overview of the ASB standards-setting process and an update on ASB activity on ASOPs at the March 3 meeting of the Iowa Actuaries Club at Drake University in Des Moines. Neve also encouraged attendees to stay abreast of ASB activity by regularly reading ASB Boxscore and to participate in the comment process on ASOP exposure drafts and other ASB requests for input.
Academy P/C Representatives Meet With Federal Officials
Academy Senior Property/Casualty Fellow Rich Gibson met with P/C insurance policy analysts throughout the federal government in Washington this week. Accompanied by Marc Rosenberg, senior P/C policy analyst, Gibson met with senior staff members with the National Flood Insurance Program, the Congressional Research Service, the Congressional Budget Office, and the U.S. House Financial Services Committee. In addition to the series of in-person meetings focusing on P/C issues, the Academy also held a conference call with officials from the Government Accountability Office to discuss a number of current and emerging issues.
"Wherever we went, there was genuine interest in what the Academy has to say," Gibson said. "The government officials appreciated the objective information and informed comments that the Academy provides."
EA Meeting Canceled Over Coronavirus Concerns
The annual Enrolled Actuaries (EA) Meeting, which was scheduled to take place in Washington, D.C., later this month, has been canceled due to concerns over the coronavirus pandemic (COVID-19). The meeting—this would have been its 45th year—is sponsored jointly by the Academy and the Conference of Consulting Actuaries.
Public Policy Activity
The Committee on Property and Liability Financial Reporting submitted comments on the CAS/SOA proposed new form for P/C Appointed Actuaries to report their continuing education activities.

The Pension Committee submitted a comment letter to the IRS on updated mortality improvement rates and static mortality tables for defined benefit pension plans for 2021.
Upcoming Events
"Focus on Multiemployer Plans"—March 24, pension webinar

"Focus on Public Pension Plans"—April 23, pension webinar (registration opening soon)

Casualty Loss Reserve Seminar & Workshops (CLRS), Sept. 14–16, Orlando. Fla.

Academy Annual Meeting and Public Policy Forum, Nov. 5–6, Washington, D.C.

Life and Health Qualifications Seminar, Nov. 9–12, Arlington, Va.
In the News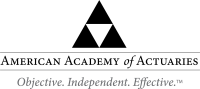 If you would like more information or to contact the Academy, please visit us at www.actuary.org/content/about-us
Follow the Academy on Facebook, LinkedIn, and Twitter. Listen to our podcast.
---
1850 M Street NW • Suite 300 • Washington, DC 20036 • 202.223.8196 • www.actuary.org
Copyright 2020 American Academy of Actuaries. All rights reserved.