This Week, March 2–6, 2020
Read the latest news from the Academy.

Recent Academy Activity, March 2–6, 2020
Registration Open for 2020 Annual Meeting and Public Policy Forum;
Will Feature Historian Michael Beschloss, Political Analyst Charlie Cook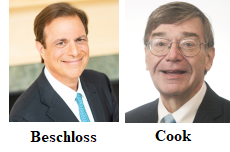 Registration opened Friday for the Academy's 2020 Annual Meeting and Public Policy Forum, which will feature two highly respected speakers who will weigh in on this year's presidential election just days after it occurs.
Noted presidential historian Michael Beschloss will be the keynote speaker and will provide attendees with context to understand the presidency and the presidents who have held it—and whoever won the election two days earlier. Charlie Cook, the highly respected impartial analyst of American politics, elections, and trends, will make a return engagement to the Academy meeting and forum following his well-received presentation two years ago to break down the political reality of how the winner of the election managed to do that.
The Annual Meeting and Public Policy Forum will be held Nov. 5–6 at the Fairmont Hotel in Washington, D.C. Take this opportunity to reserve your place to understand the history that is in the making while attending the actuarial profession's best in-person forum for enabling direct and immediate conversations about issues that matter to policymakers and actuaries across all practice areas. Continuing education credit will be available. Discounted early registration rates are now available—register today.
New 'Actuary Voices' Podcast—Academy Secretary-Treasurer Cathy Murphy-Barron
Tune in to the Academy's latest "Actuary Voices" podcast—a conversation with Academy Secretary-Treasurer Cathy Murphy-Barron, who shares her personal experience as an actuary, in conjunction with International Women's Day (Sunday, March 8) and this month, which is Women's History Month. "My advice to girls in school is don't let anyone tell you that girls aren't good at math," Murphy-Barron said. Subscribe to "Actuary Voices" via iTunes, Spotify, or other podcast services. Click here to listen now.
Volunteer for the Labor Dept.'s O*Net Program
As it did five years ago, the U.S. Department of Labor (DOL) has asked for the Academy's help to update DOL's database of occupational requirements to be an actuary. The department is looking for Academy members currently living and working as actuary in the United States with five or more years' experience to participate in providing information that will be used to identify the description of "actuary" for the O*NET Data Collection Program. Read more here.
Uccello Moderates Health Conference Session
Academy Senior Health Fellow Cori Uccello co-moderated a plenary session Thursday at a health conference sponsored by the National Academy of Social Insurance, "Healthcare Coverage and Costs: Assessing Medicare-Based Approaches." Uccello co-moderated "The Current Health Care Reform Landscape," in which panelists looked at drivers of the current health care reform debate; why Medicare is viewed as a potential platform for expanding coverage; current policy issues, including the persistent problems of uninsurance and underinsurance, affordability challenges, health disparities and inequities; and the rising cost of health care in the United States. Uccello also was co-chair of the National Academy of Social Insurance study panel that released a report this week, Examining Approaches to Expand Medicare Eligibility: Key Design Options and Implications.
Registration Open for First Webinar of Retirement Plan Series
Registration is open for the first of a three-part Academy webinar series, "Retirement Plan Coverage in America: Today's Realities and Tomorrow's Prospects," which will focus on the current state of the retirement system where just over half of all American workers are participating in employer-sponsored plans. Plan coverage and financial status data will be presented, as well as general background on how these plans are operated and funded and the governance structures under which they operate. Recent public policy proposals and actions also will be discussed.
The first webinar, on multiemployer plans, will include the opportunity to earn up continuing education (CE) credit, as well as non-core, non-ethics continuing professionalism education (CPE) credits under Joint Board for the Enrollment of Actuaries rules. Speakers will be Multiemployer Plans Committee Chairperson Christian Benjaminson, Vice Chairperson Joe Hicks, and committee member Susan Boyle. The webinar will be on Tuesday, March 24, from noon to 1:30 p.m. EDT, and Academy members may register via your username and password. Register today.
Recently Released
In the March/April issue of Contingencies, the cover story, "Crowdsourcing Medicine," investigates what happens when more people—even those without medical training—lend a hand with diagnosis and other aspects of medicine. Other features include "To the Summit," which looks at how mountaineering and actuarial science overlap; "Underwriting 2.0," on how Big Data and other elements of data science can be used to help support risk assessment; and "Russell," an original work fiction that considers an unlikely relationship set in the present ... and an uncertain future. Plus, D. Joeff Williams's President's Message on how the Academy builds on the past; all about actuarial assumptions in "Up to Code"; and a Job Seeker special: 20 commandments any applicant should consider.
Public Policy Activity
The Individual and Small Group Markets Committee and the Risk Sharing Subcommittee sent comments to Centers for Medicare & Medicaid Services on the proposed rule for the 2020 Notice of Benefit and Payment Parameters (NBPP).
Upcoming Events
"Focus on Multiemployer Plans"—March 24, pension webinar

Enrolled Actuaries Meeting, March 29–April 1, Washington, D.C.

"Focus on Public Pension Plans"—April 23, pension webinar (registration opening soon)

Casualty Loss Reserve Seminar & Workshops (CLRS), Sept. 14–16, Orlando. Fla.

Academy Annual Meeting and Public Policy Forum, Nov. 5–6, Washington, D.C.

SAVE THE DATE—Life and Health Qualifications Seminar, Nov. 9–12, Arlington, Va.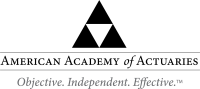 If you would like more information or to contact the Academy, please visit us at www.actuary.org/content/about-us
Follow the Academy on Facebook, LinkedIn, and Twitter. Listen to our podcast.
---
1850 M Street NW • Suite 300 • Washington, DC 20036 • 202.223.8196 • www.actuary.org
Copyright 2020 American Academy of Actuaries. All rights reserved.