This Week, March 13-17, 2023
Keeping you in the know—the latest news from the Academy


RECENT ACADEMY ACTIVITY

|

March 13–17, 2023
This Week … In a Minute

Have a minute? Catch up on the week's top stories with the latest "This Week … In a Minute" video. Subscribe to our YouTube channel to receive alerts as new videos are released.
Academy Releases Social Security Challenge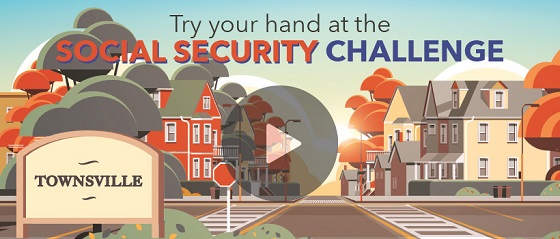 The Academy's Social Security Challenge is live. Offering a look at the popular program's funding and reform options, this interactive tool is a timely contribution to the public dialogue, and in line with the Academy's public policy mission.
The Challenge immerses users in an animated trek through "Townsville," where you can learn about the program's challenges and try your hand at various reform proposals. Give it a try and share it with your friends and colleagues. Take the Challenge.
The Academy is sharing the launch with legislators, stakeholders in the retirement space, and the news media to inform the important ongoing dialogue about the solvency issue facing Social Security, and possible solutions, based on our extensive work in this area.
Join the Academy Monday for First Installment of Climate Webinar Series
The first climate webinar in a series the Academy is hosting in cooperation with the National Oceanographic and Atmospheric Administration (NOAA) and the National Science Foundation (NSF) kicks off at noon on Monday, March 20. These webinars are designed to foster a conversation about the intersection of catastrophe ("cat") and climate modeling. The first webinar, "Connecting the Insurance Industry and Academia on Catastrophe and Climate Modeling: Webinar Series—Introduction," will focus on the modeling needs of the insurance industry. The conversation will be moderated by Academy President-Elect Lisa Slotznick. Register now.
PBR Bootcamp Webinar Series Kicks Off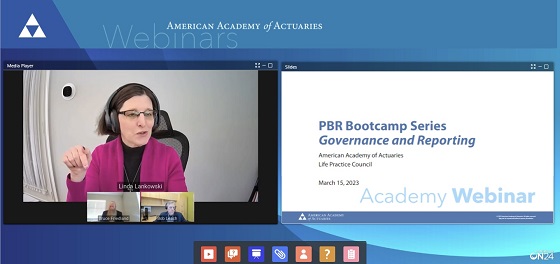 Lankowski opens the webinar
The 2023 PBR Bootcamp webinar series kicked off Wednesday with an introductory session on key principle-based reserving (PBR) issues. Led by Linda Lankowski, it will continue in the coming months with deeper dives into PBR-related issues. Slides and a recording are available free as a member benefit. Lankowski offers more insight into the series in the latest issue of Life Perspectives, released this week. To register for upcoming webinars in the PBR Bootcamp series, visit the Academy online Calendar of Events.
Webinar Looks at Medicaid in Context of Public Health Emergency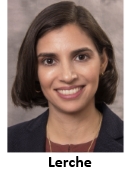 Presenters at Tuesday's health webinar, "The Great Unwinding: What's Next for the Medicaid Population?" discussed Medicaid in the context of the unwinding of the public health emergency. It was moderated by Medicaid Committee Chairperson and Academy Board member and Julia Lerche. Slides and a recording are available free as a member benefit.
In the News
Events Calendar
Visit the Events Calendar for the latest updates to past and upcoming Academy offerings.
Next Week—Academy Presenting at NAIC Spring Meeting
Academy staff and volunteers will present at next week's National Association of Insurance Commissioners (NAIC) Spring National Meeting in Louisville, Ky. On the docket are public policy presentations to NAIC's Life Actuarial Task Force (LATF) and Health Actuarial Task Force (HATF). NAIC held its Casualty Actuarial and Statistical Task Force (CASTF) meeting last week, in which Academy volunteers presented an update on Casualty Practice Council activity. Also, professionalism representatives from the Academy, the Actuarial Board for Counseling and Discipline, and the Actuarial Standards Board will present to LATF and HATF. The Academy is pleased to be invited to participate in these vital meetings with key stakeholders. Look for more coverage next week.

PLEASE DO NOT REPLY TO THIS EMAIL. THIS EMAIL ADDRESS IS NOT MONITORED.
If you would like more information or to contact the Academy, please visit us at www.actuary.org/content/about-us
Follow the Academy on Facebook, LinkedIn, and Twitter. Listen to our podcast.
To update your Academy email communication preferences, please login and update your Academy member profile.
---
1850 M Street NW • Suite 300 • Washington, DC 20036 • 202.223.8196 • www.actuary.org
Copyright 2023 American Academy of Actuaries. All rights reserved.