Life Perspectives, Winter/Spring 2023
Winter/Spring 2023
Vol 6 | No. 1
Insights on the Upcoming Life PBR Webinar Series


LankowskiThe Life Practice Council's (LPC) PBR Implementation Work Group's 2023 webinar series on principle-based reserving (PBR) kicks off this week with the March 15 "PBR Bootcamp: Governance and Reporting"—focusing on PBR basics, it is ideal for those new to PBR work or seeking a refresher.

In the most recent episode of Actuary Voices, the Academy's official podcast, PBR Implementation Work Group Chairperson Linda Lankowski offered a primer on the subject leading into the upcoming series. She recapped the Academy's recent PBR Bootcamps, held as successful in-person events, with the first in Chicago in June 2016. The three-day intensive session was well-received, and more were held in subsequent years at different venues, including Orlando, Fla., and Las Vegas. PBR Bootcamp webinars were added into the mix, including when the pandemic hit three years ago, offering more virtual events.
"We hope this will be an interactive [series with] … that personal touch we had at an in-person bootcamp," Lankowski said. "We expect that we will have quite a lot of people that we will reach rather than just having one seminar here, one seminar there."
The first webinar in the series will give an introduction, touching on governance and reporting to regulators. The following (April 19) will cover some issues that were covered during in-person bootcamps—assets and modeling for PBR processes, and prescribed assumptions that go along with assets. The third (May 17) will dig into more detail, and "get into more of the discussion that the variable annuity folks have been talking about," Lankowski said, adding that "some of it is more along the lines of what's going on with hedging, and how are those thoughts and how are the equity implications brought into your general account discussions."
Other future topics likely to be covered include stochastic modeling and combination life products (e.g., with long-term care), and Lankowski said that she and/or others will be monitoring chat questions to make the sessions more interactive- than lecture-style, and said that the series as a whole would be beneficial to life actuaries who deal with PBR issues.
"As products change, the Valuation Manual will change," Lankowski said. "It's meant to be a living document rather than just a fixed document that lasts forever. I think there will be a need for actuaries to be paying a whole lot more attention to what's going on and how these things are put together, and paying more attention to the principles behind reserving rather than a tabular calculation. I think that's good for the profession."
April Life Webinar to Look at Assets and Regulatory Updates
Registration is open for April's life webinar, "Assets: Regulatory Updates in Life Insurance," which will focus on assets—their risks and how regulators are responding to them through new regulations, including statutory accounting, reporting, designations, and capital requirements. Presenters will be Philip Barlow, associate commissioner of the District of Columbia Department of Insurance, Securities & Banking, and chair of NAIC's Risk-Based Capital Investment Risk and Evaluation Working Group; Carrie Mears, chief investment specialist of the Iowa Insurance Division and chair of NAIC's Valuation of Securities Task Force; and Dale Bruggeman, chief of risk assessment policy and development with the Ohio Department of Insurance, and chair of NAIC's Statutory Accounting Principles Working Group. Academy Senior Life Fellow Nancy Bennett will moderate. The webinar is set for Tuesday, April 4, from noon to 1:30 p.m. EST. Register today.
Committees Release White Papers, Discussion Briefs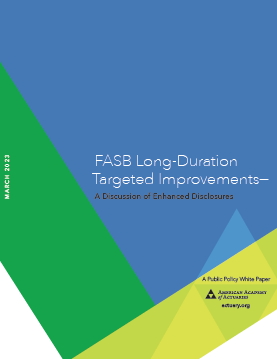 The Life Financial Reporting Committee released a white paper, Considerations in Market Risk Benefits, that focuses on identification, valuation, and financial reporting of market risk benefits—a new concept introduced by Accounting Standards Update (ASU) 2018-12.

It also released the white paper FASB Long-Duration Targeted Improvements—A Discussion of Enhanced Disclosures, which focuses on certain considerations in implementing FASB's required enhanced disclosures around LDTI.
Discussion Briefs
The Life Experience Committee released two discussion briefs, Use of Margins in Life Insurance Modeling and Credibility in Life Insurance Modeling. Intended to assist actuaries in weighing the considerations around setting assumptions for life insurance models, each discussion brief provides useful sources of information on various topics.
Practice Councils Submit Joint Comment Letter to Colorado Division of Insurance
The Academy's Life Practice Council, Health Practice Council, and Casualty Practice Council submitted a joint comment letter in early March to the Colorado Division of Insurance on its recent exposure of a draft regulation on Governance and Risk Management Framework Requirements for Life Insurance Carriers' Use of External Consumer Data and Information Sources, Algorithms, and Predictive Models: the first exposed implementation regulation for Colorado Revised Statute (C.R.S.) § 10-3-1104.9, which was signed into law on July 6, 2021.
Academy Life Volunteers Present at NAIC National Meeting
LPC volunteers presented to the NAIC and LATF late last year, both virtually and at NAIC's Fall National Meeting in Tampa, Fla. LPC volunteers are scheduled to present at NAIC's Spring National Meeting, being held next week in Louisville, Ky.
Then-Life Vice President Ben Slutsker gave a presentation to LATF on recent, current, and future work of the LPC, and Life Experience Committee Chairperson Donna Claire discussed two issue briefs (on margins and credibility) published recently by the committee.
Members of the LPC's Economic Scenario Generator (ESG) Work Group gave a presentation to LATF's Subgroup on ESG Stylized Facts and Acceptance Criteria.
The ESG Work Group presented to LATF on a previously submitted Economic Scenario Generator Corporate Credit and Bond Fund Returns.
The NAIC's executive and plenary adopted recommendations submitted in June and July by the LPC's Group Life Waiver Premium Valuation Table Work Group and on the revised Actuarial Guideline XLIV (AG 44).
The Actuarial Guideline (AG) Index-Linked Variable Annuity (ILVA) was discussed and re-exposed at the Life Actuarial (A) Task Force (LATF) meeting, following the LPC's ILVA Work Group submitting a comment letter and corresponding redline earlier last year.
C1 Work Group Chairperson Steve Smith and Senior Life Fellow Nancy Bennett presented on collateralized loan obligations to the Risk-Based Capital Investment Risk and Evaluation € Working Group.
LATF adopted revisions to Actuarial Guideline XLIX-A (AG 49-A)—The Application of the Life Illustrations Model Regulation to Policies With Index-Based Interest to Policies Sold on or After December 14, 2020—following comments submitted by LPC's Life Illustrations Work Group. LATF also discussed comments on the exposure of the request for comment on ideas for changes to the Life Insurance Illustrations Model Regulation (#582).
LATF exposed an NAIC staff memorandum and recommendation for a replacement for LIBOR (London Interbank Offer Rate) following a series of comment letters by the LPC's Life Valuation Committee.
Life Highlights From 'Envision Tomorrow' Annual Meeting—Save the Date for 2023
The Academy's "Envision Tomorrow: 2022 Annual Meeting," held in November in Washington, D.C., explored key life issues in both general and practice-area breakout sessions. A full recap of the event can found in the November Actuarial Update supplement, Envision Tomorrow: A Closer Look.
Highlights from the 2022 event included:

Johnson makes a point in the 'Inflation Nation' sessionAcademy Past President and Data Science and Analytics Committee member Dave Sandberg gave a life perspective in a general session that focused on big data, analytics, and artificial intelligence (AI) issues.
Jeff Johnson, a member of the Life Practice Council and a past Academy life vice president, gave the life viewpoint in the "Inflation Nation: Actuarial Perspectives on Inflation's Effects on Insurance and Pensions" general session.
Dramatically increased life expectancy over the last century was the topic of Steven Johnson's general session presentation on longevity. Johnson is a PBS TV series host, and the author of Extra Life: A Short History of Living Longer.
The event included three life breakout sessions "All the Scenarios: Exploring Economic Scenario Generators" (ESGs) looked at the NAIC's latest ESG, expected to have a large impact on PBR and risk-based capital. "A Conversation on the Professional Implications of Big Data and AI" looked at more transparent and productive insurance business decisions about uncertainty. In a third life breakout session, "The Emergence of Private Equity and Life Insurance," presenters discussed the impacts on industry in addition to U.S. regulatory intervention related to those developments.
Be sure to save the date and join us this year—the Academy's 2023 Annual Meeting will be held on Nov. 13–14 in Washington, D.C.
Virtual PBR Bootcamp Covers Key Life Issues
The most recent PBR Bootcamp, held virtually in early November, was a 90-minute mini-seminar covering key PBR issues from a regulatory perspective.
Presenters were Elaine Lam, senior life actuary with the California Department of Insurance; Rachel Hemphill, chair of the National Association of Insurance Commissioners' (NAIC) Life Actuarial Task Force (LATF) and PBR team lead at the Texas Department of Insurance; Seong-min Eom, Academy vice president of risk management and financial reporting, and chief life and health actuary with the New Jersey Department of Banking and Insurance; Vincent Tsang, with the Illinois Department of Insurance; and Academy Life Vice President Ben Slutsker, who is also director of life actuarial valuation at the Minnesota Department of Commerce.
The bootcamp was moderated by Thomas Reedy, a member of the PBR Implementation Work Group and chief systems actuary at the California Department of Insurance. Speakers covered a range of PBR issues—notably regulatory oversight and review of PBR—and gave an overview of issues related to governance, model validation, and materiality. Slides and a video recording are available for logged-in Academy members as a free benefit to members.
Webinar Looks at Inflationary Impacts on Life Insurance
In October, the LPC hosted the webinar "Economic Turmoil and Life Insurance—What's an Actuary to Do?" in which presenters from the LPC's Life Experience Committee discussed inflation and secondary impacts, as well as sources offering information on economic variables.
They also remarked on the committee's discussion brief released that month, Reflection of Inflation, Interest Rates, Stock Market Volatility, and Potential Recession on Life Insurance Business. Life Experience Committee Chairperson Donna Claire and members Alan Routhenstein and Kyle Wan presented; committee member Mary Elizabeth Caramagno moderated.
For a deep dive Q&A into the discussion brief, see the previous issue of Life Perspectives. Webinar slides and a video recording are available free as a member benefit to Academy members.
Life Practice Council committees and work groups submitted comments to the NAIC and NAIC groups including its Life Actuarial (A) Task Force (LATF).
Sold-Out LHQ Seminar Delivers Valuable CE
The Academy hosted a successful Life and Health Qualifications Seminar in November in Arlington, Va. The sold-out event included sessions on professionalism, actuarial opinions, and interactive case-study breakout sessions that have long been highly valued by attendees.
Attendees received required basic education and continuing education (CE) to be qualified to sign statements of actuarial opinion for NAIC Life and Health Annual Statements, and a range of topics were discussed including principle-based reserving, risk adjustment data validation, and risk-based capital.
Presenters included Past President D. Joeff Williams; Actuarial Standards Board Chairperson and new Academy Secretary-Treasurer Darrell Knapp chaired the subcommittee that organized the seminar.
Past President Campbell Highlights Academy Work at Connecticut Meeting
Penultimate Past President Tom Campbell spoke at the Connecticut Insurance Department's 2022 Appointed Actuary Meeting in late October. He discussed the value of Academy membership and volunteering for appointed actuaries and their staff and gave an update on Academy activities. Campbell also highlighted the many ways the Academy works with other actuarial organizations, recent USQS changes, and the emerging professional education needs of appointed actuaries whose opinions increasingly involve new and more complex types of assets.