This Week, July 25–August 5, 2022
Read the latest news from the Academy.

Keeping You in the Know—Recent Academy Activity, July 25 – August 5, 2022
Catch up on this week's top stories in just a minute with the latest "This Week … In a Minute" video. Subscribe to our YouTube channel to receive alerts as new videos are released.
Professionalism-P/C Webinar to Examine ASOP Nos. 20, 36
Join the Academy later this month for "ASOP Nos. 20 & 36: Proposed Changes," the next webinar looking at actuarial standards of practice (ASOPs). The Actuarial Standards Board (ASB) is revising several property/casualty ASOPs, including ASOP No. 20, tentatively retitled Discounting of Property/Casualty Claim Estimates, and ASOP No. 36, tentatively retitled Statements of Actuarial Opinion Regarding Property/Casualty Loss, Loss Adjustment Expense, or Other Reserves. Both are open for comment on the ASB website. Actuaries who led the drafting effort will discuss why the standards are being revised and the proposed changes, many of which are significant. Continuing education (CE) credit is available. The webinar will be held on Wednesday, Aug. 31, from noon to 1:30 p.m. Register today.
P/C Webinar Looks at ILS, Cat Bonds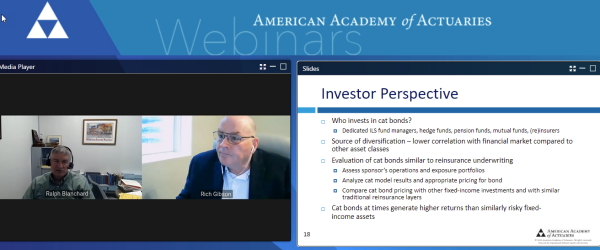 Tuesday's P/C webinar, "Insurance-Linked Securities and Catastrophe Bonds," examined catastrophe (cat) bonds, a subset of insurance-linked securities (ILS), which are debt-like investment instruments providing risk coverage to reinsurance entities and self-insureds. The webinar focused on the P/C Extreme Events and Property Lines Committee's recent public policy issue paper, Insurance-Linked Securities and Catastrophe Bonds. Ralph Blanchard and Academy Senior Casualty Fellow Rich Gibson presented, and committee Chairperson Jeri Xu participated in the following Q&A. Webinar recordings, including slides and audio, are made available free to logged-in Academy members in the webinar archive section of the website.
Academy Seeks Members for Our 'Member Spotlight' Series
The Academy invites members for a chance to be featured in an upcoming "Member Spotlight." This monthly series, part of the Academy's Professionalism First initiative, shares our members' experiences, insights, and interests, and is a great way to share your unique professional experience and personal interests more broadly. Your message can impact others in immeasurable and positive ways—your profile might inspire other Academy members to volunteer, or you could help a younger actuary overcome a challenge that you encountered early in your career. To share your story for a chance to be featured, simply provide answers in our easy-to-use webform.
Member-Selected Directors Election Begins Next Friday
The election of member-selected directors to the Academy Board begins next Friday, Aug. 12. Members should have received an email this week from our election vendor, Intelliscan, which is administering the election. The email was sent Wednesday from academy@intelliscaninc.net. Also be sure to check the Board Election Center, which includes links to the candidates' information, bios, and statements. The election will take place over a two-week period from Aug. 12 to 26. All members are encouraged to take part in the Academy's election process.
Public Policy Outreach
Academy Past President and Medicare Committee member Tom Wildsmith participated in a session Wednesday at the 2022 Supplemental Health, DI & LTC Conference, sponsored by LIMRA/Society of Actuaries (SOA). The session, "Exploring the Healthcare Agenda in Washington," focused on current legislative and regulatory trends that may affect supplemental health, disability income, and long-term care coverage.
Uccello Named to CBO Health Advisors Panel
Academy Senior Health Fellow Cori Uccello was named to the U.S. Congressional Budget Office's Panel of Health Advisors for the coming year. The panel consists of widely recognized experts in health policy and the health sector.
Recently Released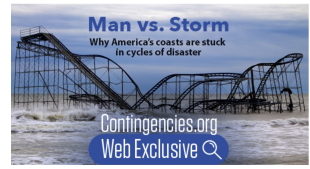 The latest Contingencies web exclusive, "Man vs. Storm: Why America's Coasts are Stuck in Cycles of Disaster," looks at the rising risks that coastal homeowners face amid a changing climate. Keying off a recent government report that suggests the U.S. could see a foot of sea level rise by 2050, this story discusses the difficulty in procuring insurance—and paying out claims—as risks become more prevalent.
The latest StateScan Roundup recaps recent state legislation and regulation of interest to actuaries. Cross-practice issues include reinsurance, insurance data security, and unfair trade practices. Practice-area legislation regulation in pension, property/casualty, life, and health areas include Medicaid, long-term care, prescription drugs, auto insurance, flood insurance and climate risk, workers' compensation, and pension liability.
Public Policy in Focus
Health Practice Council (HPC) Vice Chairperson Barb Klever provided an update on HPC's activities to the National Association of Insurance Commissioners' (NAIC) Health Actuarial (B) Task Force (HATF) during HATF's virtual meeting in lieu of the NAIC Summer 2022 National Meeting next week in Portland, Ore.

The Life Illustrations Work Group submitted a comment letter to the NAIC's Indexed Universal Life (IUL) Illustration (A) Subgroup regarding the July 18 Indexed Universal Life Exposure.

The Climate Change Joint Task Force (CCJTF) submitted comments to the International Sustainability Standards Board (ISSB) on its Exposure Draft IFRS S2 Climate-Related Disclosures, building on recommendations of the Task Force on Climate-Related Financial Disclosures.
Visit the Public Policy page to stay on top of the latest news and activities.
In the News
Upcoming Events
Aug. 31, noon to 1:30 p.m. EDT: "ASOP Nos. 20 & 36: Proposed Changes," Professionalism-P/C webinar (1.8 CE credits)

Sept. 13, noon to 1:30 p.m. EDT: "Discussion of Variable Annuity Plans Practice Note," pension webinar (registration opening soon)

Sept. 13, "Long Duration Targeted Improvements," cross-practice webinar (registration opening soon)

Sept. 14, "VM-22," life webinar (registration opening soon)

Sept. 19–21: Casualty Loss Reserve Seminar, St. Louis

Nov. 2–3: Envision Tomorrow: 2022 Annual Meeting, Washington, D.C. (early registration rates available)

Nov. 14–17: 2022 Life and Health Qualifications Seminar, Arlington, Va. (up to 27 CE credits)
Coming Soon
Academy life, P/C, and professionalism presentations at the NAIC Summer 2022 National Meeting in Portland, Ore.

Registration will open next week for "Discussion of Variable Annuity Plans Practice Note." In this Sept. 13 webinar, attendees will learn about the issues that actuaries may consider when setting assumptions or providing advice for setting assumptions for funding and financial accounting and how ASOPs apply.

PLEASE DO NOT REPLY TO THIS EMAIL. THIS EMAIL ADDRESS IS NOT MONITORED.
Follow the Academy on Facebook, LinkedIn, and Twitter. Listen to our podcast.
To update your Academy email communication preferences, please login and update your Academy member profile.
---
1850 M Street NW • Suite 300 • Washington, DC 20036 • 202.223.8196 • www.actuary.org
Copyright 2022 American Academy of Actuaries. All rights reserved.