This Week, Dec. 23, 2019–Jan. 3, 2020
Read the latest news from the Academy.

Recent Academy Activity, Dec. 23, 2019–Jan. 3, 2020
ASB Adopts ASOP No. 56, Approves Exposure Draft
The Actuarial Standards Board (ASB) adopted a new actuarial standard of practice (ASOP)—No. 56—titled Modeling during its December 2019 meeting. The ASB also approved a second exposure draft of a proposed revision of ASOP No. 4, Measuring Pension Obligations and Determining Pension Plan Costs or Contributions. Comment deadlines and information on how to submit comments on exposure drafts open for comment can be viewed here.
Additionally, the ASB reviewed a second exposure draft of a proposed revision of ASOP No. 22, now titled Statements of Actuarial Opinion Based on Asset Adequacy Analysis for Life, Annuity, or Health Liabilities; and continued review of a proposed revision of ASOP No. 28, now titled Statements of Actuarial Opinion Regarding Health Insurance Actuarial Assets and Liabilities.
For complete coverage of ASB activity, read the latest ASB Boxscore.
Recently Released
The December Actuarial Update covers Academy public policy and professionalism presentations at the NAIC Fall 2019 National Meeting in Austin, Texas. Also in the issue: The final professionalism webinar of 2019 looks at issues the Actuarial Board for Counseling and Discipline (ABCD) considers—and provides a few tales from the "dark side"; the latest "Actuary Voices" podcast offers highlights of the Annual Meeting and Public Policy Forum; the PBR Boot Camp covers key life topics; and the "Professionalism Counts" column looks at what happens during an ABCD investigation.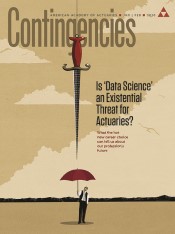 In the January/February issue of Contingencies, the cover story, "Is 'Data Science' an Existential Threat for Actuaries?" investigates what the hot new career trend can tell us about our profession's future. Other features include "Predictably Irrational," which looks at how we make decisions, and aims to apply behavioral economics to actuarial science; and "Calculating Death With Dignity," which looks at the issue of more states legalizing medically assisted suicide and what that means for actuaries. Also in the issue, in his first President's Message, Academy President D. Joeff Williams explores how the Academy lives up to its "effective" motto.
The Fall/Winter StateScan Quarterly recaps the latest quarter's state legislation and regulation as most state legislatures drew to a close and some began prefiling legislation for the 2020 term, covering casualty issues related to auto insurance, flood insurance and climate risk; health issues including the individual market, Medicaid, long-term care, and prescription drugs; life insurance issues including principle-based reserving; and public pension plans. For a more comprehensive look at state legislative and regulatory activity, log in to the StateScan portal, free for Academy members.
The Winter Casualty Quarterly covers last month's P/C Loss Reserve Opinion Seminar and the impending year-end P/C opinion-writing practice note; P/C sessions from the Academy's Annual Meeting and Public Policy Forum; and recent state and federal legislative, regulatory, and judicial activity.
P/C Loss Reserve, Life & Health Law Manuals Available
Two Academy law manuals are available for order.
The P/C Loss Reserve Law Manual is designed to help appointed actuaries know the requirements for statements of actuarial opinion. The manual contains a compilation of insurance laws relating to P/C loss and loss expense reserves. Order today.
The Life and Health Valuation Law Manual contains information to help appointed actuaries know the requirements of the NAIC model Standard Valuation Law and the Model Actuarial Opinion and Memorandum Regulation. Order today.
Public Policy Activity
Alert
Upcoming Events
In the News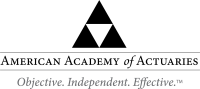 If you would like more information or to contact the Academy, please visit us at www.actuary.org/content/about-us
Follow the Academy on Facebook, LinkedIn, and Twitter.
---
1850 M Street NW • Suite 300 • Washington, DC 20036 • 202.223.8196 • www.actuary.org
Copyright 2020 American Academy of Actuaries. All rights reserved.