Casualty Quarterly, Winter 2019

P/C Loss Reserve Opinion Seminar Draws Capacity Attendance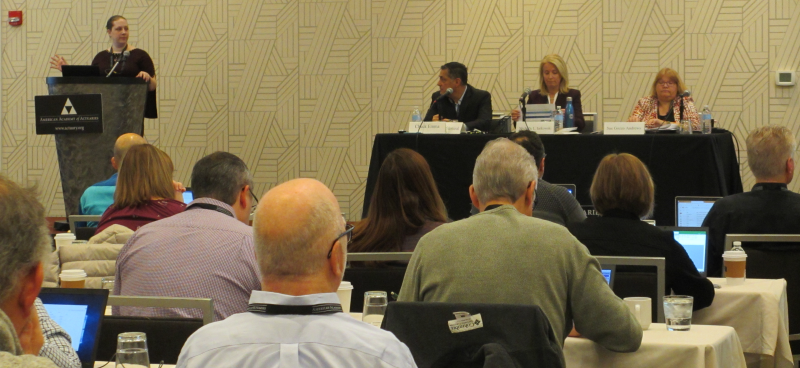 Iarkowski (at podium) speaks at a session
All seats were filled at the 2019 Seminar on Effective P/C Loss Reserve Opinions: Tools for the Appointed Actuary, held Dec. 4–5 in the Baltimore area. The two-day seminar provided participants with information on the relevant requirements and instructions for P/C actuaries working on reserve opinions, including reviews of applicable actuarial standards of practice, and provided attendees with examples through interactive case studies. Given the recent actions taken by the NAIC, questions about qualifications and credentials for appointed actuaries were addressed in several sessions.
Presenters included Academy Committee on Property and Liability Financial Reporting (COPLFR) Chairperson Kathy Odomirok; COPLFR member and Academy Past President Mary Frances Miller; members of COPLFR and its Opinion Seminar Subcommittee including Michelle Iarkowski; and Sue Gozzo Andrews, a P/C actuary with the Connecticut Department of Insurance and an Academy member.
P/C Loss Practice Note on The Way
COPLFR will release its updated Statements of Actuarial Opinion on P/C Loss Reserves practice note soon. The purpose of the practice note is to provide information to actuaries on current or emerging practices relevant to signing NAIC P/C statements of actuarial opinion (SAOs) and actuarial opinion summaries (AOSs).
It is intended to assist actuaries by describing practices that COPLFR believes are commonly employed in issuing SAOs and AOSs on loss and loss-adjustment expense reserves in compliance with the P/C Annual Statement Instructions for 2019 issued by the NAIC. Actuaries may also find this information useful in preparing SAOs for other audiences.
Stay tuned for a forthcoming Academy alert.
Actuaries Climate Index Updated With Spring 2019 Data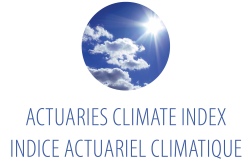 The Actuaries Climate Index (ACI) has been updated with data through spring 2019. For the fifth consecutive quarter, the index's five-year moving average has set a new high; five-year averages for three ACI components have hit new highs as well.
"Three components of the ACI saw new highs in their respective five-year averages: sea level, the frequency of high temperatures, and the frequency of heavy precipitation," said Doug Collins, chair of the Climate Index Working Group. "The high values and upward trends in these components are significant to the big-picture, long-term changes measured by the ACI, which is a composite of values measured across the U.S. and Canada." Read the news release.
ACRI Release Imminent
The Actuaries Climate Risk Index (ACRI), a follow-on to the already released ACI, will be released in the coming weeks. The ACRI builds on the foundation of the ACI, which measures extreme weather events associated with climate risk, by producing results that correlate losses of property and human lives to extreme weather. The Academy is pleased to share this important research—stay tuned.
NAIC Responds to COPLFR letter on Loss Portfolio Transfer
At its Dec. 7 meeting, the NAIC's Statutory Accounting Principles Working Group (SAPWG) responded to the Academy's Committee on Property and Liability Financial Reporting (COPLFR) May 21 letter on reporting of loss portfolio transfers by formally adding this topic to their list of items to be addressed in 2020.
The working group accepted its staff's findings that COPLFR had identified inconsistent reporting practices regarding retroactive reinsurance and that some clarification or guidance may be beneficial. Consequently, SAPWG exposed the Academy's comment letter and the NAIC staff's findings, asking for public comment by Jan. 31, 2020, to provide input on how the working group should proceed to address the questions raised in the Academy's letter.
Individual actuaries and/or companies may wish to file comments while the SAPWG is still in the early stages of its deliberations. To see the working group's posting, go to the SAPWG home page and click on "Exposure Drafts" where you will find instructions for submitting comments; and to download the "Retroactive Reinsurance Exception" document, click on "2019-49."
Webinar Looks at Qualified Actuary Requirements
The Academy hosted a Nov. 20 webinar, "P/C Qualified Actuaries: 2019 Changes to Instructions." The NAIC Instructions to the P/C Statement of Actuarial Opinion have changed in 2019, including the definition of a qualified actuary and associated documentation that the Appointed Actuary will now be required to provide to company boards. Presenters were Committee on Property and Liability Financial Reporting (COPLFR) Chairperson Kathy Odomirok, COPLFR members Michelle Iarkowski and Stephen Koca, and Anna Krylova, vice chair of the NAIC's Actuarial Opinion Working Group. The webinar looked at changes and required documentation to try to assist Appointed Actuaries with meeting the new requirements. Slides and audio are available without charge on the Academy's webinar page for logged-in Academy members.
CPC Comments on Terrorism Risk Insurance Act
The Casualty Practice Council (CPC) sent comment letters to the U.S. House Committee on Financial Services and the U.S. Senate Committee on Banking, Housing, and Urban Affairs encouraging long-term extension of the Terrorism Risk Insurance Act (TRIA).
The CPC stated that TRIA "offers a recoupment mechanism for reimbursing the federal government and should not be perceived as a subsidy to the insurance market. The primary goal of the program is to facilitate the stability of the insurance marketplace, which is an important interest to the public."
Congress reauthorized TRIA at the end of the year. Included in that measure was language directing the Government Accountability Office to analyze and address the vulnerabilities and potential costs of cyber terrorism and to make recommendations for future legislation, which was in response to Academy comments. Read the Academy alert.
P/C Breakout Annual Meeting Sessions Cover Key Issues
Practice-area breakout sessions at the Annual Meeting and Public Policy Forum covered a range of current issues, including several property/casualty sessions.
Predictive Models and External Data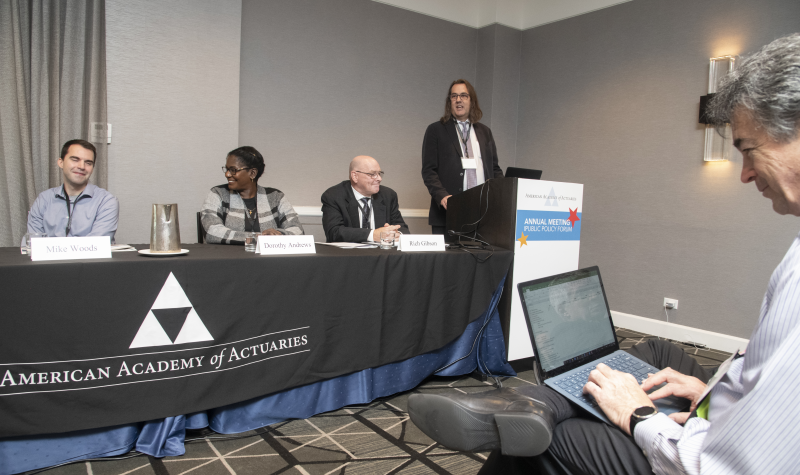 Barlow (at podium) with panelists at the predictive modeling session
Panelists in this session agreed on several points: There is a lot of external data being used in predictive models; this raises a number of questions; and there is a need for greater transparency.
Mike Woods, a senior manager at Allstate, opened the discussion by noting all the different kinds of data that are available today and observed that new sources of information such as social media, satellite imagery, and biometrics are under discussion.
Philip Barlow, associate commissioner of the District of Columbia Department of Insurance, Securities and Banking, said, "Predictive models give [regulators] a lot of challenges." He finds it particularly difficult to monitor predictive models for "unfairly discriminatory" factors. Asked about consumer understanding of predictive models, Barlow said, "Insurance companies should do a much better job on transparency. … Companies need to do more about explaining" how they are using the data.
Dorothy Andrews, chairperson of the Academy's Data Science and Analytics Committee, noted there are sharp generational differences in comfort levels with Big Data. She quoted a 2014 federal report that warned that "Big Data has the power to discriminate." She also cited a 2019 report from the Government Accountability Office that said data scientists may not be familiar with regulatory restrictions on the use of certain kinds of information. Her advice is that "insurance companies could do themselves a favor if they get out in front on this."
Rich Gibson, senior property casualty fellow at the Academy, moderated this discussion.
Insurance-Linked Securities
The market for insurance-linked securities (ILS) is thriving and actuaries play an important role in it, according to experts speaking at a breakout session on the subject. In a discussion moderated by Academy Immediate Past President Shawna Ackerman, it was reported that $93 billion in catastrophe bonds and other non-life ILS are currently in force, with an additional $15 billion in life insurance-related issues. These typically are multiyear instruments, with about $27 billion in new issues each year.
Bill Dubinsky, head of ILS at WillisTowersWatson Securities, outlined how the ILS market works and observed that it brings a lot of new capital into the insurance market. In terms of risk transfer, he noted that ILS functions the same as reinsurance and is used by those managing retained risk as well as by primary insurers.
Achille Sime-Lanang is co-chairing an Academy task force that is writing a monograph on ILS. He previewed the report, noting that actuaries play an important role at several points in ILS transactions, helping buyers and sellers to assess the risks in the individual contracts.
Climate Risk/Flood Insurance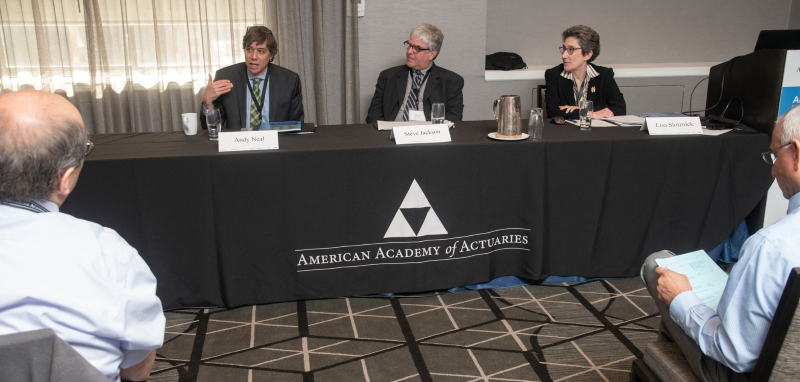 Neal (left), with Jackson and Slotznick at the climate risk session
This session was moderated by Lisa Slotznick, Academy vice president, casualty. Steve Jackson, assistant director for research (public policy), reviewed the Actuaries Climate Index (ACI), a joint project of four actuarial groups, including the Academy. The ACI shows a clear trend of an increase in climate-related extreme weather in recent years. Jackson outlined refinements to the ACI that will be implemented soon and discussed the status of the closely related Actuaries Climate Risk Index, which also is nearing public release.
Andy Neal is the chief actuary at the National Flood Insurance Program (NFIP), which is part of the Federal Emergency Management Agency (FEMA). Neal gave an overview of FEMA activity and the NFIP. The Academy this summer updated its 2017 monograph on flood insurance, which covered many aspects of the NFIP and private flood insurance.
Neal described the federal government's desire to move the NFIP from its current use of broad rating categories that were developed in the 1970s to more precise rating of individual properties. Doing so, he noted, would align the program more closely with modern practices in the private insurance market. Implementation of what is being called Risk Rating 2.0 will not come until fall 2020 or later.
Academy Comments on Predictive Models
Academy Senior Casualty Fellow Rich Gibson submitted comments to the NAIC on the latest draft of a proposed NAIC white paper on regulatory review of predictive models. The comments relate to a discussion draft released in October of NAIC's Casualty Actuarial and Statistical Task Force draft white paper discussing best practices for the regulatory review of predictive models.
The letter also references the Academy's 2018 monograph, Big Data and the Role of the Actuary, which includes extensive sections on regulatory and professionalism considerations.
Copyright © 2019 American Academy of Actuaries. All Rights Reserved.
1850 M Street NW, Suite 300, Washington, DC 20036
www.actuary.org

Phone: 202-223-8196