This Week, April 27 – May 1, 2020
Read the latest news from the Academy.

Recent Academy Activity, April 27 – May 1, 2020
Professionalism Webinar: New Modeling ASOP
More than 3,000 people attended the Academy's first professionalism webinar of 2020 on Thursday, which offered cross-practice context focused on the newest actuarial standard of practice (ASOP)—ASOP No. 56, Modeling. Featuring former members of the Actuarial Standards Board (ASB) as well as speakers from the task force that drafted the standard, "The New Modeling ASOP: ASOP No. 56" examined its scope, what constitutes a model, and the fundamental guidance given by the standard. The well-attended webinar—the Academy's first professionalism webinar that encouraged group registration for remote employees from more than 100 companies—addressed all areas of practice and was moderated by former ASB Chairperson and Modeling Task Force member Maryellen Coggins. Slides and audio are available free for Academy members.
Cross-Practice Webinar Looks at COVID-19
The Academy's Capitol Forum webinar held Tuesday took a cross-practice perspective on known and unknown risks and challenges actuaries may need to focus on brought about by the COVID-19 pandemic. Moderated by Academy President D. Joeff Williams, the webinar featured the Academy's four practice-area senior fellows in casualty, health, life, and pension, and a committee chairperson from the Risk Management and Financial Reporting Council. This cross-practice perspective is one that the Academy is uniquely able to provide to the profession given our broad base of members from all practice areas. Furthermore, our mission emphasizes public policy and professionalism aspects of actuarial concerns that so widely touch the lives of Americans through the work of our members. Slides and audio are available free of charge for logged-in Academy members.
Actuarial Update, Contingencies Released
The April Actuarial Update covers the Academy's four April webinars held during a time of social distancing and remote learning—that provided diverse opportunities for "organized" continuing education (CE) credit. Also in Update, the Academy released The Record, covering our 2019 activity; the "Member Spotlight" interviews Risk Management and Financial Reporting Council Vice President Gareth Kennedy; and the "Professionalism Counts" column looks at the Academy's many online CE opportunities.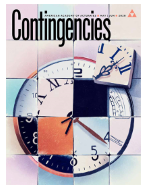 In the May/June issue of Contingencies released Friday, the cover story, "Look Before You Leap," investigates the persistent and arcane problem of leap seconds and what might be done about them. Other features include "Social Determinants of Health"—a timely look given the current world situation at how we might move toward a more holistic view of wellness; "It's an Opioid World"—nations' challenges, and successes, in the fight against opioid addiction; "Checking the Odometer on AVs"—checking in on the road to completely autonomous vehicles, and what they will mean for the future of insurance Also, Academy President D. Joeff Williams' President's Message on how the Academy adapts to changes over time; seeking truth in the shades of gray in "Up to Code"; and a Tradecraft piece about enterprise risk management and captives.
Issue Brief Looks at 2020 Medicare Trustees Report
An Academy issue brief analyzing the recently released 2020 Medicare Trustees Report—Medicare's Financial Condition: Beyond Actuarial Balance—notes that the serious issues with Medicare's financial condition persist, a situation that if left unaddressed could shift growing financial burdens to future taxpayers and beneficiaries. "The exhaustion date for the Hospital Insurance (HI) trust fund remains unchanged over last year's projection, drawing ever closer, while funding demands from premiums and general revenue for other parts of the program are also tracking upward," said Academy Senior Health Fellow Cori Uccello. Read the Academy news release.
Registration Open for Finale of Three-Part Retirement Webinar Series
Registration is open for the third in the Academy's three-part webinar series on retirement in America. "Part Three: Focus on Private-Sector Plans, State Initiatives, and Opportunities to Expand Coverage" will focus on retirement plans sponsored by private sector employers, the new state-mandated initiatives that are being implemented to increase employee access to retirement plans to have the ability to save for retirement, and public policy solutions that could further increase Americans' retirement security. The webinar will be held on Wednesday, May 27, from noon to 1:30 p.m. EDT. Register today.
Take Time to Catch Up on Our 'Actuary Voices' Podcasts
Missed an episode of our "Actuary Voices" podcast? Take time to catch up and visit our library to hear interviews with some of our members. Recent episodes featured an interview with Academy Board member and past health vice president Cathy Murphy-Barron on how she became interested in being an actuary, a two-part series with past president Tom Wildsmith, and a look at highlights from the 2019 Annual Meeting and Public Policy Forum. You can listen to the podcasts online or download them to your preferred podcast platform.
Alert
The U.S. Supreme Court issued a ruling Monday requiring the federal government to pay $12 billion to health insurers under the Affordable Care Act's risk corridors program. The program, originally designed as a temporary fund, was intended to provide funding for health plans with greater numbers of high-risk customers to mitigate large potential losses to insurers. Read the Academy alert.
Upcoming Events
In the News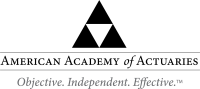 If you would like more information or to contact the Academy, please visit us at www.actuary.org/content/about-us
Follow the Academy on Facebook, LinkedIn, and Twitter. Listen to our podcast.
---
1850 M Street NW • Suite 300 • Washington, DC 20036 • 202.223.8196 • www.actuary.org
Copyright 2020 American Academy of Actuaries. All rights reserved.