This Week, May 17-21, 2021
Read the latest news from the Academy.

Recent Academy Activity, May 17–21, 2021
Next Week—Health, Life Webinars to Look at Health Equity, COVID-19
There's still time to register for next week's health or life webinars which will cover timely topics and offer continuing education credit opportunities.
Health Equity—The Health Practice Council's Health Equity Work Group (HEWG) will present "Health Equity: An Actuarial Perspective," which will offer a discussion of important issues involving health disparities facing our country and an update on the work group's efforts to address those concerns. Wayne Rawlins, M.D., MBA, a national expert on health equity, will describe drivers of health disparities and strategies to address them, and will be followed by a panel discussion of HEWG leaders, who will discuss the work group's goals and work thus far, including the recently issued discussion brief, Health Equity From an Actuarial Perspective: Questions to Explore. The webinar will be held on Monday, May 24, from noon to 1:15 p.m. EDT. Register now.

Life / COVID-19—The Life Practice Council will present "The Impacts of COVID-19 on the Life Insurance Industry," which will look at the pandemic's impacts on the life insurance industry and explore the near- and longer-term effects on life insurance. Insurance industry experts will discuss their take on the impact of COVID-19 on financial results, explore COVID-19's impact on mortality experience, and consider possible impacts on life insurance operations including underwriting and pricing. The webinar will be held on Tuesday, May 25, from noon to 1:30 p.m. EDT. Register now.
Speakers Bureau Professionalism Outreach
Academy President Tom Campbell delivered a "Professionalism Update from the Academy" to the Actuaries Club of Philadelphia's Virtual Spring Meeting on Thursday. Campbell provided a review of the professionalism infrastructure housed in the Academy, and highlighted recent areas of activity of the Council on Professionalism and the Committee on Qualifications. He also provided attendees with a high-level update on actuarial standards of practice developments and the latest statistics and trends on matters brought before the Actuarial Board for Counseling and Discipline, both requests for guidance and cases.
Speakers Bureau Pension Practice Outreach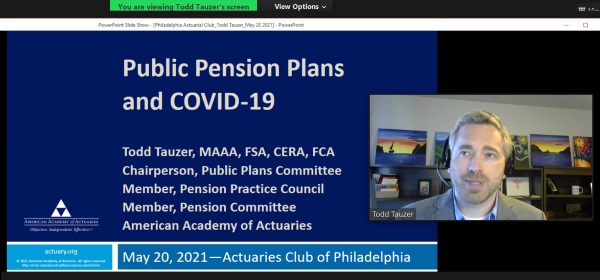 Pension Practice Council (PPC) member and Public Plans Committee Chairperson Todd Tauzer presented a pension track session at the Actuaries Club of Philadelphia's Virtual Spring Meeting on Thursday. The session addressed the potential implications of the COVID-19 pandemic for pension plans, with a focus on public pension plans as outlined in the Academy issue brief, The Impact of the COVID-19 Pandemic on Public Pension Plans, released in December. Tauzer also discussed other recent PPC activities, including new issue briefs and other Academy resources helpful to staying current on public policy developments affecting pensions.
Don't Miss Out—Register for June Virtual PBR Boot Camp
The Academy's Virtual PBR Boot Camp is right around the corner—there's still time to register for this event that will cover a full range of topics designed especially for those who may be relatively new to principle-based reserving (PBR). The agenda will provide comprehensive information on PBR requirements now that PBR is fully implemented and an opportunity to earn valuable continuing education (CE) credit in a convenient format. Interested in a particular topic? Take advantage of our daily rates which allow you to attend the session with content relevant to you and your work. Working with a team? Take advantage of our group rates. The seminar will take place June 7–9. Register now.
Recently Released
The Spring Life Perspectives has an inside look at the Academy's VM-22 In Brief document, by Donna Claire, chairperson of the PBR Implementation Work Group, and chairperson of the VM-22 Subgroup. Also in the issue, previews of the upcoming PBR Boot Camp, recent Life Practice Council work group comments to the NAIC, and life-practice federal and state legislative and regulatory activity.
Upcoming Events
In the News
In a Plan Sponsor story, Pension Committee member Rachel Barnes described features of cash-balance pension plans.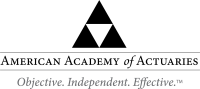 If you would like more information or to contact the Academy, please visit us at www.actuary.org/content/about-us
Follow the Academy on Facebook, LinkedIn, and Twitter. Listen to our podcast.
---
1850 M Street NW • Suite 300 • Washington, DC 20036 • 202.223.8196 • www.actuary.org
Copyright 2021 American Academy of Actuaries. All rights reserved.