This Week, March 8- 12, 2021
Read the latest news from the Academy.

Recent Academy Activity, March 8–12, 2021
Registration Open for April 21 Professionalism Webinar
Registration is open for the Academy's first professionalism webinar of the year, "How to Read an ASOP—and Other Nuggets From ASOP No. 1," coming next month. From professional judgment to the intricacies of "should," "should consider," and "may," ASOP No. 1, Introductory Actuarial Standard of Practice, explains concepts important to your work as an actuary. Join us to hear Actuarial Standards Board (ASB) Chairperson Darrell Knapp, along with ASB members Kevin Dyke and Cande Olsen, discuss aspects of this often-overlooked ASOP that every practicing actuary should know. Academy General Counsel and Director of Professionalism Brian Jackson will moderate. The webinar will be held on Wednesday, April 21, from noon to 1:30 p.m. EDT, and continuing education (CE) and Joint Board for the Enrollment of Actuaries (JBEA) continuing professional education (CPE) credit will be available. Register today.
Academy Unveils Webpage on Diversity, Equity & Inclusion

The Academy has published a webpage on diversity, equity, and inclusion to collect references and links to our many efforts to recognize the importance of a diverse and inclusive actuarial profession. Our efforts include examination of health and health insurance systems, focusing on health disparities and contributing factors, and recognition of Black History Month, Women's History Month, and International Women's Day. The Academy also supports efforts by the National Association of Insurance Commissioners, as the NAIC looks at ways to address practices that could create barriers to—or provide incentives to—inclusion.
Next Week—Pension Webinar to Look at Social Security Reform Options
There's still time to register for next week's pension webinar, "Social Security Reform Options Through the Lens of Individual Equity and Social Adequacy Considerations," which will present analysis from the Academy's Social Security Committee on three reform proposals from across the political spectrum that were designed to eliminate the existing program deficit. The webinar will focus on analysis from two pension publications released Friday—a monograph, Individual Equity and Social Adequacy in the U.S. Social Security System, and an issue brief, Individual Equity and Social Adequacy: A Principle-Based Study of Social Security Reform Proposals. Presenters will be Social Security Committee Chairperson Amy Kemp and past chairpersons Ron Gebhardtsbauer and Janet Barr. Senior Pension Fellow Linda K. Stone will moderate. CE and JBEA CPE credit are available. The webinar will be held on Tuesday, March 16, from noon to 1:30 p.m. EDT. Register today.
Save the Dates—Two Pension Webinars Set for April
Save the dates for two Academy pension webinars coming in April:
Registration for both webinars will open soon.
Alerts
Academy Law Manuals Available for Order
Two Academy law manuals are available for order:
Public Policy Activity
Upcoming Events
In the News
Having trouble viewing this email? View it in your browser.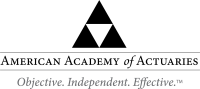 If you would like more information or to contact the Academy, please visit us at www.actuary.org/content/about-us
Follow the Academy on Facebook, LinkedIn, and Twitter. Listen to our podcast.
---
1850 M Street NW • Suite 300 • Washington, DC 20036 • 202.223.8196 • www.actuary.org
Copyright 2021 American Academy of Actuaries. All rights reserved.