This Week, March 15- 19, 2021
Read the latest news from the Academy.

Recent Academy Activity, March 15–19, 2021
Academy, Board Defeat CCA Lawsuit Challenging 2018 Bylaws Amendment
After two years of litigation funded by the Conference of Consulting Actuaries (CCA), Judge Michael Mullen of the Circuit Court of Cook County, Ill., entered summary judgment in the lawsuit in favor of the defendants—the Academy and current and former members of its Board of Directors. Judge Mullen found that the Academy Board had the authority to adopt a 2018 bylaws amendment that changed the membership of the Academy's Selection Committee that appoints members of the Actuarial Standards Board and the Actuarial Board for Counseling and Discipline. Read more background here, and read President Tom Campbell's letter to members.
Academy Executive Director Mary Downs to Retire
Academy President Tom Campbell announced that our executive director of more than 12 years, Mary Downs, has advised him of her intention to retire in the next several months. "Mary is a great leader, and has served the Academy well as executive director," Campbell said. "Under her leadership, the Academy has strengthened its position as the national actuarial association for the self-regulating U.S. actuarial profession. Because of all of her hard work and dedication, the Academy has the staff and the infrastructure to continue to serve the public and the actuarial profession for many years to come. I wish Mary all the best in this new chapter in her life." The Academy has retained Korn Ferry to conduct a search for a successor. Contacts there are Lorraine Lavet (Lorraine.Lavet@kornferry.com) and Becky Graham (Becky.Graham@kornferry.com).
Pension Webinar Looks at Social Security Reform Options
The Academy presented a webinar Tuesday, "Social Security Reform Options Through the Lens of Individual Equity and Social Adequacy Considerations," in which three presenters from the Social Security Committee discussed potential reform issues, including proposals made in recent years to address the program's projected looming trust fund shortfall and more recently options put forward by President Biden. Presenters were Social Security Committee Chairperson Amy Kemp and Past Chairpersons Janet Barr and Ron Gebhardtsbauer. Senior Pension Fellow Linda K. Stone moderated.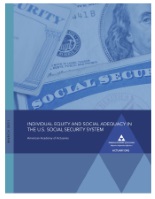 The committee released two publications last week which were largely the basis for the webinar—a monograph, Individual Equity and Social Adequacy in the U.S. Social Security System, and an issue brief, Individual Equity and Social Adequacy: A Principle-Based Study of Social Security Reform Proposals. "Individual equity and social adequacy are both essential to the success of Social Security," Kemp said, "Balance between the two has changed as the system has evolved." Slides and audio are available free to logged-in Academy members.
Mark Your Calendar for June's PBR Boot Camp
Save the date: The Academy's popular PBR Boot Camp is back— again with an agenda to cover a full range of topics especially for those who may be relatively new to principle-based reserving (PBR) to help them understand PBR requirements and to effectively operate within the now fully implemented PBR. The virtual event, to be held June 7–9, will have sessions on external reviews of PBR, model overview and model governance, reserve change analysis and pricing projections, implementation of VM-20, mortality, additional liability assumption, reinsurance, an overview on assets, standard projection methodology, and sample reports. Registration will open soon.
Save the Dates—Two Pension Webinars Set for April
Save the dates for two Academy pension webinars coming in April:
Registration for both webinars will open soon.
Public Policy Activity
Upcoming Events
In the News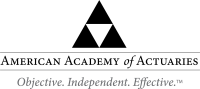 If you would like more information or to contact the Academy, please visit us at www.actuary.org/content/about-us
Follow the Academy on Facebook, LinkedIn, and Twitter. Listen to our podcast.
---
1850 M Street NW • Suite 300 • Washington, DC 20036 • 202.223.8196 • www.actuary.org
Copyright 2021 American Academy of Actuaries. All rights reserved.