This Week, June 7- 11, 2021
Read the latest news from the Academy.

Recent Academy Activity, June 7–11, 2021
Academy Holds Successful Virtual PBR Boot Camp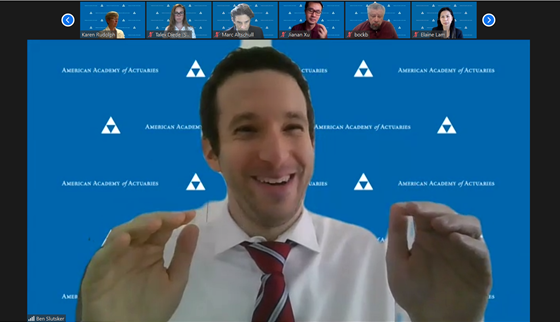 Annuity Reserve and Capital Work Group
Chairperson Ben Slutsker presents at a session
The Academy held a successful interactive Virtual PBR Boot Camp Monday through Wednesday. Presenters covered a range of specifically tailored issues relevant to the now effective principle-based reserving (PBR) framework for life insurance, including lessons learned through implementation of VM-20, mortality, liability assumption governance, PBR life insurance assets, reinsurance, model overview and model governance, variable annuities, and regulator and auditor reviews, among others. The Boot Camp included interactive Q&A sessions focusing on participant-targeted information, sharing insights, and learning from others' experience of PBR in their practice.
PBR in Practice Webpage: Looking for a one-stop shop for your PBR-related questions? The Academy's PBR in Practice webpage contains helpful materials to assist actuaries and regulators in their practice and oversight of PBR for life insurance and variable annuities, including a toolkit that provides resources to support actuaries on PBR valuations.
Two Weeks Left for Nominations for Academy Service and Volunteerism Awards
There are two weeks left to submit nominations for the Academy's 2021 distinguished service and volunteerism awards. Service is the heart of the Academy and its mission, and these awards recognize the substantive and noteworthy work accomplished by actuaries in their volunteer work for the Academy and public service. Nominate fellow Academy members who have made a difference for the public and the U.S. actuarial profession to receive the Academy's prestigious awards:
The deadline for you to submit nominations is June 25. The awards will be presented in conjunction with the Academy's 2021 Annual Meeting and Public Policy Forum this fall. More information about this year's annual event will be released soon.
Request: Update Your Academy Member Profile
Collecting, maintaining, and analyzing various demographic information allows the Academy to better understand its membership specifically and the U.S actuarial profession in general. In recent years, the Academy has expanded the type of information requested and compiled, including allowing members to add another area of practice to their profile, ethnicity, and specializations within their practice area. Please assist the Academy in this data collection effort by visiting the "Update My Profile" section of the member section of the Academy website to review and add this optional additional information.
If you need assistance in reviewing, updating, or adding specific demographic information to your Academy member profile, please contact membership@actuary.org.
Early Registration Discounts Available for November's In-Person LHQ Seminar
Early registration discounts are available for the Academy's Life and Health Qualifications Seminar, which will be held in person on Nov. 15–18 in Arlington, Va. (just outside Washington, D.C.). This event is the most efficient way to obtain either needed basic education or relevant continuing education (CE) credit necessary to qualify to issue actuarial opinions for either the NAIC Life and Accident & Health (A&H) Annual Statement or the NAIC Health Annual Statement. Always popular and highly regarded, this event usually sells out. Discounted registration rates are available through July 31—register today for the best rates.
Public Employment Opportunities
The Pension Benefit Guaranty Corporation has openings for several credentialed actuaries.
Please click the links for more information and to apply.
The Academy has long supported government employers that are seeking to hire qualified actuaries. See our Public Employment Opportunity Posting Policy for more information.
Recently Released

The spring issue of The Retirement Report covers the Pension Practice Council's (PPC) recent "Hill visits"—virtual visits with federal officials and Capitol Hill offices discussing a number of key pension topics pertaining to Social Security, multiemployer pension plans, lifetime income, and retirement security. Also in the issue, recent PPC issue briefs, one on the security of pension plan benefits and another on pooled employer plans; webinars on Social Security, multiemployer plans, and risk-sharing plan designs, and recent state and federal legislative activity.
Stay Connected With the Academy
No matter where your work takes you, you're only a few clicks away from staying connected with the Academy.
Public Policy Activity
Upcoming Events
In the News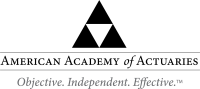 If you would like more information or to contact the Academy, please visit us at www.actuary.org/content/about-us
Follow the Academy on Facebook, LinkedIn, and Twitter. Listen to our podcast.
---
1850 M Street NW • Suite 300 • Washington, DC 20036 • 202.223.8196 • www.actuary.org
Copyright 2021 American Academy of Actuaries. All rights reserved.