This Week, June 21- 25, 2021
Read the latest news from the Academy.

Recent Academy Activity, June 21–25, 2021
Deadline Today to Submit Academy Service Award Nominees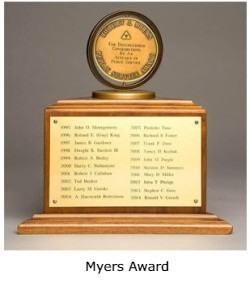 The deadline for nominations for the Academy's 2021 distinguished service and volunteerism awards is today, June 25. Service is the heart of the Academy and its mission, and these awards recognize the substantive and noteworthy work accomplished by actuaries in their volunteer work for the Academy and public service. Nominate fellow Academy members who have made a difference for the public and the U.S. actuarial profession to receive the Academy's prestigious awards:
The award recipients will be recognized this fall during the Academy's Annual Meeting & Public Policy Forum.
Academy Meets With House Pension Subcommittee Ranking Member Rep. Rick Allen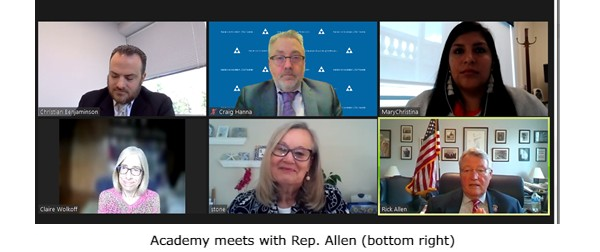 Academy volunteers and staff held a virtual meeting Friday with U.S. Rep. Rick Allen (R-Ga.), ranking member of the House Education & Labor Committee's Health, Employment, Labor & Pensions Subcommittee. Academy Multiemployer Plans Committee Chairperson Christian Benjaminson, Retirement Systems Assessment and Policy Committee Vice Chairperson Claire Wolkoff, Senior Pension Fellow Linda K. Stone, and Director of Public Policy Craig Hanna represented the Academy during the meeting. The engaging discussion with the congressman and his staff ranged from multiemployer plan reforms, including the recently enacted provisions of the American Rescue Plan Act, private plan employer-sponsored defined benefit and defined contribution innovations, and Social Security solvency. The meeting, at the congressman's request, was the result of the Pension Practice Council's successful "Hill Visits" in May.
'Actuary Voices' Features Academy President Tom Campbell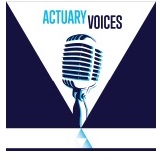 The latest episode of Actuary Voices, the Academy's podcast series, features Academy President Tom Campbell, who talks about his undergraduate math studies at Providence College that evolved into a 30-year actuarial career in which he specialized in life insurance, became involved with the National Association of Insurance Commissioners (NAIC) and other groups, and was a key player on his company's, The Hartford's, softball team. His volunteer work at the Academy also led him to many interesting opportunities for contributions at the NAIC. "Being viewed as an independent organization, and an objective organization, is very important," he said. "Maintaining that objectivity and independence is an important part of the Academy's mission."
While noting some of the pandemic-related challenges during his presidential term that began in November, he also referenced the Academy's work in the past year on diversity, equity & inclusion—an ongoing effort he said would take "a lot of time and effort from everyone." Campbell said another area where future challenges would likely arise is in the realm of artificial intelligence. In his personal time, he enjoys bike riding and does volunteer work with the group Outreach to Haiti, which provides health, education, and nutrition assistance to that country. Listen to this podcast and subscribe to Actuary Voices on your preferred podcast platform.
Professionalism Outreach
Nancy Behrens, chairperson of the Academy's Committee on Professional Responsibility, presented "Professionalism and You" at the Southeastern Actuaries Conference's Virtual Meeting on Wednesday. The presentation reviewed the professionalism infrastructure that is founded in the Code of Professional Conduct and housed in the Academy, self-regulation, and trends in the cases and requests for guidance at the Actuarial Board for Counseling and Discipline. Behrens engaged the audience with polling questions and an insightful discussion of case studies with members of the club's Executive Committee.
Is Your Academy Member Profile Up to Date?
Collecting, maintaining, and analyzing certain demographic information allows the Academy to better understand its membership specifically and the U.S actuarial profession in general. In recent years, the Academy has expanded the type of information requested and compiled, including allowing members to add another area of practice to their profile, ethnicity, and specializations within their practice area. Please assist the Academy in this data collection effort by visiting the "Your Member Profile and Preferences" section of the member section of the Academy website to review and add this optional additional information.
If you need assistance in reviewing, updating, or adding specific demographic information to your Academy member profile, please contact membership@actuary.org.
Public Employment Opportunities
The Pension Benefit Guaranty Corporation has openings for several credentialed actuaries.
Please click the links for more information and to apply. The Academy has long supported government employers that are seeking to hire qualified actuaries. See our Public Employment Opportunity Posting Policy for more information.
Alerts
Public Policy Activity
Upcoming Events
In the News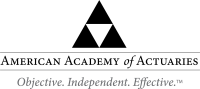 If you would like more information or to contact the Academy, please visit us at www.actuary.org/content/about-us
Follow the Academy on Facebook, LinkedIn, and Twitter. Listen to our podcast.
---
1850 M Street NW • Suite 300 • Washington, DC 20036 • 202.223.8196 • www.actuary.org
Copyright 2021 American Academy of Actuaries. All rights reserved.