This Week, June 14- 18, 2021
Read the latest news from the Academy.

Recent Academy Activity, June 14–18, 2021
Academy Closed Friday for Juneteenth Federal Holiday
The Academy's operations will be closed Friday in conjunction with the federal government's observance of the new Juneteenth federal holiday, which was signed into law by President Biden late Thursday. Long celebrated as Emancipation Day recognizing the ending of slavery in the U.S., it commemorates the events on June 19, 1865, when news of the Emancipation Proclamation reached Texas two-and-a-half years after it was issued. Please join the nation in commemorating Juneteenth this weekend.
Professionalism Outreach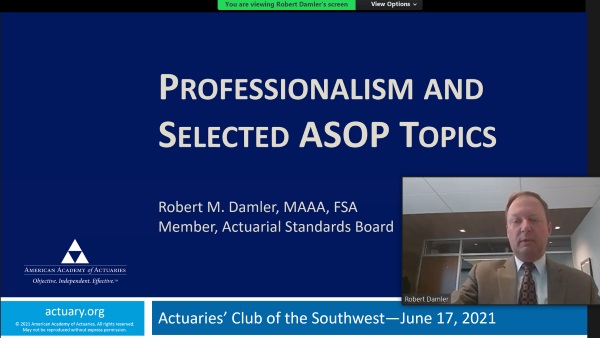 Actuarial Standards Board (ASB) Vice Chairperson Rob Damler presented virtually on "Professionalism and Selected ASOP Topics" to the Actuaries' Club of the Southwest on Thursday. In his presentation he reviewed the structure and standards-setting functions of the ASB; selected topics in the actuarial standards of practice including reliance, documentation, and disclosure; and noted professionalism resources available from the Academy.
One Week Left to Submit Academy Service Award Nominees
The deadline for nominations for the Academy's 2021 distinguished service and volunteerism awards is next week. Service is the heart of the Academy and its mission, and these awards recognize the substantive and noteworthy work accomplished by actuaries in their volunteer work for the Academy and public service. Nominate fellow Academy members who have made a difference for the public and the U.S. actuarial profession to receive the Academy's prestigious awards:
The deadline for you to submit nominations is next Friday, June 25.
Lisa Slotznick Named Vice Chairperson of COQ
Lisa Slotznick, a past Academy vice president, casualty, is the new vice chairperson of the Committee on Qualifications (COQ), to assist Chairperson Katie Campbell. Slotznick—a 2015 recipient of an Academy Outstanding Volunteerism Award—has been serving as a member of the COQ and is a member of the ASB's ASOP No. 41 Task Force.
Health Equity Work Group Presents at SOA Health Meeting
The Academy's Health Equity Work Group (HEWG) presented Tuesday at the Society of Actuaries 2021 Health Meeting on "Health Equity: How Actuaries Are Contributing to Efforts to Reduce Health Disparities." Presenters discussed the HEWG's work including its recently released discussion briefs Health Equity From an Actuarial Perspective: Questions to Explore, and Health Equity From an Actuarial Perspective: A Deeper Dive Into Health Plan Pricing Questions.
Registration Open for Virtual CLRS
Registration is open for the 2021 Virtual Casualty Loss Reserve Seminar (CLRS), to be held Sept. 13–15. It will be the second year in which the annual CLRS has been held as a virtual event. Jointly sponsored by the Academy and the Casualty Actuarial Society, the CLRS provides educational opportunities to help attendees stay current with today's loss reserve developments and learn from experts in reserving. Discounted registration rates are available through Aug. 20—register today.
Public Employment Opportunities
The Pension Benefit Guaranty Corporation has openings for several credentialed actuaries.
Please click the links for more information and to apply. The Academy has long supported government employers that are seeking to hire qualified actuaries. See our Public Employment Opportunity Posting Policy for more information.
Alerts
Public Policy Activity
Upcoming Events
In the News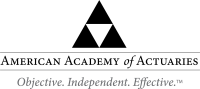 If you would like more information or to contact the Academy, please visit us at www.actuary.org/content/about-us
Follow the Academy on Facebook, LinkedIn, and Twitter. Listen to our podcast.
---
1850 M Street NW • Suite 300 • Washington, DC 20036 • 202.223.8196 • www.actuary.org
Copyright 2021 American Academy of Actuaries. All rights reserved.