This Week, July 26–30, 2021
Read the latest news from the Academy.

Recent Academy Activity, July 26–30, 2021
Save the Date for the Academy's Annual Meeting and Public Policy Forum This November

The Academy's 2021 Annual Meeting and Public Policy Forum will be held Nov. 4–5 at the Fairmont Hotel in Washington, D.C. The agenda will include practice-specific breakouts and plenary sessions that cover critical issues relevant to actuaries in all practice areas, along with opportunities to discuss these issues directly with policymakers, subject matter experts, and Academy leaders. The Academy is considering a hybrid option for the event, with a decision to be made before early registration opens in August. The Academy is committed to following local health guidelines. We look forward to delivering a timely and topical event to you—and to seeing you in November. Registration will open next month.
Sherry Chan Selected to Be Pension VP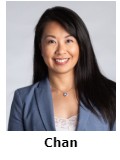 The Academy's Nominating Committee reported that Sherry Chan will be added to the slate of incoming vice presidents as the Academy's next pension vice president, beginning a two-year term in November following the Academy's Annual Meeting. Chan has been a member and vice chairperson of the Pension Practice Council (PPC) and was chairperson of the PPC's Public Plans Committee. Per the Academy's bylaws, the officer slate, which also includes previously announced vice president nominations of Seong-min Eom for risk management and financial reporting, and Ben Slutsker for life, as well as Ken Kent to be president-elect, will be voted on by the Board at its annual meeting in October.
August Webinars Offer CE Opportunities
Two August webinars will offer continuing education (CE) opportunities:
Deadline Today—Annual Volunteer Survey
Today, July 30, is the last day to take the Academy's Annual Volunteer Survey, offering members an opportunity to serve the profession through the Academy's public policy and professionalism mission. Please click here to complete the survey. If you have any questions about the survey or volunteering at the Academy, please contact the Academy's Director of Membership Kasha Shelton at volunteersurvey@actuary.org.
Early Registration Rates End Tomorrow for LHQ Seminar
Early registration rates are available through tomorrow for the Academy's Life and Health Qualifications Seminar, to be held Nov. 15–18 in Arlington, Va., outside of Washington, D.C. The annual LHQ Seminar provides the basic education or relevant CE credit you need. Don't miss out on your early rate—register today.
Recently Released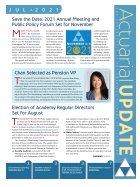 The July Actuarial Update unveils the Annual Meeting and Public Policy Forum dates; Sherry Chan's selection as Academy pension vice president; the upcoming election of Academy regular directors; the USQS second exposure draft and upcoming professionalism webinar; a Member Spotlight on long-time Academy volunteer and former regulator Sheldon Summers; and the "Professionalism Counts" column looks at USQS FAQs.
The Summer Casualty Quarterly leads with a Q&A with Workers' Compensation Committee member Derek Jones on workers' compensation, opioids, and COVID-19. Also in the issue, the Automobile Insurance Committee released an issue brief on the development and pricing of automobile insurance, the Actuaries Climate Index latest five-year average was down slightly, and recent state P/C-related legislative activity.
Public Policy Activity
Upcoming Events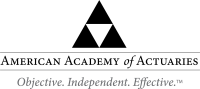 If you would like more information or to contact the Academy, please visit us at www.actuary.org/content/about-us
Follow the Academy on Facebook, LinkedIn, and Twitter. Listen to our podcast.
---
1850 M Street NW • Suite 300 • Washington, DC 20036 • 202.223.8196 • www.actuary.org
Copyright 2021 American Academy of Actuaries. All rights reserved.