This Week, September 10-14, 2018
Read the latest news from the Academy.
Recent Academy Activity, Sept. 10–14, 2018
Georgetown's Cara LaPointe Joins Annual Meeting's Big Data Plenary Session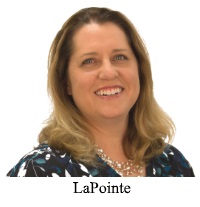 Cara LaPointe, senior fellow at the Beeck Center for Social Impact and Innovation at Georgetown University, will share her perspective on the ethical and governance implications of Big Data and emerging technologies for public policy during a Nov. 2 plenary session at the Academy's Annual Meeting and Public Policy Forum. LaPointe has spent her career focused on the intersection of leadership, technology, policy, and ethics. LaPointe joins Patrick McPharlin, chair of the NAIC's Technology and Innovation Task Force, to share insights about the evolution and implications of Big Data. The session will be introduced by Academy Big Data Task Force Chairperson Bob Beuerlein, who will provide context drawn from the Academy's monograph, Big Data and the Role of the Actuary, released in June. Learn more about what's on the agenda at the Nov. 1–2 event by visiting the Academy's website. Register today, and join us in November.
Register Now for Sept. 25 Fall P/C Policy Webinar
The P/C Public Policy Update—Fall 2018 webinar will be held on Tuesday, Sept. 25, from noon to 1 p.m. EDT. Included will be P/C issues covered by the Academy at the NAIC Summer 2018 National Meeting held in Boston in the first part of August. The webinar will also cover other current P/C public policy topics of interest. Presenting will be Casualty Vice President Rade Musulin and Kay Cleary, chairperson of the P/C Extreme Events and Property Lines Committee. Continuing education credit will be available. Register today.
Recently Released
In the September HealthCheck, read about the Individual and Small Group Markets Committee's comments to the Centers for Medicare & Medicaid Services (CMS) and the Department of Health and Human Services (HHS) on a proposed rule regarding the adoption of methodology for the HHS-operated permanent risk adjustment program. Also covered in this issue is the committee's issue brief, Auto-Enrollment Into Individual Market Health Insurance Coverage, including state and federal legislative and regulatory actions.
Academy Representative Presents on Capitol Hill Cybersecurity Panel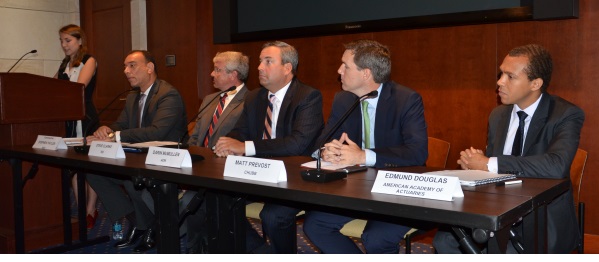 Edmund Douglas (right) provided an actuarial perspective Tuesday on Capitol Hill at a Congressional Cybersecurity Caucus panel discussion about insuring cyber risks. Douglas, chairperson of the Academy's Cyber Risk Task Force, noted that this line of business is constantly changing, and observed there is significant potential for aggregation of risk due to there being so much interconnection in cyberspace. Representatives from about two dozen congressional offices attended the panel discussion.
Share Your Photos of 'Magic School Bus' Readers
Have you given a copy of the Academy's "Magic School Bus" book to young readers in your life? Share a photo of them enjoying the book and help us promote interest in the actuarial profession among school-age children. Send your photos to MSB@actuary.org, and we'll share them in the Magic School Bus photo album on the Academy website (along with as much, or as little, information about your young reader as you're comfortable with)—and be sure to check out the latest additions to the photo album.
Alert
Public Policy Activity
Upcoming Events
In the News
Note: Some links in this email go to external websites and may require registration. The Academy is not responsible for the content of these websites. Links may expire.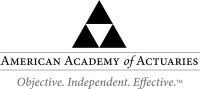 Follow the Academy on Facebook, LinkedIn, and Twitter.

---
1850 M Street NW • Suite 300 • Washington, DC 20036 • 202.223.8196 • www.actuary.org
Copyright 2018 American Academy of Actuaries. All rights reserved.