This Week, October 22-26, 2018
Read the latest news from the Academy.
Recent Academy Activity, Oct. 22–26, 2018
Capitol Forum Health Webinar Looks at CBO's Health Insurance Simulation Model
The Academy's "Capitol Forum: Meet the Experts" webinar on Thursday gave attendees an inside look at how the Congressional Budget Office (CBO) is updating its Health Insurance Simulation Model (HISIM). Speakers Jessica Banthin and Alexandra Minicozzi, both of CBO's Health, Retirement, and Long-Term Analysis Division, gave an overview of HISIM, which is used to generate estimates of health insurance coverage and premiums for the U.S. population under age 65. Academy Senior Health Fellow Cori Uccello moderated.
The speakers provided details on improvements to HISIM, and questions from attendees gave CBO valuable feedback. Banthin said CBO would welcome any data or analyses from actuaries that could improve its modeling of expected health spending. "Given your expertise, we're always interested in more information on risk selection—how people with different health risks might choose different types of plans in the non-group, small-group and large-group markets," she said. Slides and audio are available free for Academy members.
Academy's Annual Meeting and Public Policy Forum Is Next Week
Today, Oct. 26, is the last day to register online for the Academy's Annual Meeting and Public Policy Forum, set for next week in the nation's capital. The Academy's premier annual event, to be held Nov. 1–2, will offer four practice-specific tracks, and plenary sessions offering perspective on issues ranging from professionalism to pensions to Big Data. The Academy will present its annual service awards, which will be streamed live on our Facebook page—make sure to follow us, if you aren't already, to get a heads-up on when the livestreams will start. The meeting and forum's Twitter hashtag will be #Actuaries2018.
Charlie Cook of The Cook Political Report will give a timely, nonpartisan overview of the upcoming midterm elections, and attendees and guests can also enjoy a fun-filled evening during the Nov. 1 reception and dinner at Washington's historic Mayflower Hotel, which will transport attendees to the 1920s to watch—and even help solve—a murder-mystery "whodunit." After the sessions and before the reception, Jim Glickman, president of the Society of Actuaries (SOA), and Steve Armstrong, incoming president-elect of the Casualty Actuarial Society (CAS), will host a discussion session for anyone interested in exploring their views about the possible SOA/CAS merger.
Academy Voter Guides Offer Expertise on Key Issues

With the midterm elections just over a week away, a reminder that the Academy's series of 2018 Election Guides on major issues of national interest can help voters become better informed heading into the voting booth. The issue-focused guides offer voters information on select campaign topics of which actuaries have expertise, including health care and health insurance; Medicare/Medicaid; long-term care; Social Security; lifetime income and retirement risk; and climate risk.
Professionalism Outreach
Actuarial Board for Counseling and Discipline member David Driscoll presented Thursday at Prudential's 2018 Actuarial Ethics Seminar in Newark, N.J., engaging the audience in case study discussion of different actuarial professional ethics scenarios.
JBEA Seeks Applications for Advisory Committee on Actuarial Examinations
The Joint Board for the Enrollment of Actuaries (JBEA) is seeking applications for the next term of the Advisory Committee on Actuarial Examinations, which begins on March 1, 2019, and ends on Feb. 28, 2021. The JBEA asked the Academy to make this opportunity known to our members. The Advisory Committee plays an integral role in assisting the Joint Board to offer examinations that test the knowledge necessary to qualify for enrollment. Its duties include recommending topics for inclusion on the Joint Board examinations, reviewing and drafting examination questions, and recommending passing scores. Information on how to apply is available via the IRS website. Applications are being accepted through Dec. 7.
Public Employment Opportunity
The Social Security Administration is seeking to fill a position for deputy chief actuary for short-range actuarial estimates in the Office of the Chief Actuary. This role is responsible for planning, directing, and coordinating the development of the short-range cost estimates for all Social Security programs both under current provisions and proposed changes in law or regulations. The application deadline is next Monday, Oct. 29. For more information and to apply, click here.
The Academy has long supported government employers that are seeking to hire qualified actuaries. See our Public Employment Opportunity Posting Policy for more information
Alerts
The Centers for Medicare & Medicaid Services and the U.S. Department of the Treasury announced new guidance Monday that is intended to allow states greater flexibility in designing and managing their individual insurance markets. The guidance affects waivers issued under Section 1332 of the Affordable Care Act.

The U.S. departments of the Treasury, Labor, and Health and Human Services released a proposed rule Tuesday to expand health reimbursement arrangements (HRAs). The proposed rule follows an October 2017 executive order calling on the departments to explore the expansion of HRAs as well as association health plans and short-term, limited duration insurance plans.
Upcoming Events
In the News
A Forbes column discussing the option of changing Social Security's limit on taxable earnings cited the Academy's Social Security Game, which provides estimated effects of such changes on the program's financial condition.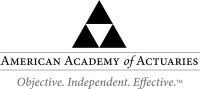 Follow the Academy on Facebook, LinkedIn, and Twitter.

---
1850 M Street NW • Suite 300 • Washington, DC 20036 • 202.223.8196 • www.actuary.org
Copyright 2018 American Academy of Actuaries. All rights reserved.