This Week: Oct. 24-28, 2016
Read the latest news from the Academy.
Recent Academy Activity, Oct. 24–28, 2016
Annual Meeting and Public Policy Forum Next Week
The Academy's Annual Meeting and Public Policy Forum is next week in Washington, D.C. With more than 40 experts on hand, attendees of the Nov. 3-4 event will get the latest news on today's top public policy and professionalism issues, and hear from a high-profile roster of keynote and plenary speakers, including former Sen. Chris Dodd of Dodd-Frank Act fame. The agenda offers up to 12 organized-activity continuing education (CE) credits, and up to 1.8 professionalism CE credits. Enrolled Actuaries attending the pension breakouts also can earn up to 5.4 "non-core" CPD credits under the JBEA rules for attending all three sessions. The wonderful musical satire group The Capitol Steps will provide timely political entertainment at Thursday night's dinner. There's still time to register and join us in Washington. One- and two-day registrations are available.
Deadline Approaching for Health Care 'Actuarial Challenge'
The Academy is helping to promote and coordinate a collaborative "Actuarial Challenge," being conducted by the Robert Wood Johnson Foundation in conjunction with Milliman Inc. This is an opportunity for actuaries to provide innovative ideas and proposals to increase stability in the individual health insurance market. Anyone wishing to participate must complete an initial online application before 6 p.m. EST on Friday, Nov. 11; the challenge itself runs through April 2017. Visit the Actuarial Challenge website for more information.
Public Employment Opportunity
The Washington State Office of the Insurance Commissioner (OIC) is seeking applicants for the chief actuary position within its Rates and Forms Division. The position reports to the deputy insurance commissioner and will contribute to OIC's goals of protecting consumers, maintaining a healthy insurance climate, and improving customer service by managing the Actuarial Services Unit. A complete description of the opportunity and how to apply is available on the State of Washington's job opportunities website.
The Academy provides public service announcements to government employers seeking to hire qualified actuaries. See our Public Employment Opportunity Posting Policy for more information.
Upcoming Events
LHQ Seminar: A few spaces remain for the 2016 Life and Health Qualifications Seminar, to be held Nov. 13-17 in Arlington, Va. (Washington, D.C., metro area). This highly regarded annual seminar is the primary source of instruction for actuaries who wish to be qualified to issue statements of actuarial opinion for either the NAIC Life and A&H Annual Statement or the NAIC Health Annual Statement. Register now to reserve one of the remaining spaces for this highly regarded seminar.

P/C Loss Seminar Approaching: An agenda at a glance is available for the 2016 Seminar on Effective P/C Loss Reserve Opinions, to be held in Chicago on Dec. 6-7. This two-day seminar will enhance your expertise on the latest regulations and standards with reviews of actuarial qualification standards and interactive case studies. Register today.
See our website for a listing of all Academy events.
Public Policy Activities
The Solvency Committee submitted comments to the NAIC's Group Capital Calculation (E) Working Group on its NAIC Staff Memo—Inventory Method Items with Questions exposure draft.

The Property and Casualty Risk-Based Capital Committee submitted a report to the NAIC's Property/Casualty Risk-Based Capital (E) Working Group providing a detailed update of P/C RBC underwriting factors.
In the News
Note: Some links in this email go to external websites and may require registration. The Academy is not responsible for the content of these websites. Links may expire.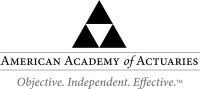 PLEASE DO NOT REPLY TO THIS EMAIL. THIS EMAIL ADDRESS IS NOT MONITORED.
If you would like more information or to contact the Academy, please visit us at www.actuary.org/content/about-us

Follow the Academy on Facebook, LinkedIn, and Twitter.
Rather not receive Academy emails? Unsubscribe by emailing membership@actuary.org.
---
1850 M Street NW • Suite 300 • Washington, DC 20036 • 202.223.8196 • www.actuary.org
Copyright 2016 American Academy of Actuaries. All rights reserved.