This Week, June 4 - 8, 2018
Read the latest news from the Academy.
Recent Academy Activity, June 4–8, 2018
Academy Releases Monograph on Big Data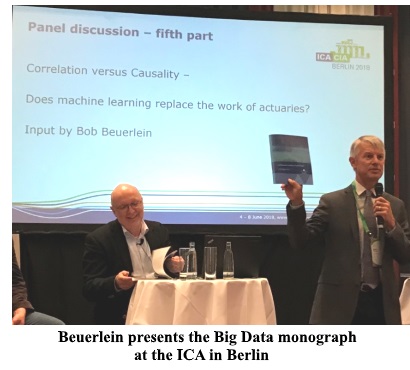 The Academy's Big Data Task Force released a new monograph, Big Data and the Role of the Actuary. Immediate Past President and task force Chairperson Bob Beuerlein introduced the monograph Tuesday at the 31st International Congress of Actuaries (ICA) in Berlin, Germany.
"Big Data is already breaking the mold of the traditional property/casualty insurance pricing box, and will more deeply transform how insurance in all lines and retirement system risk drivers are analyzed by actuaries," Beuerlein said. "Powerful new data analytics methods have been and will continue to be a business disruptor for insurers and systems that manage and mitigate financial risk. Actuaries are well-positioned through their skill sets and professionalism standards to work with Big Data." Read the Academy's news release.
Bykerk Discusses Self-Regulation and Service to the Public at ICA Meeting
Also at the ICA this week, Academy Past President Cecil Bykerk gave a major address on the self-regulation of the U.S. actuarial profession. In his Thursday presentation, "Serving the Public through Self-Regulation in the United States," Bykerk described the historical development and current status of the Code of Professional Conduct, U.S. Qualification Standards, actuarial standards of practice, and the professional counseling and discipline process that constitute "the building blocks of self-regulation" in the United States. "The actuarial profession in other countries may benefit by considering the U.S. model of self-regulation as a means of serving the public," he said.
Annual Meeting to Feature Professionalism Game Show Plenary Session
Put your knowledge of actuarial professionalism to the test during the Academy's Nov. 1–2 Annual Meeting and Public Policy Forum in Washington, D.C., which will feature a game show developed by the Academy's Committee on Professional Responsibility at a professionalism plenary session. Participate or watch the game unfold under the direction of a panel of experts and earn valuable professionalism continuing education credit.
In this interactive plenary session, contestants and audience members will have fun and take away valuable professionalism lessons, but only one contestant will survive to win it all. Could that be you?
Extra-early registration for the Nov. 1–2 event ends today, June 8. Register now and save.
June 25 Webinar to Look at Retained P/C Insurance-Related Risk
The Academy's upcoming webinar, "Retained P/C Insurance-Related Risk: Interaction of Actuarial Analysis and Accounting," will cover the Academy's new public policy practice note, Retained Property Casualty Insurance-Related Risk: Interaction of Actuarial Analysis and Accounting, which examines the interaction between the non-insurance business entity, the accountants, and the actuaries. The webinar will be held on Monday, June 25, from noon to 1:30 p.m. EDT. Register today.
Applicability Guidelines Updated
The health tab of the Applicability Guidelines for Actuarial Standards of Practice (ASOPs) has been updated for the revised ASOP No. 42, Health and Disability Actuarial Assets and Liabilities Other Than Liabilities for Incurred Claims, which takes effect Aug. 1. These Applicability Guidelines provide actuaries with a non-authoritative reference to standards that usually apply to various actuarial assignments. The guidelines are published by the Academy's Council on Professionalism.
Public Employment Opportunity
The Government Accountability Office (GAO) has a public employment opportunity for a senior actuary with a property and casualty/general insurance specialty. The Washington, D.C.-based position is within GAO's office of Applied Research and Methods (ARM), which provides technical and specialist expertise to support and extend the work that GAO supplies to Congress and federal agencies. ARM actuaries serve as consultants to other GAO teams in a variety of areas of interest to Congress. Position information is available via USAJOBS by clicking here (general public) or here (qualified federal employees, veterans, or individuals with disabilities). The application deadline is next Tuesday, June 12.
The Academy has long supported government employers that are seeking to hire qualified actuaries. See our Public Employment Opportunity Posting Policy for more information.
Alerts
Public Policy Activity
Upcoming Events
In the News
Note: Some links in this email go to external websites and may require registration. The Academy is not responsible for the content of these websites. Links may expire.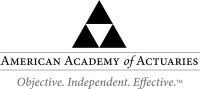 Follow the Academy on Facebook, LinkedIn, and Twitter.

---
1850 M Street NW • Suite 300 • Washington, DC 20036 • 202.223.8196 • www.actuary.org
Copyright 2018 American Academy of Actuaries. All rights reserved.