This Week, July 30-August 3, 2018
Read the latest news from the Academy.
Recent Academy Activity, July 30–Aug. 3, 2018
Academy Presents at NAIC Summer National Meeting
Academy presentations at the NAIC Summer 2018 National Meeting in Boston are underway, with speakers addressing a variety of topics late this week. Thursday and Friday presentations to NAIC's Life Actuarial (A) Task Force (LATF) included: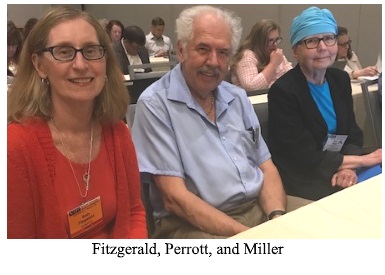 Also at the Friday meetings, Past Academy President Mary D. Miller, Actuarial Standards Board (ASB) Chairperson Beth Fitzgerald, and Actuarial Board for Counseling and Discipline (ABCD) member Godfrey Perrott provided updates on Academy professionalism activities to LATF and NAIC's Health Actuarial Task Force.
The Academy will host its usual regulator-only professionalism breakfast and discussion forum tomorrow, Saturday, Aug. 4, which will include Miller, Fitzgerald, and Perrott, and Tom Campbell representing the Academy's Committee on Qualifications. Following that, the Academy will present on professionalism issues to NAIC's Casualty Actuarial and Statistical Task Force meeting.
The Academy will also release a post-NAIC alert on the meeting later this month, and will host webinars recapping the meeting's life issues (Aug. 24) and property/casualty issues (Sept. 25).
Reminder: Annual Volunteer Survey Closes Tuesday
The Academy's annual volunteer survey is open through next Tuesday, Aug. 7. Take advantage of this opportunity to express your interest in volunteering for many Academy committees, including the ASB and the ABCD. Join your colleagues in service to the Academy, the profession, and the public by contributing to the delivery of independent, objective, and nonpartisan information to policymakers. Take the survey today, or visit the members-only section of the Academy's website. If you have questions about volunteering or about the survey, please email volunteersurvey@actuary.org or call 202-223-8196.
Academy Election—Email Notifications to Be Sent Tuesday
Academy members should receive an email from Intelliscan, our election vendor, next Tuesday, Aug. 7, announcing that information regarding election of regular directors for the Academy Board will be sent later this month. These emails will come from academy2018@intelliscaninc.net; please add this address to your safe senders list and/or check your junk-mail folder after Aug. 7 to make sure you have received it. We encourage members to take part in electing the newest leaders of the Academy who will help us fulfill our mission to serve the public and the U.S. actuarial profession.
Academy Comments on Final Short-Term, Limited-Duration Insurance Rule
Academy Senior Health Fellow Cori Uccello commented on the final rule released Wednesday by the Trump administration on short-term, limited-duration insurance. Uccello noted that higher Affordable Care Act (ACA) premiums will likely result if younger and healthier individuals move away from ACA-compliant coverage and opt for such plans. Read the Academy alert.
Actuaries Climate Index Fall 2017 Data Released
The five-year moving average of the Actuaries Climate Index (ACI), co-sponsored by the Academy, reached 1.19 in fall 2017, a new record, according to data released this week. The seasonal ACI value increased to 2.00 from the previous level of 1.59, and the five-year moving average rose to a record 1.19, from the previous record of 1.14.
Academy Facilitates Multidisciplinary Dialogue on Big Data at Statistical Conference
Dorothy Andrews, vice chairperson of the Academy's Big Data Task Force, chaired a panel Thursday at the Joint Statistical Meetings (JSM) in Vancouver, British Columbia, on "Big Data: Ethical and Professional Challenges from the Perspective of Actuaries, Data Scientists and Statisticians." The panel, organized by the Academy, highlighted the task force's June monograph, Big Data and the Role of the Actuary. The JSM—a joint international conference of 10 statistical associations—had more than 6,500 participants this year.
'Magic School Bus' Orders Continue to Roll In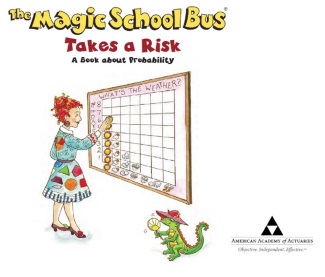 More than 1,600 copies of the Academy-sponsored Magic School Bus Takes a Risk: A Book about Probability have gone out to individuals and organizations since its release in June. Our custom-designed book shows grade-school children how actuaries use math skills to bring them on amazing journeys, telling the story of an adventurous field trip led by Ms. Frizzle, where children join Aunt Maxine, an actuary. The Academy donated copies of the book to all Grades 3-5 students in Washington, D.C., public schools, and has taken large and small orders since then. Individual copies and group orders are available for the budding mathematicians in your life, and the Academy also welcomes corporate sponsorships.
Next Week—Room Block Closing for IFRS 17 Seminar
If you haven't made your hotel reservations yet, make sure to do so soon—the room block for the Academy's Seminar on Implementing International Financial Reporting Standard 17 (IFRS 17) for Long-Duration Contracts will close next Thursday, Aug. 9. The seminar is designed for life financial reporting actuaries who will be working on implementing the new standard. Attendees will get a chance to hear from William Hines, an observer to the International Accounting Standards Board's Transition Resource Group for IFRS 17 Insurance Contracts. Space is still available for this seminar, which will be held Aug. 29–30 in Washington, D.C., following the 2018 Valuation Actuary Symposium. Register today.
Next Week—Early Registration Deadline for CLRS
Register by next Friday, Aug. 10, for the lowest rates to attend this year's Casualty Loss Reserve Seminar and Workshops (CLRS). The seminar, jointly sponsored by the Academy and the Casualty Actuarial Society, will be held Sept. 5–7 at Anaheim Marriott Hotel in Anaheim, Calif. Visit the event website to see the program guide, lodging details, and registration information.
Public Policy Activity
Alert
Upcoming Events
In the News
Note: Some links in this email go to external websites and may require registration. The Academy is not responsible for the content of these websites. Links may expire.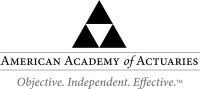 Follow the Academy on Facebook, LinkedIn, and Twitter.

---
1850 M Street NW • Suite 300 • Washington, DC 20036 • 202.223.8196 • www.actuary.org
Copyright 2018 American Academy of Actuaries. All rights reserved.