This Week, July 23-27, 2018
Read the latest news from the Academy.
Recent Academy Activity, July 23–27, 2018
Pension Practice Council Event Looks at U.S. Retirement System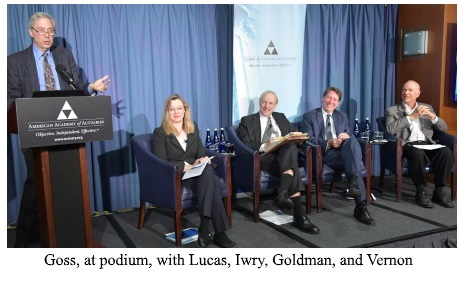 More than 50 people attended in person the Pension Practice Council's retirement policy discussion forum Friday in Washington, D.C. "Modernizing the U.S. Retirement System—Aligning Policy With Reality" included discussion on bridging the gap between Americans' lifetime retirement income needs and a retirement system that hasn't kept up with demographic, economic, personal savings, and other developments in recent decades. The event was livestreamed on the Academy's Facebook page, where nearly 400 individuals watched the forum during the event. Forum speakers included Steve Goss, chief actuary of the Social Security Administration; Mark Iwry of The Brookings Institution; Steve Vernon of the Stanford Center on Longevity; and Lori Lucas, CEO of the Employee Benefit Research Institute. Hoping to generate interest in a wide range of ideas, attendees from congressional offices, government agencies, nonprofit organizations, and academia were able to have an open dialogue about the current U.S. retirement system—what's working, what isn't, and legislative and regulatory options to update and improve the system; visit the Academy's Facebook page to view a replay.
Deadline Tuesday for Comments on Pension ASOP Nos. 4, 27, and 35—Participate and Share Your Comments
Next Tuesday, July 31, is the comment deadline for Actuarial Standard of Practice (ASOP) No. 4, Measuring Pension Obligations and Determining Pension Plan Costs or Contributions; No. 27, Selection of Economic Assumptions for Measuring Pension Obligations; and No. 35, Selection of Demographic and Other Noneconomic Assumptions for Measuring Pension Obligations. The Actuarial Standards Board (ASB) welcomes and relies on comments received as a part of its rigorous standards-setting process when revising, approving, and adopting ASOPs. Comments are posted on the ASB website to encourage transparency, so that all who comment can read input others are offering on exposure drafts for the ASB's consideration. Commenting is the most effective way to give the ASB input on proposed new ASOPs and revisions.
Academy Comments to NAIC's CASTF on Attestation Proposal Exposure Draft
Past Academy President Mary D. Miller submitted a letter with Academy comments to the NAIC raising several concerns over an exposure draft of an attestation proposal released on June 25 by the NAIC's Casualty Actuarial and Statistical Task Force (CASTF). Inform yourself about this and other significant pending CASTF exposure drafts here.
Volunteer Survey Released
The Academy this week released its Annual Volunteer Survey, which members use to indicate interest in volunteering for many Academy committees, including the Actuarial Standards Board and the Actuarial Board for Counseling and Discipline. Volunteers are essential to the Academy's work to provide objective and independent actuarial analysis to serve the public and the profession—many thanks in advance to all who take the time to complete the survey and volunteer for your profession. The survey, available here and in the members-only section of the Academy website, is open through Tuesday, Aug. 7.
Academy Representatives Attend IABA Annual Meeting
Academy representatives are attending the International Association of Black Actuaries (IABA) at IABA's annual meeting in Atlanta, which began Thursday and concludes Saturday. Representatives included Academy Board members D. Joeff Williams, vice president of professionalism and incoming president-elect designate, and Lisa Slotznick. They met Friday morning with IABA President Tenesia McGruder.
Catastrophe Modeling Monograph Released
An Academy property/casualty monograph released Wednesday looks at the growing use of catastrophe models and the important role they play in the expected expansion of the private sector's role in the flood insurance marketplace. Uses of Catastrophe Model Output provides an overview of how catastrophe models have developed and demonstrates how catastrophe model output might be used in selected actuarial tasks.
CRS Report Cites Academy Flood Insurance Monograph
The Congressional Research Service (CRS) released a report, Private Flood Insurance and the National Flood Insurance Program, which includes four references to the Academy Flood Insurance Work Group's April 2017 monograph, The National Flood Insurance Program: Challenges and Solutions.
Committee Seeks Volunteers for Wildfire Project
The Extreme Events and Property Lines Committee has formed a work group to look at issues related to wildfires, to be led by committee Vice Chairperson Andy Tran. "Losses from wildfires have risen sharply," Tran said. "We intend to look at what happened in recent years and become better informed about the nature and extent of the risk." If you are interested in this project, contact Academy Senior Casualty Policy Analyst Marc Rosenberg at rosenberg@actuary.org.
Recently Released
The July Actuarial Update has a cover story on this week's pension forum; the approaching closing of the pension ASOPs comment period; an update on the Nov. 1–2 Annual Meeting and Public Policy Forum and other upcoming Academy events and webinars; and in the "Professionalism Counts" column, Committee on Qualifications members mark the 10th anniversary of the currently effective U.S. Qualification Standards that was approved by the Academy Board and effective in 2008.
Public Employment Opportunity
The U.S. Department of Labor's Employee Benefits Security Administration (EBSA) has a public employment opportunity for a senior actuary with a health and welfare benefit specialty. Among other duties, the position would provide actuarial support related to EBSA's regulation and supervision of association health plans. The Washington, D.C.-based position is within EBSA's Office of Policy and Research, which provides policy analysis, economic research, and tracking of all benefits-policy-related developments and activities. Position information is available via USAJobs by clicking here (general public) or here (qualified federal employees, veterans, or individuals with disabilities). The application deadline is Aug. 1.
'Magic School Bus' Orders Continue to Roll In
Copies of the Academy-sponsored Magic School Bus Takes a Risk: A Book about Probability, have been popular since its release in June. More than 1,600 books have gone out to individuals and organizations. The custom-designed book for the Academy shows grade-school children how actuaries use math skills to bring them on amazing journeys, telling the story of an adventurous field trip led by Ms. Frizzle, where children join Aunt Maxine, an actuary. The Academy donated copies of the book to all Grades 3-5 students in Washington, D.C., public schools, and has taken large and small orders since then. Individual copies and group orders are available for the budding mathematicians in your life, and the Academy also welcomes corporate sponsorships.
One Month Away—IFRS 17 Seminar to Offer Implementation Tools
Are you working on implementing International Financial Reporting Standard 17 (IFRS 17)? Interested in learning how others are preparing for this new accounting standard? Join us in August for the Seminar on Implementing IFRS 17 for Long-Duration Contracts. The agenda was designed for life financial reporting actuaries who will implement the new accounting standard, giving you a dedicated opportunity to explore IFRS 17 and how it may impact your work. Space is still available for this seminar, which will be held Aug. 29–30 in Washington. D.C.—the room block deadline is Aug. 9. Register today.
Alerts
Eleven states and the District of Columbia filed a lawsuit Thursday challenging the Trump administration's June 19 rule expanding the availability of association health plans.

The Centers for Medicare & Medicaid Services (CMS) released a final rule Tuesday announcing it will resume collections and payments for the risk-adjustment program established by the Affordable Care Act. CMS suspended collections and payments for the program on July 7, following two recent court cases that diverged on the validity of the formula used to calculate payments.

The House of Representatives passed three health insurance-related bills this week. The bills, which now go to the U.S. Senate, would eliminate the medical device tax, modify several provisions of the Affordable Care Act, and make changes to health savings accounts.
Upcoming Events
In The News
Note: Some links in this email go to external websites and may require registration. The Academy is not responsible for the content of these websites. Links may expire.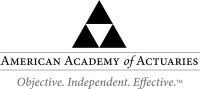 Follow the Academy on Facebook, LinkedIn, and Twitter.

---
1850 M Street NW • Suite 300 • Washington, DC 20036 • 202.223.8196 • www.actuary.org
Copyright 2018 American Academy of Actuaries. All rights reserved.