This Week, July 2-6, 2018
Read the latest news from the Academy.
Recent Academy Activity, July 2–6, 2018
Early Registration Deadline Approaching for LHQ Seminar
The early registration deadline for the Academy's 2018 Life and Health Qualifications Seminar is July 20, just two weeks away. To be held Nov. 4–8 in Arlington, Va., this annual event delivers training and instruction to allow you to obtain qualifications or relevant continuing education (CE) credit necessary to issue actuarial opinions for either the NAIC Life and A&H Annual Statement or the NAIC Health Annual Statement.
Attendees can earn up to 27 hours of CE credit, including up to 2.7 professionalism hours. Only 100 seats are available for this highly regarded seminar—register today to obtain the lowest rates and secure your space.
July/August Contingencies Released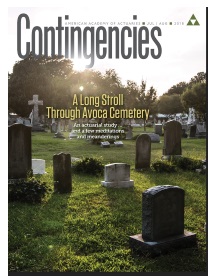 In the July/August issue of Contingencies, the cover story, "A Long Stroll Through Avoca Cemetery," takes readers on an actuarial study of a small-town burial ground ... and pauses for a few meditations and meanderings along the way. Other feature stories include "Model Behavior"—How a modern modeler can add value and drive effective business decisions, and "Data Disasters"—Learning from history: case studies in analytic decision-making. Plus, Academy President Steve Alpert's message on the actuarial profession's ongoing conversation with the public.
Alerts
Public Policy Activity
'Magic School Bus' Books Remain Available

Summer reading adventure awaits your young friends. Copies of the Academy-sponsored Magic School Bus Takes a Risk: A Book about Probability are available. This is a customized book that aims to show grade-school children how actuaries use math to bring them on amazing journeys. The book—which seeks to show young people what it means to be an actuary—is the story of an adventurous field trip led by Ms. Frizzle, where children join Aunt Maxine, an actuary. Order individual copies today for the budding mathematicians in your life. We also welcome corporate sponsorships.
Upcoming Events
In the News
Note: Some links in this email go to external websites and may require registration. The Academy is not responsible for the content of these websites. Links may expire.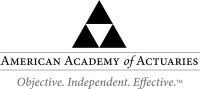 Follow the Academy on Facebook, LinkedIn, and Twitter.

---
1850 M Street NW • Suite 300 • Washington, DC 20036 • 202.223.8196 • www.actuary.org
Copyright 2018 American Academy of Actuaries. All rights reserved.