This Week, January 21 - 25, 2019
Read the latest news from the Academy.
Recent Academy Activity, Jan. 21–25, 2019
Academy Comments on NAIC's Predictive Modeling White Paper
Academy Senior Property/Casualty Fellow Rich Gibson submitted comments to the NAIC's Casualty Actuarial and Statistical Task Force (CASTF) regarding CASTF's proposed white paper on regulatory review of predictive models. The letter posed thoughtful questions to the task force; identified areas in the paper where additional clarification may be needed; mentioned some valuable Academy resources to consider including as part of the best practices, such as actuarial standards of practice (ASOPs); and reiterated the Academy's commitment to work with the task force in developing an appropriate review process for regulators. The letter also noted, "Though predictive analytics is still in its early stages of use in insurance ratemaking, benefits are being realized. Along the way, the insurance industry has committed resources to fund and staff the development of predictive analytics projects. Actuaries have played a central role in this development."
Academy Representatives Attend Canadian Actuarial Students Meeting in Montreal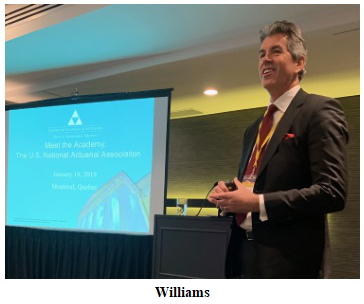 The Academy was invited by Canada's Actuarial Students National Association (ASNA) to participate at ASNA's 2019 convention in Montreal last weekend. Academy President-Elect D. Joeff Williams gave a Jan. 19 presentation about actuarial qualifications in the U.S., and Academy Senior Policy Analyst Claire Mickelson gave the same presentation in French for the French-speaking students. Representatives answered questions about the Academy's essential role as the U.S. national association in establishing standards of conduct, practice, and qualification for actuaries practicing in the United States; encouraged students interested in practicing in the United States in the future to be aware of the need to comply with applicable U.S. standards; and hosted an exhibit booth where Williams and Academy staff answered questions.
Next Week—Webinar on P/C Actuarial Opinion Report Writing
Just in time for opinion writing season, join us next Friday for a webinar, "P/C Actuarial Opinion Report Writing." Hosted by the Academy's Committee on Property and Liability Financial Reporting (COPLFR), the webinar will review key considerations in writing an effective loss reserve opinion report—including a review of the actuary's responsibilities, NAIC instructions, and relevant actuarial standards of practice—and will feature a discussion of how clear communication and documentation of the actuary's work is handled in each report chapter. Get valuable insights from experienced presenters on differences in writing the narrative and technical components of the report, what kind of data and disclosures support the report, and what is included in the report to help the intended readers understand and navigate it. The webinar is next Friday, Feb. 1, from noon to 1:30 p.m. EST. Continuing education credit is available. Register today.
Early Registration Deadline Is Jan. 31 for April's 2019 PBR Boot Camp
Register by Jan. 31 for the lowest rates to attend the Academy's 2019 PBR Boot Camp. The seminar will be held April 8–10 at the Loews Royal Pacific Resort in Orlando, Fla. Attendees will hear from those who have been at the forefront of the implementation of PBR for life insurance, and will benefit from a robust agenda of useful and practical information for all levels of familiarity with the PBR methodologies and reserve requirements. Register early and save.
Stay on Top of Latest With the Academy's Law Manuals
The Academy's law manuals, updated each year, are designed to help appointed actuaries know requirements relevant to their work.
The just-released Property/Casualty Loss Reserve Law Manual contains a compilation of insurance laws and regulations relating to P/C loss and loss expense reserves for all 50 states, Washington, D.C., and Puerto Rico.

The Life and Health Valuation Law Manual, available soon, can now be pre-ordered. It contains a concise summary of the valuation laws and regulations of all 50 states, the District of Columbia, and Puerto Rico. It has been redesigned for 2019, streamlining the contents so you can more easily access the information you need.
Both manuals are available in a web format or as a CD-ROM, allowing you to order the format that best meets your needs.
Public Employment Opportunity
The U.S. Government Accountability Office (GAO) has a public employment opportunity for a senior property and casualty/general insurance actuary position. The incumbent, who will report to GAO's chief actuary, will provide technical analysis and conceptual insight on actuarial aspects of federal programs and policies related to P&C / general insurance. Information is available by clicking here (general public) or here (qualified federal employees, veterans, or individuals with disabilities). The application deadline is today, Jan. 25.
The Academy has long supported government employers who are seeking to hire qualified actuaries. See our Public Employment Opportunity Posting Policy for more information.
Upcoming Events
P/C Actuarial Opinion Report Writing—Feb. 1, webinar

Enrolled Actuaries Meeting—April 7–10, Washington, D.C. (Early registration deadline is Jan. 31)

PBR Boot Camp—April 8–10, Orlando, Fla. (Early registration deadline is Jan. 31)

Casualty Loss Reserve Seminar & Workshops (CLRS)—Sept. 16–18, Austin, Texas

Annual Meeting and Public Policy Forum—Nov. 5–6, Washington, D.C.

Life and Health Qualifications Seminar—Nov. 10–14, Arlington, Va.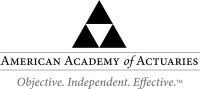 Follow the Academy on Facebook, LinkedIn, and Twitter.

---
1850 M Street NW • Suite 300 • Washington, DC 20036 • 202.223.8196 • www.actuary.org
Copyright 2019 American Academy of Actuaries. All rights reserved.