This Week, January 14 - 18, 2019
Read the latest news from the Academy.
Recent Academy Activity, Jan. 14–18, 2019
PBR Practice Note Released
The Life Valuation Committee's Life Principle-Based Approach Practice Note Work Group released the newest version of the practice note, Life Principle-Based Reserves (PBR) Under VM-20, which covers principle-based life insurance reserve valuation practices for individual life insurance. The practice note is an update to a 2017 Academy public policy practice note of the same name. Read the Academy alert.
Early Registration Deadline Approaching for April's 2019 PBR Boot Camp
Register by Jan. 31 for the lowest rates to attend the Academy's 2019 PBR Boot Camp. The seminar will be held April 8–10 at the Loews Royal Pacific Resort in Orlando, Fla., conveniently located near the grounds of Universal Orlando. Attendees will hear from those who have been at the forefront of the implementation of PBR for life insurance, and benefit from a robust agenda that will provide useful and practical information for all levels of familiarity with the PBR methodologies and reserve requirements. Register early and save.
Just Announced: Feb. 1 Webinar on P/C Actuarial Opinion Report Writing
Just in time for opinion writing season, join us for a webinar, to be hosted by the Academy's Committee on Property and Liability Financial Reporting (COPLFR), to review key considerations in writing an effective loss reserve opinion report, including a review of the actuary's responsibilities, NAIC instructions, relevant actuarial standards of practice, and a discussion of how clear communication and documentation of the actuary's work is handled in each report chapter.
Get valuable insights from experienced presenters on differences in writing the narrative and technical components of the report; what kind of data and disclosures support the report; and what is included in the report to help the intended readers understand and navigate it. The webinar will be held on Friday, Feb. 1, from noon to 1:30 p.m. EST. Continuing education credit will be available. Register today.
P/C Loss Reserves Practice Note Released
COPLFR also released the newest version of the public policy practice note, Statements of Actuarial Opinion on Property and Casualty Loss Reserves. The practice note contains information on current or emerging practices relevant to signing NAIC P/C statements of actuarial opinion (SAOs) and actuarial opinion summaries (AOSs). It is intended to assist actuaries by describing practices that COPLFR believes are commonly employed in issuing SAOs and AOSs on loss and loss-adjustment expense reserves in compliance with the P/C Annual Statement Instructions for 2018 issued by the NAIC. Read the Academy alert.
Recently Released
The January HealthCheck covers this week's Medicaid Subcommittee comment letter and legislative and regulatory updates, including to the Affordable Care Act.
P/C Loss Reserve Law Manual Now Available
Make sure you have the most up-to-date information by ordering the just-released Property/Casualty Loss Reserve Law Manual. The manual is designed to help appointed actuaries know the NAIC Annual Statement requirements for statements of actuarial opinion. It is available in online and CD-ROM versions, allowing you to order the format that best meets your needs. Order today.
Available for Pre-Order: Life and Health Valuation Law Manual
Be one of the first to have the Life and Health Valuation Law Manual. This manual, also updated annually, is designed to help appointed actuaries know the requirements of the NAIC Model Standard Valuation Law and the Model Actuarial Opinion and Memorandum Regulation. Place your order today.
Public Employment Opportunity
The U.S. Government Accountability Office (GAO) has a public employment opportunity for a senior property and casualty/general insurance actuary position. The incumbent, which will report to GAO's chief actuary, will provide technical analysis and conceptual insight on actuarial aspects of federal programs and policies related to P&C / general insurance. Information is available by clicking here (general public) or here (qualified federal employees, veterans, or individuals with disabilities). The application deadline has been extended through next Friday, Jan. 25.
The Academy has long supported government employers who are seeking to hire qualified actuaries. See our Public Employment Opportunity Posting Policy for more information.
Alert
Public Policy Activity
Upcoming Events
In the News / Media Activity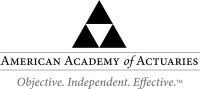 Follow the Academy on Facebook, LinkedIn, and Twitter.

---
1850 M Street NW • Suite 300 • Washington, DC 20036 • 202.223.8196 • www.actuary.org
Copyright 2019 American Academy of Actuaries. All rights reserved.