This Week, February 4-8, 2019
Read the latest news from the Academy.
Recent Academy Activity, Feb. 4–8, 2019
Academy President Highlights Public Policy Efforts in Special State of the Union Message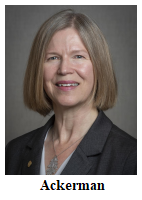 As Americans tuned in to the president's State of the Union address this week, the Academy used the occasion to highlight its continuing outreach to public policymakers with actuarial perspectives on health insurance, Social Security, retirement income, financial services, the National Flood Insurance Program, and other issues and public programs. "The Academy has a long-established, well-respected track record of effectively working with policymakers on a nonpartisan basis to provide objective, actuarially informed analysis of insurance, pension, and other financial security and risk issues that impact Americans deeply," said Academy President Shawna Ackerman. "The Academy stands ready to contribute its relevant expertise to the development of sound policy after the State of the Union address and throughout the 116th Congress." Read Ackerman's message to Academy members.
Order Your Academy Law Manuals Today
The latest editions of the Life and Health Valuation Law Manual and the Property/Casualty Loss Reserve Law Manual are available for order.
Now Available Online: The Life and Health Valuation Law Manual contains a concise summary of the valuation laws (and NAIC regulations) of all 50 states, the District of Columbia, and Puerto Rico. It has been redesigned for 2019, streamlining the contents so users can easily access information. Order today.

The Property/Casualty Loss Reserve Law Manual contains a compilation of insurance laws relating to P/C loss and loss expense reserves for all 50 states, Washington, D.C., and Puerto Rico. Order today.
Save the Date—2019 LHQ Seminar
Save the date for the Academy's 2019 Life and Health Qualifications Seminar, which will be held Nov. 10–14 in Arlington, Va., just outside the nation's capital. The annual LHQ Seminar provides the opportunity to obtain qualifications or relevant continuing education (CE) credit necessary to issue actuarial opinions for either the NAIC Life and Accident & Health (A&H) Annual Statement or the NAIC Health Annual Statement.
Public Employment Opportunity
The Pension Benefit Guaranty Corporation (PBGC) is seeking to fill an actuarial position within its Policy, Research, and Analysis Department (PRAD) in Washington, D.C. The PBGC is looking for a credentialed actuary with single employer and/or multiemployer experience to help the PRAD address some of the most pressing and important issues facing the U.S. retirement system. The application deadline is Feb. 20. For more information on the position via USAJobs, or to apply, click here.
The Academy has long supported government employers who are seeking to hire qualified actuaries. See our Public Employment Opportunity Posting Policy for more information.
Upcoming Events
Enrolled Actuaries Meeting—April 7–10, Washington, D.C.

PBR Boot Camp—April 8–10, Orlando, Fla.

Casualty Loss Reserve Seminar & Workshops (CLRS)—Sept. 16–18, Austin, Texas

Annual Meeting and Public Policy Forum—Nov. 5–6, Washington, D.C.

Life and Health Qualifications Seminar—Nov. 10–14, Arlington, Va.
In the News / Media Activity
The U.S. Government Accountability Office's (GAO) testimony Wednesday before the Senate Special Committee on Aging cited comments and suggestions from a panel of 15 retirement and pension experts that included Bill Hallmark, past Academy vice president, pension.

WorkersCompensation.com cited the Academy's March 2018 issue brief on U.S. prescription drug spending.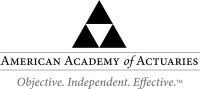 Follow the Academy on Facebook, LinkedIn, and Twitter.

---
1850 M Street NW • Suite 300 • Washington, DC 20036 • 202.223.8196 • www.actuary.org
Copyright 2019 American Academy of Actuaries. All rights reserved.