This Week, Dec. 18-22, 2017
Read the latest news from the Academy.
Recent Academy Activity, Dec. 18–22, 2017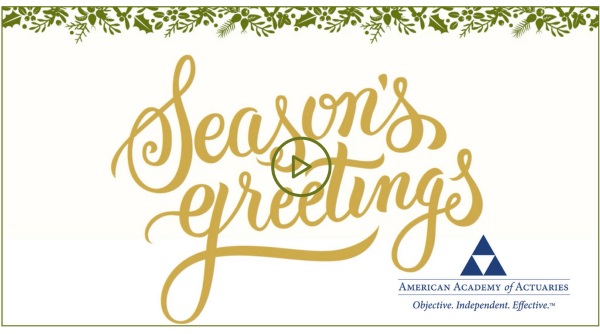 Editor's note: The Academy will not publish This Week next week. The next issue will be published on Friday, Jan. 5. Happy holidays from the Academy.
Professionalism Webinar on ABCD Ethical Cases Draws More Than 2,300
Wednesday's professionalism webinar looked at case studies and examples of professionalism issues that have come before the Actuarial Board for Counseling and Discipline (ABCD). "Tales From The Dark Side: Ethical Cases at the ABCD" featured ABCD members Godfrey Perrott and David Driscoll, who drew upon staples of popular culture to provide entertaining and enlightening examples of such issues. More than 2,300 people attended the webinar, which was moderated by Academy General Counsel and Director of Professionalism Paul Kollmer-Dorsey.
"The takeaway that we want to leave you with is the necessity of maintaining your reputation as a professional at all times, and upholding the dignity of the profession," Driscoll said, citing investor Warren Buffett's adage that it takes 20 years to build a reputation, and 5 minutes to ruin it.
Slides and audio are available free of charge to Academy members.
Reminder: Time to Renew Your Academy Dues
Academy dues are due on Jan. 1 of each year. The Academy has no record of having received your 2018 membership dues. Dues of $635 (for regular members) will assure that the Academy's financial position remains strong as we continue to provide objective, nonpartisan actuarial analysis to U.S. policymakers. Highlights of the Academy's mission-critical work this year are noted in the annual "The Meaning of Your Membership" report.
Please log in to pay and make changes to your account before paying your dues. (Some members may qualify for a partial or full dues waiver.) If you have questions, please contact the Academy's Membership Department at 202-223-8196, or membership@actuary.org.
Public Employment Opportunity
The North Carolina Department of Health and Human Services has a public employment opportunity for a program analyst / actuary. The purpose of this position is to provide highly technical financial management services in support of pricing, rate setting, financial monitoring and budgeting, forecasting, data validation and analytics, clinical policy analysis, and planning. The deadline to apply is Friday, Dec. 29, at 5 p.m. EST; a complete position description is available at the department's website.
The Academy has long supported government employers who are seeking to hire qualified actuaries. See our Public Employment Opportunity Posting Policy for more information.
COPLFR Releases P/C Loss Reserves Practice Note
The Committee on Property and Liability Financial Reporting released its annual Statements of Actuarial Opinion on P/C Loss Reserves practice note, which is intended to provide information to actuaries on current or emerging practices in which their peers are engaged related to signing NAIC P/C statements of actuarial opinion and actuarial opinion summaries.
Post-NAIC Life Webinar Set for January
The Academy will host a webinar in January highlighting key life practice issues from the NAIC Fall 2017 National Meeting held earlier this month in Honolulu. The webinar will be held on Wednesday, Jan. 10, from noon to 1:30 p.m. EST. Register today. The Academy also will host a webinar on property/casualty issues from the NAIC meeting; that date and time will be announced soon.
P/C Loss Reserve, Life and Health Valuation Law Manuals Available
Recently Released
Public Policy Activities
Alerts
Dec. 31 Deadline for Discount to 2018 Enrolled Actuaries Meeting
Upcoming Events
In the News
Note: Some links in this email go to external websites and may require registration. The Academy is not responsible for the content of these websites. Links may expire.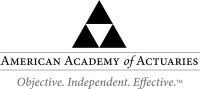 Follow the Academy on Facebook, LinkedIn, and Twitter.

---
1850 M Street NW • Suite 300 • Washington, DC 20036 • 202.223.8196 • www.actuary.org
Copyright 2017 American Academy of Actuaries. All rights reserved.