This Week: Aug. 28-Sept. 1, 2017
Read the latest news from the Academy.
Recent Academy Activity, Aug. 28–Sept. 1, 2017
Academy Office Closed for Labor Day
The Academy's office will be closed Monday, Sept. 4, for the Labor Day holiday.
Cross-Practice Letter to Congress on Tax Reform
Vice presidents from the Academy's public policy practice councils sent a letter to all members of Congress on Thursday as Congress prepares to consider tax reform when lawmakers return to Washington after Labor Day. The vice presidents noted that in looking at broad tax reform, "it is important to consider the potential implications for insurance and pension plans and other critical protections used by American families and businesses," while citing "complex actuarial issues" at the foundation of each of these protections.
Because the tax code is deeply interwoven with how individuals, employers, and financial services providers behave and interact, the Academy believes that it will be especially helpful for policymakers to evaluate potential reforms from an actuarial perspective, the vice presidents wrote, noting their willingness and availability to work with lawmakers as they address this important issue.
CPC Comments to Congress on Proposed Changes to National Flood Insurance Program
Following a similar letter last week to the Senate Committee on Banking, Housing and Urban Affairs, the Casualty Practice Council (CPC) addressed a letter Wednesday to the U.S. House leadership, and distributed to all members of the House, noting that Hurricane Harvey, which caused widespread flooding in Houston and the Gulf Coast region in the past week, has brought into sharper focus the importance of the National Flood Insurance Program (NFIP) as Congress considers reauthorizing the program.
Rade Musulin, the Academy's vice president, casualty, was quoted in a front-page Wall Street Journal story on Harvey's aftermath in the flood-ravaged Houston and Gulf Coast region, about aspects of the NFIP. The story was reposted by MSN, MSN Money (Canada), and other outlets. Musulin was also cited in a subscriber-only Greenwire story discussing the substantial number of Texas home and business owners who will likely be without adequate insurance coverage after the storm.
Public Employment Opportunity
The Life and Health Actuarial Unit of the Florida Office of Insurance Regulation is seeking to fill two full-time actuarial positions to perform and/or lead actuarial reviews of models, assumptions, and documentation for the product review and financial oversight teams. They will confirm compliance with state and federal regulations as well as all actuarial standards of practice. These actuaries will perform and/or lead actuarial reviews of models, assumptions, and documentation for the product review and financial oversight teams. They will confirm compliance with state and federal regulations as well as all actuarial standards of practice, and perform and clearly communicate accurate and insightful analysis of modeling, risk management, experience studies, pricing, and valuation on an enterprise-wide basis.
For information about employment requirements or to apply, click here, or here, or contact Olivia Hartsell at Olivia.Hartsell@floir.com.
The Academy supports government employers who are seeking to hire qualified actuaries. See our Public Employment Opportunity Posting Policy for more information.
Recently Released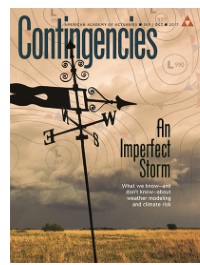 In the September/October issue of Contingencies, the cover story, "An Imperfect Storm," looks at what we know—and don't know—about weather modeling and climate risk, and how the U.S. weather monitoring infrastructure can be improved. Other features include a look at so-called doomsday factors and how they are interrelated, and "Patterns and Noise," which explores resource complexity as it relates to information theory, efficiency, and marginal improvements. Also in this issue, the final "Presidential Papers" article, on how to set the temperature to "ethical"; an "International Corner" piece on the health care systems and outcomes of Europe; how to ensure a client uses your work product appropriately; and more.
The August Actuarial Update announces the Academy's new regular directors, who will begin their terms at the conclusion of the Academy's Annual Meeting on Nov. 14. Also in this issue: Acclaimed journalist Bob Woodward, who will keynote the Annual Meeting and Public Policy Forum, lauds actuaries, noting the "objective, independent work you try to do—we need more of that in government" in an exclusive conversation (early registration rates are still available); the Academy made numerous professionalism and public policy presentations at the NAIC Summer 2017 National Meeting; the "Professionalism Counts" column covers the "must," "should," and "may" aspects of actuarial standards of practice; and the Academy welcomed almost 450 new members in the first half of 2017.
CLRS Livestreaming Available
Livestreaming will be available for this year's Casualty Loss Reserve Seminar (CLRS). Virtual attendees will be able to interact with one another and pose questions to panelists online. Attendees will benefit from real-time insights, helpful presentation materials, and opportunities to connect with peers from around the world. CLRS, sponsored jointly by the Academy and the Casualty Actuarial Society, will be held in Philadelphia Sept. 10–12.
Public Policy Activities
Alert
Upcoming Events
In the News
Note: Some links in this email go to external websites and may require registration. The Academy is not responsible for the content of these websites. Links may expire.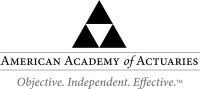 Follow the Academy on Facebook, LinkedIn, and Twitter.

---
1850 M Street NW • Suite 300 • Washington, DC 20036 • 202.223.8196 • www.actuary.org
Copyright 2017 American Academy of Actuaries. All rights reserved.