HealthCheck, September 2019
Academy activities, legislative/regulatory updates, and more.

Academy Activity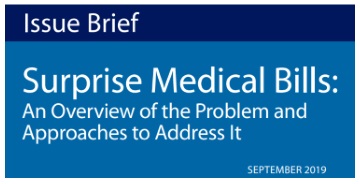 The Health Practice Council released an issue brief, Surprise Medical Bills: An Overview of the Problem and Approaches to Address It. "Policymakers who have put forward solutions generally agree with an approach of basic protections that should be offered to patients to prevent them from bearing the costs of unexpected balance-billing," said Academy Senior Health Fellow Cori Uccello. Read the Academy news release.
Members of the Long-Term Care (LTC) Reform Subcommittee submitted comments Aug. 30 regarding their discussion with the Federal Interagency Task Force on Long-Term Care Insurance earlier this year. These comments reiterate and expand on their original discussion including addressing regulatory hurdles to innovation.
The LTC Valuation Work Group presented an update to the NAIC's LTC Actuarial Working Group on Aug. 28 regarding the mortality and lapse tables development.
The Group Life Waiver Valuation Table Work Group gave an update to the NAIC's Health Actuarial Task Force on Aug. 27 regarding the development of group life waiver of premium mortality and recovery tables.
The Health Solvency Subcommittee submitted comments to the NAIC's Health Risk-Based Capital (E) Working Group (HRBC) in response to the HRBC comment letters received on the exposure of the Draft Bond Structure and Instructions.
Friday—Annual Meeting Early Registration Deadline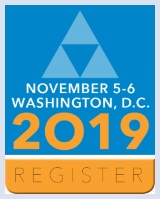 This is the last week to secure early registration rates for the Academy's Annual Meeting and Public Policy Forum, to be held Nov. 5–6 in Washington, D.C. Pennsylvania Insurance Commissioner Jessica Altman, chair of the NAIC's Health Insurance (B) Committee, will deliver plenary remarks Nov. 6, sharing her perspective on proposals to reform and improve the nation's health care system, offering insight on the state of and potential future changes to the Affordable Care Act (ACA), and providing an outlook on options for expanding health insurance coverage through public plans. See the full health-session agenda here. Don't miss out on early registration rates—register by Friday, Sept. 13, and save.
Legislative/Judicial/Regulatory Updates

The Centers for Medicare & Medicaid Services (CMS) rejected a section 1332 waiver request from Idaho on Aug. 29. The rejected waiver would have allowed state residents to retain their subsidized private health insurance through the state's individual insurance market in the event that they qualify for the state's Medicaid program under expanded eligibility criteria approved by Idaho voters in a November 2018 ballot initiative.

CMS issued a issued a rejection Aug. 16 of a request from Utah that would have limited a voter-approved expansion of eligibility for the state's Medicaid program to individuals with incomes below the federal poverty limit (FPL), rather than expanding coverage to individuals with incomes below 138 percent of the FPL as mandated by the ACA.

CMS issued an announcement on Aug. 15 stating that the agency will now require five-star Quality Ratings to be displayed for all health insurance plans offered through the individual health insurance exchanges, beginning with the 2020 open enrollment period. The Quality Rating System uses a five-star system to rate health insurance plans according to measures of quality, with five stars representing the highest quality.
Sept. 16—Early Registration Deadline for
Life and Health Qualifications Seminar
The early registration deadline for the Academy's 2019 Life and Health Qualifications Seminar is next week. Register by Monday, Sept. 16, to secure the lowest rates to attend this highly regarded seminar that will provide you with the opportunity to obtain qualifications or relevant continuing education (CE) credit necessary to issue actuarial opinions for either the NAIC Life and Accident & Health (A&H) Annual Statement or the NAIC Health Annual Statement. During the seminar, you will have the opportunity to delve deeply into life and health issues, engage with other actuaries on these topics, and hear directly from instructors who are recognized experts. You'll also have the opportunity to earn up to 27 hours of continuing education, including up to 2.7 professionalism hours. See the agenda at a glance for a look at the topics that will be covered. The seminar will be held Nov. 10–14 at the Key Bridge Marriott in Arlington, Va., outside of Washington, D.C. Don't miss out—register early and save.