This Week, Sept. 30 - Oct. 4, 2019
Read the latest news from the Academy.

Recent Academy Activity, Sept. 30 – Oct. 4, 2019
Deadline Today for Early Registration to December's PBR Boot Camp
Today, Oct. 4, is the early registration deadline for the Academy's popular PBR Boot Camp, to be held Dec. 9–11 in Austin, Texas. Increasing interest in being fully prepared for the fast-approaching Jan. 1, 2020, mandatory implementation deadline for companies not otherwise exempt led to this latest iteration of the Academy's PBR Boot Camp. The agenda has been updated to include valuable information on the recently adopted changes to variable annuity valuation. CE credit will be available. Prices will increase tomorrow so make sure to register today.
Secure Your Hotel Room for the Academy's Annual Meeting and Public Policy Forum
One week remains to secure your hotel room for the Academy's Annual Meeting and Public Policy Forum, which will be held Nov. 5–6 at the Capital Hilton in Washington, D.C., just blocks from the White House. The agenda includes plenary and professionalism sessions, and practice-area breakout sessions. Click here for hotel information; the room-block hold ends next Friday, Oct. 11—register today.
Recently Released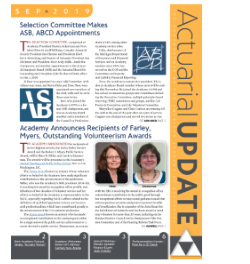 The September Actuarial Update covers Selection Committee appointments to the Actuarial Standards Board and the Actuarial Board for Counseling and Discipline, which take effect at the start of the new year. Also in the issue, recipients were announced for the Academy's annual service awards, to be presented at November's Annual Meeting and Public Policy Forum; personal finance expert Jean Chatzky will keynote a panel on women and retirement at the meeting and forum; "Actuary Voices" kicks off with its first podcast episode; an issue brief and Capitol Hill briefing on telehealth; and the "Professionalism Counts" column offers a continuing education check.
Oct. 16 Professionalism Webinar Will Look at ASB, ASOPs
The Academy's third professionalism webinar of the year—"Reliance: '...A Little Help From My Friends'"—will focus on the Actuarial Standards Board's (ASB) approaches to reliance in actuarial standards of practice (ASOPs) and offer mini-case studies in all practice areas. Presenters will be Academy President Shawna Ackerman and ASB members Cande Olsen and Barbara Snyder. Erica Kennedy, Academy assistant director of professionalism (actuarial standards), will moderate. The webinar will be held on Wednesday, Oct. 16, from noon to 1:30 p.m. EDT. Register today.
Public Policy Activity
The Individual and Small Group Markets Committee sent comments to the Centers for Medicare & Medicaid Services on rules finalized in the 2020 Notice of Benefit and Payment Parameters (NBPP) concerning risk adjustment data validation (RADV)-related transfers.
Upcoming Events
In the News
In a Politico story, Telehealth Work Group member Susan Pantely discusses telehealth and how it impacts health care costs.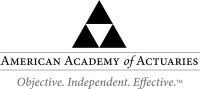 Follow the Academy on Facebook, LinkedIn, and Twitter.

---
1850 M Street NW • Suite 300 • Washington, DC 20036 • 202.223.8196 • www.actuary.org
Copyright 2019 American Academy of Actuaries. All rights reserved.