This Week, Sept. 23 - 27, 2019
Read the latest news from the Academy.

Recent Academy Activity, Sept. 23–27, 2019
Selection Committee Makes ASB, ABCD Appointments
The Selection Committee—established in the Academy bylaws and composed of the presidents and presidents-elect of the Academy, the Casualty Actuarial Society, and the Society of Actuaries—made member appointments to the Actuarial Standards Board (ASB) and the Actuarial Board for Counseling and Discipline (ABCD) that take effect on Jan. 1, 2020.
Al Beer was appointed as a new ABCD member, with a three-year term. Kevin Dyke and Dave Neve were appointed new members of the ASB; each will serve three-year terms.
See the forthcoming issue of Actuarial Update—coming Monday—for a complete recap of Selection Committee actions.
Academy Hosts Capitol Hill Telehealth Briefing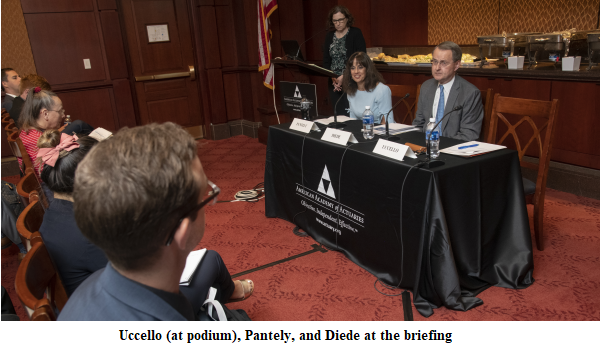 The Academy hosted a briefing for federal lawmakers and policymakers' staff on Capitol Hill on Wednesday, including a presentation, "Telehealth: A Digital Communication Approach to Improving Health." Presenters were Telehealth Work Group members Mick Diede and Susan Pantely, and Academy Senior Health Fellow Cori Uccello moderated. They drew from the Academy's issue brief, Telehealth—A Digital Communication Approach to Improving Health—released in conjunction with the briefing—which provides an actuarial perspective on telehealth issues. The presenters shared insights on the effects that telehealth could have on access to care, outcomes, and costs, as well as barriers to further adoption of telehealth. Diede and Pantely noted that advances in technology now support an unprecedented level of connectivity previously unimagined, making telehealth an increasingly meaningful area of health care delivery.
Academy Adopts Updated Strategic Plan
The Academy Board of Directors adopted an updated Academy Strategic Plan at its Sept. 26 meeting. The plan has been revised to more closely adhere to the Academy's mission and vision; the updated international strategy from July of this year is an example of this back-to-basics positioning. "The document reinforces our commitment to lead the professionalism activities of the U.S. actuarial profession," said Academy President Shawna Ackerman.
Ackerman also praised the leadership of D. Joeff Williams, the Academy's president-elect, who chaired the Strategic Planning Committee and presented to the Board a thoroughly considered and thoughtfully revised plan to reflect the changes that have occurred in Academy emphasis and governance over the past eight years, including the Board's decision a few years ago not to issue advocacy statements but to focus on the essential attributes of the Academy's objectivity and independence.
The new Academy Strategic Plan updates the plan last adopted by the Board in 2011.
Recently Released
The Fall Casualty Quarterly has a Q&A with Academy Senior P/C Fellow Rich Gibson on key P/C issues. In addition, the Academy updated its 2017 flood insurance monograph, sent comments to the NAIC on regulatory guidance and the "Qualified Actuary" definition, and gave P/C presentations at NAIC and the National Council of Insurance Legislators meetings.
Professionalism Outreach
Academy President-Elect D. Joeff Williams spoke to the Actuaries Club of Indiana, Kentucky, and Ohio on "Meeting the Professionalism Challenge" on Sept. 23 in Louisville, Kentucky. Williams provided an overview of the professionalism infrastructure housed in the Academy and discussed case studies of ethical challenges faced by actuaries and how professionalism resources help actuaries respond to these challenges.
Listen to 'Actuary Voices,' the Academy's New Podcast Series
Visit Actuary Voices, the Academy's new podcast series, to hear the first full podcast episode, a conversation with Academy President Shawna Ackerman. Future podcasts will touch on why and how some of our always-interesting Academy members chose their actuarial careers. On the page, you can listen to the conversations now or download them to listen later.
One Week Left for Early Registration to December's PBR Boot Camp
There's just one week left to get early registration rates for the Academy's popular PBR Boot Camp, to be held Dec. 9–11 in Austin, Texas. Increasing interest in being fully prepared for the fast-approaching Jan. 1, 2020, mandatory implementation deadline for companies not otherwise exempt led to this latest iteration of the Academy's PBR Boot Camp. The agenda has been updated to include valuable information on the recently adopted changes to variable annuity valuation. CE credit will be available. Early registration runs through next Friday, Oct. 4—register today.
Next Month—Professionalism Webinar Will Look at Reliance With the ASB, ASOPs
The Academy's third professionalism webinar of the year—"Reliance: '...A Little Help From My Friends'"—will focus on the Actuarial Standards Board's (ASB) approaches to reliance in actuarial standards of practice (ASOPs) and offer mini-case studies in all practice areas. Presenters will be Academy President Shawna Ackerman and ASB members Cande Olsen and Barbara Snyder. Erica Kennedy, Academy assistant director of professionalism (actuarial standards), will moderate. The webinar will be held on Wednesday, Oct. 16, from noon to 1:30 p.m. EDT. Register today.
Public Employment Opportunity
The U.S. Department of Defense (DoD) is seeking a senior actuary (health) to provide expert advice and assistance to the DoD chief actuary in support of the Under Secretary of Defense (Personnel and Readiness) on all actuarial matters bearing on current, proposed, or alternative DoD military personnel benefit programs, including military retiree health benefits and program costs. The application period for the Alexandria, Va.-based position runs through next Monday, Sept. 30. Full information on the position and how to apply is available via USA Jobs.
The Academy has long supported government employers that are seeking to hire qualified actuaries. See our Public Employment Opportunity Posting Policy for more information.
Public Policy Activity
The Financial Reporting Committee sent a letter to the International Accounting Standards Board regarding the exposed amendments to International Financial Reporting Standard 17 (IFRS 17).

The Life Experience Committee sent a report to the NAIC Life Actuarial (A) Task Force outlining the 2019 individual life insurance mortality improvement recommendation for use with AG 38 and VM-20.
Upcoming Events
In the News
An AIS Health story examining alternative policy approaches to surprise medical billing quoted Senior Health Fellow Cori Uccello and drew heavily from the Academy's recent issue brief, Surprise Medical Bills: An Overview of the Problem and Approaches to Address It.

A Washington Times op-ed on proposed legislation to make Health Savings Accounts (HSAs) available to everyone enrolled in Medicare cited an Academy monograph reviewing studies of the savings provided by consumer-driven health plans.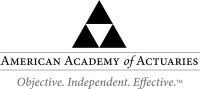 Follow the Academy on Facebook, LinkedIn, and Twitter.

---
1850 M Street NW • Suite 300 • Washington, DC 20036 • 202.223.8196 • www.actuary.org
Copyright 2019 American Academy of Actuaries. All rights reserved.