This Week, Oct. 7 - 11, 2019
Read the latest news from the Academy.

Recent Academy Activity, Oct. 7–11, 2019
Academy Office Closed Monday for Columbus Day
The Academy's office will be closed Monday, Oct. 14, for the Columbus Day federal holiday.
Deadline Today—Hotel Room Block for Academy's Annual Meeting and Public Policy Forum
Today, Oct. 11, is the final day the hotel room block is open for the Academy's Annual Meeting and Public Policy Forum, which will be held Nov. 5–6 at the Capital Hilton in Washington, D.C. In addition to high-profile plenary-session speakers—author and political satirist P.J. O'Rourke, Pennsylvania Insurance Commissioner Jessica Altman, and personal finance expert Jean Chatzky—the updated agenda includes plenary and professionalism sessions, and practice-area breakout sessions. Hotel information is available here. Join us next month in Washington—register today.
Next Week—Professionalism Webinar Will Look at ASB, ASOPs
The Academy's third professionalism webinar of the year—"Reliance: '...A Little Help From My Friends'"—will be held next week. It will focus on the Actuarial Standards Board's (ASB) approaches to reliance in actuarial standards of practice (ASOPs) and offer mini-case studies in all practice areas. Presenters will be Academy President Shawna Ackerman and ASB members Cande Olsen and Barbara Snyder. Erica Kennedy, Academy assistant director of professionalism (actuarial standards), will moderate. The webinar is set for Wednesday, Oct. 16, from noon to 1:30 p.m. EDT. Register today.
Pension Briefing Looks at Multiemployer Issues
The Academy's Pension Practice Council hosted a briefing Monday on Capitol Hill on "Multiemployer Pension Reform—Bringing Balance to the Pension Funds." The briefing included a panel discussion moderated by Academy Senior Pension Fellow Linda K. Stone, with panelists Josh Shapiro, the Academy's vice president, pension; James Naughton, assistant professor of accounting and management at Northwestern University's Kellogg School of Management; and J. Mark Iwry, a nonresident senior fellow of economic studies at the Brookings Institution. The exclusive, invitation-only event came on the heels of three standing-room-only pension briefings on Capitol Hill that were held in July and early August—including attendees from Capitol Hill, nonprofits, and other stakeholders. The lively, interactive discussion looked at the concepts that might serve as a foundation for how multiemployer plans are funded.
Actuaries Longevity Illustrator Updated
The Academy and the Society of Actuaries (SOA) have updated the jointly developed Actuaries Longevity Illustrator, a web-based tool that allows users to quickly generate an estimate of how long they might live in a few simple steps. The illustrator does not provide financial advice, but results can be useful for individuals or couples for retirement planning purposes, and to retirement advisers. The language has been clarified to help users effectively use and understand its results, and back-end data and methodologies used to calculate results have been updated. The back-end mortality tables used to generate the illustrator's results have been updated from Social Security's 2010 to 2016 tables, and the mortality improvement scale has been updated from SOA MP-2015 to MP-2018. Improvements also have been made to the factors used to adjust for smoking and health status.
Representing the U.S. Profession Internationally
Academy Representatives Attend AAE Meeting: Academy International Secretary Tom Wildsmith, International Advisor Carmen Suro-Bredie, and Director of Public Policy Craig Hanna were invited to observe this week's Actuarial Association of Europe (AAE) annual meeting in Vienna, Austria. Academy representatives have attended these meetings as observers for several years, and AAE has also sent observers to the Academy's Annual Meeting. As the AAE has posted on its website, the Academy and AAE have much in common and look forward to "sharing of experiences [that] will mutually make us stronger in our work as expert organizations." The AAE this month appointed Cecilia Thorn its new chief executive.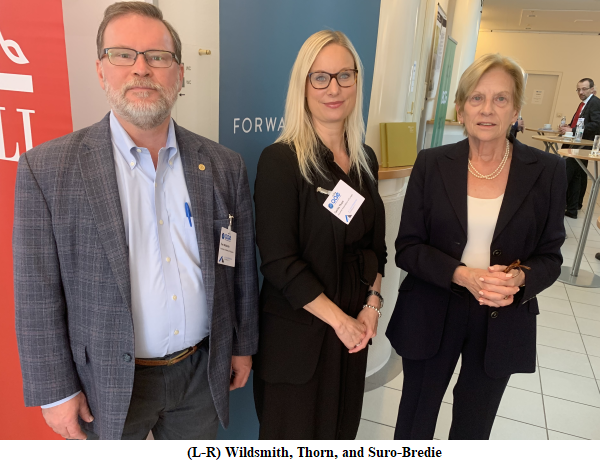 Academy Leadership Attends NAAC Fall Meeting: Academy presidential leadership attended the fall North American Actuarial Council (NAAC) meeting in Charleston, S.C., through last weekend. President Shawna Ackerman, President-Elect Joeff Williams, and incoming President-Elect Tom Campbell continued to build the Academy's relationships with the Canadian and Mexican actuarial organizations, and Ackerman presented an update for the group on the Actuaries Climate Index (ACI), and the anticipated year-end release of the Actuarial Climate Risk Index (ACRI).
Recently Released
The October HealthCheck covers the Academy's telehealth issue brief and Sept. 25 Capitol Hill briefing on the topic; the Individual and Small Group Markets Committee's comments to the Centers for Medicare & Medicaid Services on the 2020 Notice of Benefit and Payment Parameters; and recent legislative and regulatory activity.
Professionalism Outreach
Academy President Shawna Ackerman provided a "Professionalism Update from the Academy" to the Casualty Actuaries of the Bay Area in San Francisco on Friday. In the presentation, Ackerman gave updates on standards-setting, discipline and counseling, and qualifications activities, and highlighted Academy professionalism resources including the new "Actuary Voices" podcast series.
Actuarial Standards Board Vice Chairperson Maryellen Coggins provided an overview of the new Actuarial Standard of Practice (ASOP) No. 55, Capital Adequacy Assessment, at the Association of Governmental Risk Pools' Fall Forum in Cleveland on Tuesday. The new ASOP becomes effective on Nov. 1.
Register for December's PBR Boot Camp
While the Life and Health Qualification Seminar is sold out and has established a waiting list, life actuaries looking for comprehensive and relevant continuing education (CE) credit should consider the Academy's popular PBR Boot Camp, to be held Dec. 9–11 in Austin, Texas. Spaces remain available for this program. Increasing interest in being fully prepared for the fast-approaching Jan. 1, 2020, mandatory implementation deadline for companies not otherwise exempt led to this latest iteration of the Academy's PBR Boot Camp. Sessions will provide useful and practical information for individuals at all levels of familiarity with principle-based reserving (PBR) methodologies and reserve requirements. The agenda has been expanded to provide valuable updates on the recently adopted changes to variable annuity valuation, and attendees will hear lessons learned from those who have been at the forefront of PBR implementation for life insurance and variable annuity products. CE is available. Register today.
Upcoming Events
In the News
The Dunwoody Crier (Alpharetta, Ga.) cited the Academy in a story about longevity and retirement planning.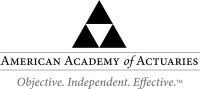 Follow the Academy on Facebook, LinkedIn, and Twitter.

---
1850 M Street NW • Suite 300 • Washington, DC 20036 • 202.223.8196 • www.actuary.org
Copyright 2019 American Academy of Actuaries. All rights reserved.