This Week, Nov. 8 - 12, 2021
Read the latest news from the Academy.

Keeping You in the Know—Recent Academy Activity, Nov. 8–12, 2021
Professionalism Webinar Examines Self-Regulation
The Academy's Thursday professionalism webinar, "Self-Regulation and the Actuarial Profession," discussed why self-regulation is important to the actuarial profession, the Academy's role in supporting it, and what you can do to help ensure self-regulation continues. Presenters included Committee on Professional Responsibility (COPR) Chairperson Nancy Behrens, COPR Past Chairperson Audrey Halvorson, and committee member Kathy Wong; Academy General Counsel and Director of Professionalism Brian Jackson moderated. They discussed the importance of upholding standards of conduct, qualification, and practice.
Speaking on the profession's responsibility to the public, Halvorson said "it is important to remember that over 330 million people live in the U.S. Most are covered by some form of insurance, pension, Social Security, Medicaid, or Medicare, so we have a huge responsibility to the public." The Academy fulfills this responsibility through self-regulation, along with an intense focus on elevating the professionalism of actuaries and amplifying awareness on public policy issues. Slides and audio will be available soon.
Tools to leverage:
'Explaining Professionalism to Principals' Discussion Paper—Related, the COPR also released a new discussion paper, Explaining Professionalism to Principals, which is intended to help actuaries think proactively about professionalism and how to explain its importance to the work they do and the stakeholders they serve.

Next Professionalism Webinar Set for December—Mark your calendar for the Academy's next professionalism webinar. "More Tales From the Dark Side," following in the mode of the past year-end professionalism webinars, will look at Actuarial Board for Counseling and Discipline (ABCD) requests for guidance and related ethical issues. The webinar will be held on Dec. 17 from noon to 1:30 p.m. EST; registration will open soon.
Requirements Amended for New Member Applicants
At its last meeting, the Academy Board of Directors approved the following additional requirements for new membership applicants, effective from this point forward:
All new membership applicants must attest to necessary knowledge of U.S. laws and practices in their practice area with due consideration given to Precept 1 of the Code of Professional Conduct.

Applicants must further attest that they have completed prescribed readings and attest to their understanding of articles IX and X of the Academy bylaws, the Code, the U.S. Qualification Standards, and actuarial standards of practice (ASOPs) and Applicability Guidelines relevant to their area(s) of actuarial practice.

Applicants must submit the name and contact information of an Academy member—or another actuary who is subject to the Code—who can confirm the applicant's work and knowledge of applicable U.S. laws and practices.

The requirement that new residents and nonresidents submit a letter from their supervisor about their knowledge of U.S. laws and practices is removed.
Council on Professionalism Adds 'Education' to Its Charge
The Academy's Board further made several administrative changes to the Council on Professionalism (COP), which going forward will be renamed the Council on Professionalism and Education (COPE) and be composed of the Academy's vice president for professionalism, chairpersons of the committees within the COPE's structure, and liaisons from the Academy's public policy practice councils.
A new Actuarial Professionalism Liaison Committee (APLC) will carry out the current COP's liaison function and will include the vice president for professionalism, public policy practice council liaisons, Actuarial Standards Board (ASB) and ABCD liaisons; and representatives from the other U.S.-based actuarial organizations. The director of professionalism will participate in APLC meetings.
A new Committee on Education will support future Academy educational efforts, including the creation and development of any necessary education related to U.S.-based professionalism topics, policy issues, laws and regulations, and to aid staff in monitoring the quality and consistency of the Academy's education programs. The Life and Health Qualifications Seminar Committee is now a subcommittee within the committee's structure, as is the new Pension Actuaries Continuing Education Task Force.
Taken together, these changes reflect a renewed focus on education that aids actuaries in upholding the U.S.-based professionalism standards and compliance with U.S.-based laws and regulations as a vital function of the Academy.
Professionalism Outreach Results in Greater Member and Professional Engagement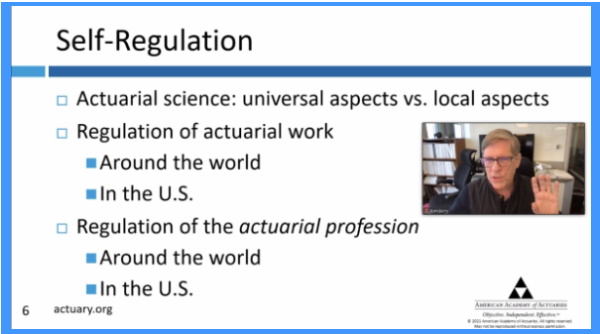 Terry presents on Tuesday
With many actuarial clubs and employers of actuaries holding year-end meetings, professionalism experts from the Academy have been busy speaking to many groups to deliver the latest news of professionalism developments and providing information to help actuaries continue to meet their professional responsibilities.
On Wednesday, Committee on Qualifications (COQ) Vice Chairperson Lisa Slotznick and ASB member Cande Olsen—the latter of whom received the Academy's 2021 Jarvis Farley Service Award last week—co-presented virtually to Prudential's annual actuarial ethics seminar, providing an overview of the U.S. actuarial professionalism framework housed in the Academy and highlighting new and emerging ASOPs. The presentation closed with a "Professionalism Challenge" of more than 20 polling questions ranging across all areas of professionalism.

On Tuesday, COPE member Mike Ward and Academy Past President and COQ member Tom Terry presented virtually to the Actuaries' Club of Boston and the Actuaries' Club of the Southwest, respectively. Ward provided a professionalism overview and update, including highlights of recent COPR discussion papers Self-Regulation and the Actuarial Profession and Professionalism for the Solo Actuary, and polled attendees on selected professionalism topics. Terry provided a look at "Emerging Professionalism Issues in 2022," with extensive discussion of the rationale, operation, and responsibilities involved in the U.S. actuarial profession's self-regulation, as well as resilience of the U.S. professionalism framework.

ABCD member Al Beer presented and guided a virtual discussion for the Casualty Actuaries of the Mid-Atlantic Region on illustrative case studies of matters on which a property/casualty actuary might request guidance from the ABCD, and the professionalism considerations involved in each case study.
Register Now—December Pension Webinar Will Delve Into Monetary Policy, Interest Rates
Join us for "What's the Deal With Low Interest Rates? Are They Harming the U.S. Retirement System?"—a pension webinar that will discuss the implications of low interest rates and recent monetary policy. It will also look at how low interest rates of the past decade have been driven by systemic factors such as low growth, aging demographics, and an economic shift toward technology and services, as well as aggressive monetary policy, which has been a key driver of both low rates and high capital asset values. Presenters will be Evan Inglis and Jerry Mingione; Academy Senior Pension Fellow Linda K. Stone will moderate. The webinar will be held on Tuesday, Dec. 7, from noon to 1:30 p.m. EST. Register today.
Early Registration Rates Closing Soon—Monday Deadline for In-Person Discounted Attendance at P/C Loss Reserve Opinion Seminar
Early registration rates for in-person attendance at the 2021 Seminar on Effective P/C Loss Reserve Opinions, are available through Monday, Nov. 15. To be held Dec. 6–7 at the conveniently located Hilton Chicago O'Hare Airport, this annual event—offered in a hybrid format this year—is designed for property/casualty actuaries who prepare or assist with preparing NAIC annual statements of actuarial opinion on P/C loss reserves. In-person attendees will have exclusive access to a closing Q&A session with faculty. Both virtual and in-person registration are open through Dec. 2. Join us in December—register today.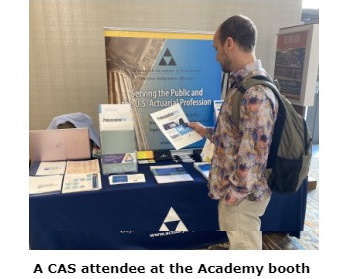 Academy Grows Awareness at CAS Annual Meeting
Academy representatives attended the Casualty Actuarial Society's (CAS) annual meeting in San Diego early this week. The Academy appreciates the relationship with CAS and the opportunity to engage with CAS members, as well as to reinforce with new fellows and associates the role of the Academy to elevate professionalism and amplify awareness of public policy issues.
Public Employment Opportunity With the GAO
The U.S. Government Accountability Office (GAO) has an opening for a Senior Actuary, to be located either in GAO's headquarters in Washington, D.C., or in GAO's Atlanta or Seattle field offices. Primary practice area should be retirement; experience in multiple practice areas is welcome but not required. The application deadline is Dec. 13; learn more about the position and how to apply via USA Jobs.
The Academy has long supported government employers that are seeking to hire qualified actuaries. For more information, see our Public Employment Opportunity Posting Policy.
Public Policy in Focus
The Medicaid Committee released an issue paper, Considerations for Reflecting the Impact of COVID-19 in Medicaid Managed Care Plan Rate Setting, that explores key components of rate setting during or shortly after the COVID-19 pandemic, including data, assumptions and adjustments, risk mitigation, and communication.

The C-2 Mortality Work Group presented on its report to the NAIC's Life Risk-Based Capital Working Group on recommendations for updated C-2 factors.

A Life Practice Council task force submitted comments to the ASB on the exposure draft of ASOP No. 24, Compliance with the NAIC Life Insurance Illustrations Model Regulation.
Learn more about how the Academy's public policy efforts support the profession, our members, and the public.
Upcoming Events
In the News
ThinkAdvisor published an in-depth retrospective on the Academy's Annual Meeting and Public Policy Forum, held last Thursday and Friday as a hybrid event.
Having trouble viewing this email? View it in your browser.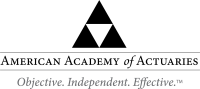 PLEASE DO NOT REPLY TO THIS EMAIL. THIS EMAIL ADDRESS IS NOT MONITORED.
Follow the Academy on Facebook, LinkedIn, and Twitter. Listen to our podcast.
To update your Academy email communication preferences, please login and update your Academy member profile.
---
1850 M Street NW • Suite 300 • Washington, DC 20036 • 202.223.8196 • www.actuary.org
Copyright 2021 American Academy of Actuaries. All rights reserved.