This Week, Nov. 15 - 19, 2021
Read the latest news from the Academy.

Keeping You in the Know—Recent Academy Activity, Nov. 15–19, 2021
Editor's Note: Due to the Thanksgiving holiday, the Academy will not publish This Week on Nov. 26. The next issue will be published in two weeks, on Dec. 3.
Academy Hosts In-Person LHQ Seminar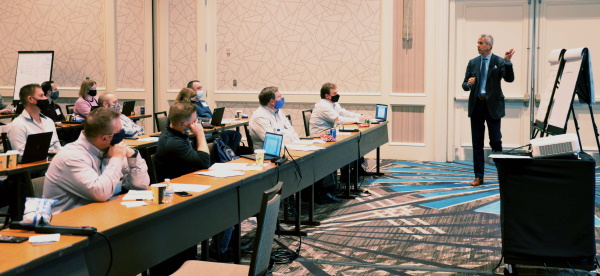 Academy Past President D. Joeff Williams
leads an LHQ Seminar session on Tuesday
The Academy's annual Life and Health Qualifications (LHQ) Seminar was held as an in-person event this year. The seminar was held Monday through Thursday in Arlington, Va., and featured sessions on topics including professionalism, actuarial opinions, and interactive case-study breakout sessions that have long been highly valued by attendees. Attendees received required basic education and continuing education to be qualified to sign NAIC Life and Health annual statements of actuarial opinion, and a range of topics were discussed including principle-based reserving, risk adjustment data validation, and risk-based capital. Actuarial Standards Board (ASB) Chairperson Darrell Knapp chaired the subcommittee that organized this year's seminar, and subcommittee member David Dillon was a new member of the LHQ Seminar faculty.
President's Letter to Members Features Meaning of Membership, Announces 2022 Membership Renewal Period Now Open
Academy President Maryellen Coggins' letter to members sent this week announced the opening of the Academy's 2022 membership renewal period and includes a link to "The Meaning of Your Membership," which highlights the many mission-critical aspects of the Academy's work undertaken in 2021. Learn more about how the Academy's efforts in professionalism and public policy enhance and deepen member service and value. To renew your Academy membership online today, please click here.
Professionalism, Public Policy Outreach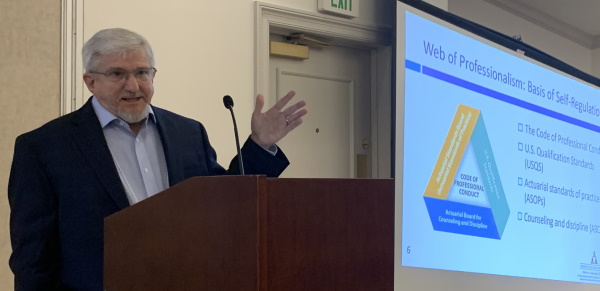 Bingham presents Thursday in South Carolina
Academy professionalism and public policy experts had a busy week of speaking to many groups, both virtually and in person, discussing recent professionalism and public policy developments and providing information to help actuaries meet their professional responsibilities.
Public Employment Opportunity With the GAO
The U.S. Government Accountability Office (GAO) has an opening for a senior actuary, to be located either in GAO's headquarters in Washington, D.C., or in GAO's Atlanta or Seattle field offices. Primary practice area should be retirement; experience in multiple practice areas is welcome but not required. The application deadline is Dec. 13; learn more about the position and how to apply via USA Jobs.
The Academy has long supported government employers that are seeking to hire qualified actuaries. For more information, see our Public Employment Opportunity Posting Policy.
December Pension Webinar Delves Into Low Interest Rates
Join us for "What's the Deal With Low Interest Rates? Are They Harming the U.S. Retirement System?"—a pension webinar that will discuss the implications of low interest rates and recent monetary policy. The webinar will be held on Tuesday, Dec. 7, from noon to 1:30 p.m. EST. Register today.
Alerts
Public Policy in Focus
Learn more about how the Academy's public policy efforts support the profession, our members, and the public.
Upcoming Events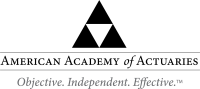 PLEASE DO NOT REPLY TO THIS EMAIL. THIS EMAIL ADDRESS IS NOT MONITORED.
Follow the Academy on Facebook, LinkedIn, and Twitter. Listen to our podcast.
To update your Academy email communication preferences, please login and update your Academy member profile.
---
1850 M Street NW • Suite 300 • Washington, DC 20036 • 202.223.8196 • www.actuary.org
Copyright 2021 American Academy of Actuaries. All rights reserved.