This Week, Nov. 13 - 17, 2023
Keeping you in the know—the latest news from the Academy


RECENT ACADEMY ACTIVITY

|

Nov. 13–17, 2023
This Week … In a Minute

Have a minute? Catch up on the week's top stories with the latest "This Week … In a Minute" video. Subscribe to our YouTube channel to receive alerts as they are released.
Envision Tomorrow Focuses on AI, Diversity, Actuary of Tomorrow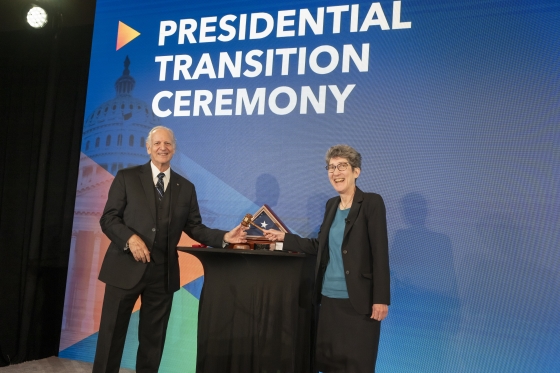 Lisa Slotznick takes the gavel from Ken Kent in
becoming the Academy's 59th president
Envision Tomorrow, the Academy's Annual Meeting held Monday and Tuesday in the nation's capital, focused on cutting-edge topics including the current political environment; artificial intelligence (AI); bias; climate change; and diversity, equity & inclusion (DEI)—and how these and other factors will shape the actuary of tomorrow and the work of the Academy.
The Nov. 13–14 event at Washington, D.C.'s Omni Shoreham Hotel featured the presidential transition, with Lisa Slotznick succeeding Ken Kent to become the Academy's 59th president. Attendees also joined in celebrating various award recipients and welcoming new Academy Board officers and members. The full 2023–2024 Academy Board of Directors is available on our website, and event highlights—including award recipients—will be shared in the November Actuarial Update.
Representatives from Academy public policy stakeholder groups were in attendance, including the National Association of Insurance Commissioners (NAIC), National Council of Insurance Legislators (NCOIL), and speakers included representatives from the Federal Reserve Board, the Social Security Administration, the U.S. Government Accountability Office, and the Congressional Research Service.
Also attending were representatives of other actuarial and affinity organizations including Abacus Actuaries, Canadian Institute of Actuaries, National College of Actuaries (Mexico), Casualty Actuarial Society (CAS), Conference of Consulting Actuaries, Society of Actuaries, South Asian Network of Actuaries (SANA), International Association of Black Actuaries (IABA), Sexuality and Gender Alliance of Actuaries (SAGAA), Network of Actuarial Women and Allies (NAWA), Organization of Latino Actuaries (OLA), South Asian Network of Actuaries (SANA), and The Actuarial Foundation.
Save the Date for 2024—It's not too early to save the dates for the 2024 Annual Meeting, which will be held in advance of the November elections. It's set for Oct. 15–16 at the Grand Hyatt Washington in the nation's capital.
Symposium Focuses on Health Equity Issues
James (left) presents in a symposium panel
The Academy engaged with public policy stakeholders during its inaugural health symposium Wednesday, "Health Benefit Design Innovations for Advancing Health Equity," that explored various strategies to increase the adoption of equity-enhancing plan design elements. Participants and attendees included a diverse group of stakeholders and decision-makers from throughout the health ecosystem.
The free event—which was livestreamed from the National Press Club in Washington, D.C.—featured and built on the Academy Health Equity Committee's four-part series of issues briefs. Committee Chairperson Annette James said that addressing equity isn't just the right thing to do—it also makes business and economic sense. The committee also released a summary brief reflecting the key points from this summer's discussion groups, which were the building blocks of the symposium. See more coverage in the upcoming Actuarial Update and HealthCheck. It will also be available soon on the Academy website and YouTube channel.
Slotznick Pens Article in CAS 'Actuarial Review'
A new article in the CAS November Actuarial Review, "The American Academy of Actuaries—Promoting Professionalism and Advancing Public Policy and Specific Property-Casualty Initiatives," written by Academy President Lisa Slotznick, extols the Academy's professionalism and public policy resources, and—tailored for the CAS audience—delineates recent Academy casualty-specific workstreams and the many benefits and resources available to casualty members and actuaries.
2024 Member Renewal Notice
It's time to renew your Academy membership—dues notices have gone out for members to pay their 2024 member dues. Members' continued support has allowed the Academy to focus on key initiatives developed following the valuable feedback from our 2022 Member Value Survey. See Academy President Lisa Slotznick's letter to members, where she shares that dues will increase by $5. You can log in to the members page to pay your 2024 dues.
Academy Outreach—Volunteers, Staff Present to Clubs and Employers Nationwide
Academy volunteers played a leading role delivering professionalism and public policy education to many clubs, as well as employers, as they began wrapping up actuarial education programming for the year, with the following presentations:
Academy Speakers Bureau—The Academy provides qualified speakers to actuarial clubs and organizations to help members fulfill their professionalism continuing education requirements and be more informed on public policy issues. For more information and to request a speaker, visit the Academy website.
Public Policy News in Brief
Visit the Public Policy webpage to stay on top of the latest news and activity.
In the News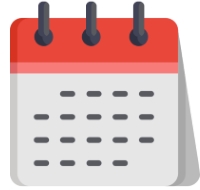 Events Calendar Highlights
Visit the Events Calendar for a complete listing of Academy events, including links to post-webinar slides and recordings.
Happy Thanksgiving—Next Issue Dec. 8
There will be no issue next week because of the Thanksgiving holiday in the U.S. The Academy will be closed Thursday and Friday, Nov. 23–24—we wish our members who celebrate, a Happy Thanksgiving. There will not be an issue the following week because the November Actuarial Update—and an Envision Tomorrow supplement—will be published on Thursday, Nov. 30. The next issue of This Week will be Friday, Dec. 8.

PLEASE DO NOT REPLY TO THIS EMAIL. THIS EMAIL ADDRESS IS NOT MONITORED.
If you would like more information or to contact the Academy, please visit us at www.actuary.org/content/about-us
Follow the Academy on Facebook, LinkedIn, and Twitter. Listen to our podcast.
To update your Academy email communication preferences, please login and update your Academy member profile.
---
1850 M Street NW • Suite 300 • Washington, DC 20036 • 202.223.8196 • www.actuary.org
Copyright 2023 American Academy of Actuaries. All rights reserved.