This Week, Nov. 11 - 15, 2019
Read the latest news from the Academy.

Recent Academy Activity, Nov. 11–15, 2019
Attendees Earn Valuable CE at Sold-Out LHQ Seminar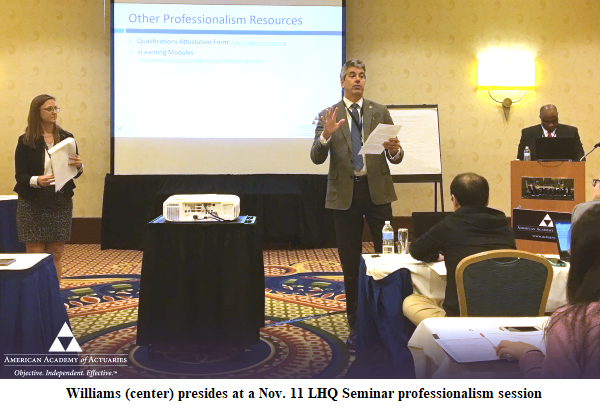 A capacity crowd of more than 100 people attended the Academy's sold-out Life and Health Qualifications Seminar this week in Arlington, Va. Now in its 19th year, the seminar and its interactive sessions have been highly valued by attendees, with many returning every few years to brush up on skills. Attendees gained required basic education and continuing education to be qualified to sign statements of actuarial opinion (SAOs) for NAIC Life and Health annual statements. The seminar is an effective way to earn continuing education credits under the U.S. Qualification Standards for those who already have the basic education needed to issue such SAOs. Academy President D. Joeff Williams chaired the committee that organizes this seminar.
Next Week's P/C Webinar to Look at Qualified Actuary Requirements
Join the Academy next Wednesday for the webinar, "P/C Qualified Actuaries: 2019 Changes to Instructions." The NAIC Instructions to the P/C Statement of Actuarial Opinion have changed in 2019, with the most substantive change pertaining to the definition of a qualified actuary and associated documentation that the Appointed Actuary is required to provide to company boards. The webinar will address the changes and required documentation to try to assist Appointed Actuaries with meeting the new requirements. Presenters will include members of the Academy's Committee on Property and Liability Financial Reporting (COPLFR) who are familiar with the changes to the instructions and corresponding regulatory guidance issued by the NAIC's Actuarial Opinion Working Group. The Nov. 20 webinar will take place from noon until 1:15 p.m. EST. Register today.
Recently Released
The November HealthCheck recaps health plenary and breakout sessions from the Academy's Annual Meeting and Public Policy Forum; Senior Health Fellow Cori Uccello's presentation at a Capitol Hill panel discussion, "Examining the Continuum of Coverage Proposals"; and recent legislative, judicial, and regulatory activity.
Room Block Closes Monday for PBR Boot Camp
Limited space remains for the Academy's PBR Boot Camp, to be held Dec. 9–11 in Austin, Texas, just after the close of the NAIC meeting there and shortly before the Jan. 1 deadline for companies to comply with the principle-based reserving (PBR) requirements under the Valuation Manual Section 20. The room block at the W Austin hotel, where the seminar will be held, closes next Monday, Nov. 18—make sure to reserve your room to lock in our special rate for attendees. Continuing education (CE) credit is available. Reserve your spot today.
Academy Dues for 2020
Academy President D. Joeff Williams' Nov. 7 letter to members announced the membership renewal period and includes a link to "The Meaning of Your Membership," which highlights the many mission-critical aspects of the Academy's work in 2019. To pay your annual dues directly, please log in to the Academy's website.
Listen to Actuary Voices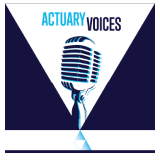 Curious about the journeys that others have taken on their actuarial career path? Listen to Actuary Voices, a podcast produced by the Academy, which features interviews with our always interesting members about their careers and the role of professionalism and public policy. New episodes will be added monthly.
Professionalism Outreach
November historically is the busiest month for the Academy's Professionalism Speakers Bureau, and this year is no different. In 2019 the bureau will provide a record number of professionalism speakers to actuarial clubs and employers of actuaries. This week:
Past President and Committee on Qualifications member Tom Terry talked about "Professionalism in Changing Times" at the MetLife Actuarial Conference in Jersey City, N.J., on Monday. The presentation looked at the challenges posed by competition from other professions, new reputational risks, new regulation, new practice areas, and new demands on actuaries such as tied to artificial intelligence and evolving product needs—and how the infrastructure of professionalism housed in the Academy helps equip the U.S. profession to meet these challenges.

Academy President-Elect Tom Campbell delivered a presentation on "Actuarial Professionalism" to actuarial students (pre-ASAs) at Actuarial Resources Corporation on Tuesday.

Actuarial Board for Counseling and Discipline member David Driscoll reviewed the Code of Professional Conduct, the ABCD's investigation and request for guidance processes, and professionalism resources in a presentation at Aetna's annual Actuarial Forum on Tuesday in Hartford, Conn.

David Brentlinger, chairperson of the Actuarial Standards Board's Life Committee, delivered a presentation on the process of developing actuarial standards of practice (ASOPs) and recent changes and proposed changes to ASOPs to Northwestern Mutual in Milwaukee on Wednesday. The interactive presentation included several opportunities where audience members shared their questions and observations.
Upcoming Events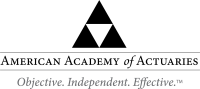 PLEASE DO NOT REPLY TO THIS EMAIL. THIS EMAIL ADDRESS IS NOT MONITORED.
If you would like more information or to contact the Academy, please visit us at www.actuary.org/content/about-us
Follow the Academy on Facebook, LinkedIn, and Twitter.
Rather not receive Academy emails? Unsubscribe by emailing membership@actuary.org.
---
1850 M Street NW • Suite 300 • Washington, DC 20036 • 202.223.8196 • www.actuary.org
Copyright 2019 American Academy of Actuaries. All rights reserved.